Regional Territories 4
This section contains monthly articles on over two dozen territories. To relive those wonderful days of old, click here.
Wrestlers 4
Enter this section for bios/profiles of various wrestlers from the regional days. To find more out about your favorite pro wrestler, click here.
Stories 4
This section contains stories from the pros themselves told exclusively to Kayfabe Memories. Want to know more as told from the wrestlers themselves? Click here.
Old School Book Reviews4
Click here to find various book reviews from old school wrestlers.
KM Links 4
For tons of links to old school related sites, click
here
.
KM Micro Wrestlers4
What are Micro Wrestlers? Click here
to find out.
KM Interviews... 4
Click here to read exclusive interviews with stars from the regional territories.
www.kayfabememories.com is © 2004 AtomDesigns. All promotional art, characters, logos and other depictions are © their respective owners. All Rights Reserved.
All contents save Wrestler Stories are © Kayfabe Memories.
Website designed and maintained by AtomDesigns © 2004 . If you experience any problems with this site or have any questions, please contact the Webmaster.
- Jason Hess
Hello and welcome to the latest installment of Houston Wrestling here at Kayfabe Memories. In this edition of Houston Wrestling memories, we will once again take a look at how Houston Wrestling was perhaps the most unique "territory" in the United States. The time period was one that while only 20 years ago, but now seems like a different world from the scene today. In a bit of irony, the time frame was exactly five years previous to our previous installment (see last month's article). Some of the cast of characters from last month….are here again this month!! So, without further ado…let's jump right in.
September 1983
Rewind:
When things go south: As we are currently experiencing in the current wrestling scene, pro wrestling goes through "cycles" of popularity. When you're up you are up, and when you are down, you're down. The ever present quest during "down" periods is to figure out a way to bring the crowds back "up." Promoters have done some amazing…and unscrupulous things to try and drum up business in a time of lessened interest in their promotion. From the wrestling bears, to outlandish gimmick matches, nearly everything under the sun has been tried to draw a crowd to the arena. Some promoters would act differently than others in a down time. Take Paul Boesch for example.
In the fall of 1983, Boesch and the Mid-South territory had begun a down cycle after a very successful summer that included a crowd of over 20,000 fans at the Superdome in New Orleans. This down cycle would continue to the point that crowds in Houston would dip to 3,000 fans by the end of the year. But instead of overloading on gimmicks, Boesch relied on the stars who had drawn him great gates in the past.
One of those stars was the "American Dream," Dusty Rhodes. One of the most popular drawing cards in the country after his face turn in the mid-1970's, Rhodes would venture out of his Florida base to tour different parts of the country, such as Georgia, New York City, and …Houston. Rhodes had a very successful run in Houston in 1979, going against such foes as Superstar Graham and Ivan Koloff, and would return periodically over the years. In 1983, Rhodes was called upon again for a special match up which had a great deal of spin off stories on their own.
Play x 2:
A Match "Unplanned": On September 9, 1983, Dusty Rhodes was slated to face then-Georgia Championship Wrestling superstar and National heavyweight champion, Larry Zbyzsko. (Zbyzsko would lose the title 16 days later on September 25, 1983 to Brett Wayne) Zbyzsko was not there. He was an anomaly in the days of Boesch…a no-show. This set up a most interesting match-up.
Earlier in the card, King Kong Bundy had defeated Chief Joe Lightfoot with his avalanche. Bundy came in again to face Rhodes. In a short match, Rhodes began to get the advantage over the massive Bundy, when One Man Gang interfered. After a two on one attack that saw Rhodes get "busted open," Magnum T.A. interfered to even up the sides. T.A. fought valiantly, but was soon overwhelmed by the two massive competitors.
Finally, the equalizer would come to the ring in the guise of Hacksaw Jim Duggan. Duggan hit the ring with his typical wild bravado and eventually vanquished the ring of the two super-heavyweight wrestlers. The crowd was happy, as the Dream, the Hacksaw, and new crowd favorite Magnum T.A. stood triumphant. Was Dusty the shot of adrenaline the Houston market needed to get itself back to normal? Not really. The card did draw a respectable crowd, but sellouts wouldn't return as a normal way of life until a few months later, when an influx of Tennessee talent would hit the Mid-South and Houston areas.
What was and is interesting is the myriad of stories that are related to this one match……and how some things change….and some stay the same!!
More...
If you'd like to discuss the Houston region with other fans, please visit the KM Message Board

KM DVD/VHS Store 4
Click here to purchase DVD or VHS products direct from the official distributors.
KM Replica Masks 4
Click here to purchase pro quality replica wrestling masks of all your favorite old school masked wrestlers.
KM Store 4
The KM Store now features products featuring the GCW logo as well as some other very cool images. To see what's new and to purchase T-Shirts, ball caps, mouse pads and more, click here.
KM Message Board 4
Want to chat with other fans of regional wrestling? This message board has forums for over two dozen promotions. Click here.
KM Belt Gallery 4
This section contains an extensive title belt gallery... images of heavyweight, tag, U.S. and various regional title belts. To view it, click here.
Old School Tape Review 4
Reviews of various PPV's, commercial tapes and regional wrestling TV shows are available in this section. To read more, click here.
Website designed & maintained by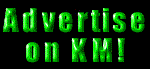 Thanks for visiting!