Regional Territories 4
This section contains monthly articles on over two dozen territories. To relive those wonderful days of old, click here.
Wrestlers 4
Enter this section for bios/profiles of various wrestlers from the regional days. To find more out about your favorite pro wrestler, click here.
Stories 4
This section contains stories from the pros themselves told exclusively to Kayfabe Memories. Want to know more as told from the wrestlers themselves? Click here.
Old School Book Reviews4
Click here to find various book reviews from old school wrestlers.
KM Links 4
For tons of links to old school related sites, click
here
.
KM Micro Wrestlers4
What are Micro Wrestlers? Click here
to find out.
KM Interviews... 4
Click here to read exclusive interviews with stars from the regional territories.
www.kayfabememories.com is © 2004 AtomDesigns. All promotional art, characters, logos and other depictions are © their respective owners. All Rights Reserved.
All contents save Wrestler Stories are © Kayfabe Memories.
Website designed and maintained by AtomDesigns © 2004 . If you experience any problems with this site or have any questions, please contact the Webmaster.
- Jason Hess
Hello and welcome to the latest installment of Houston Wrestling here at Kayfabe Memories.
In this edition of Houston Wrestling memories, we will once again take a look at how Houston Wrestling was perhaps the most unique "territory" in the United States. The time period was one that had some rippling effects on not just one promotion but two, and somewhat changed the course of wrestling history…albeit for a little while. Let's jump in with both feet shall we?
September 1988
Rewind:
Boesch returns, right? As has been documented here in our Houston section, Paul Boesch "retired" from wrestling promotion in August 1987 after a gala card that turned away thousands at the Sam Houston Coliseum. While many on the inside knew the real reason of Boesch's decision to walk away, us "mark" fans just thought Boesch was wanting to retire. After all, the guy was already in his early seventies, and had been involved in wrestling in one form or another since the 1930's!!! As Boesch somewhat reveals in his autobiography "Hey Boy! Where'd You Get Them Ears?," he was greatly upset by the frequency of no shows that would happen at cards with WWF talent provided. However, by early 1988, Boesch was seen in a figure head role during the Dusty Rhodes suspension angle in the NWA, and soon after, was seen helping Peter Birkholz promote cards under the NWA banner at the Sam Houston Coliseum.
The venture with Crockett Promotions was rocky from the start, as Crockett Promotions had their own problems. The windfall that was thought to be gained from advertising rights and pay per view revenue never materialized, and the "balloon" payments that Crockett had to make on contracts were becoming due. Crockett was trying to sell out to Ted Turner before he went under himself. However, Houston did have some respectable crowds for Crockett…at the beginning. And, Crockett put the much ballyhooed U.S. Title tournament in Houston in May 1988!! Furthermore, Houston was one of the stops during the 1988 Great American Bash tour, and that date drew the largest crowd in Houston for Crockett. And that's when things began to go wrong……very wrong.
Playx2:
A Hated Finish: It was July 14, 1988, and the Baltimore Arena was sold out to the tune of 14,000 plus fans who were waiting to see "The Price For Freedom" Great American Bash PPV. The main event was the heavily promoted Ric Flair vs. Lex Luger NWA World Title match that had been simmering for nearly seven months, since Luger's face turn away from the Four Horsemen in late December 1987.
The match had what is now called the dreaded "Dusty Finish," which makes fans seemingly think that the babyface had won the match and the title from the heel champion, only to have the champion retain the title on some sort of "technicality." In this case, Luger had Flair in his finishing hold, the "torture rack" back breaker. Tommy Young rang for the bell, and the place exploded. A new champion was crowned…..or so we thought. In actuality, Young was stopping the match due to a cut on Luger's forehead. It seemed as if the Maryland State Athletic Commission frowned upon matches continuing after blood had been spotted. (No comments on how little blood there was coming from Luger okay?) So, Young stopped the match, and awarded the bout to Flair. Boos were resounding to say the least.
A Surprising Result: However, the short term aftermath of the Great American Bash finish would prove to be fruitful for JCP. Under the guise of "this is the first rematch since the Great American Bash," JCP promoted Flair vs. Luger rematches across the country, and attendance was going on a decidedly upward swing. Case in point saw the September Baltimore rematch, which drew an unbelievable gate in the six figures (back when a six figure gate was still something to rave about), and other cities which saw a huge rise in attendance in the Flair vs. Luger rematch series. All of the cities seemed to be doing good….except Houston. More...
If you'd like to discuss the Houston region with other fans, please visit the KM Message Board

KM DVD/VHS Store 4
Click here to purchase DVD or VHS products direct from the official distributors.
KM Replica Masks 4
Click here to purchase pro quality replica wrestling masks of all your favorite old school masked wrestlers.
KM Store 4
The KM Store now features products featuring the GCW logo as well as some other very cool images. To see what's new and to purchase T-Shirts, ball caps, mouse pads and more, click here.
KM Message Board 4
Want to chat with other fans of regional wrestling? This message board has forums for over two dozen promotions. Click here.
KM Belt Gallery 4
This section contains an extensive title belt gallery... images of heavyweight, tag, U.S. and various regional title belts. To view it, click here.
Old School Tape Review 4
Reviews of various PPV's, commercial tapes and regional wrestling TV shows are available in this section. To read more, click here.
Website designed & maintained by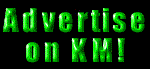 Thanks for visiting!