Regional Territories 4
This section contains monthly articles on over two dozen territories. To relive those wonderful days of old, click here.
Wrestlers 4
Enter this section for bios/profiles of various wrestlers from the regional days. To find more out about your favorite pro wrestler, click here.
Stories 4
This section contains stories from the pros themselves told exclusively to Kayfabe Memories. Want to know more as told from the wrestlers themselves? Click here.
Old School Book Reviews4
Click here to find various book reviews from old school wrestlers.
KM Links 4
For tons of links to old school related sites, click
here
.
KM Micro Wrestlers4
What are Micro Wrestlers? Click here
to find out.
KM Interviews... 4
Click here to read exclusive interviews with stars from the regional territories.
www.kayfabememories.com is © 2004 AtomDesigns. All promotional art, characters, logos and other depictions are © their respective owners. All Rights Reserved.
All contents save Wrestler Stories are © Kayfabe Memories.
Website designed and maintained by AtomDesigns © 2004 . If you experience any problems with this site or have any questions, please contact the Webmaster.
- Mike Rodgers
I have had a look at some of the postings on the message board in the NW section and thought I would address the questions that many people have had on various wrestlers and their where-abouts and aliases. Itís trivia time and hopefully it will make for some interesting reading.
Big Tom Andrews real name is Tom Anderson. His dad was also a wrestler. Andrews wrestled in Oregon in the late 60ís as a mid card wrestlers. He returned in the early 70ís as The Claw and was on top. Later he worked around the country as one of the Interns. Andrews has settled in the Mid-West and had been working for a school district.
Kim Sung Ho wrestled in the early 70ís in the NW. He had been the NWA Lightweight champion in the LA region before coming to Oregon. He injured his leg while working here and I donít know if he did too much after that.
Kim Song wrestled here in the early 80ís for a very brief stay. Kim Song & Kim Sung Ho were not the same person. At one time I have heard other names that Kim Song has worked as but they escape me now.
Don Running Bear had a brief stint in the NW. He came in from San Antonio with Billy Two Eagles and captured the NW tag championship. Two Eagles later recounted that Running Bears family was tired of him being on the road. That is why he didnít stay in the NW for a longer period of time.
Brian Lee is another very interesting story. Lee came in to join his cousins the Harris twins. When he came in something was wrong with his physical in order to get licensed. Executive Director Bruce Anderson wouldnít license him. Lee mentioned all this on his TV interview and he even climbed in the ring and nearly got into contact with another wrestler. One of the Harris Twins then went and called Anderson and threatened him on his phone machine. That was the end of both Brian Lee & the Harris Twins in Portland.
Siva Afi was in Portland for quite some time and even married sponsor Tom Petersonís daughter at one point. He later went to the WWF as they were looking for someone that could replace Jimmy Snuka. Of course Siva couldnít do that and he didnít last long in the WWF. Dennis Condrey stopped in the NW for one week right after splitting up with the very successful Midnight Express team. However after working one week here, something came back wrong on his physical and he left.
More...
If you'd like to discuss the PNW region with other fans, please visit the KM Message Board

KM DVD/VHS Store 4
Click here to purchase DVD or VHS products direct from the official distributors.
KM Replica Masks 4
Click here to purchase pro quality replica wrestling masks of all your favorite old school masked wrestlers.
KM Store 4
The KM Store now features products featuring the GCW logo as well as some other very cool images. To see what's new and to purchase T-Shirts, ball caps, mouse pads and more, click here.
KM Message Board 4
Want to chat with other fans of regional wrestling? This message board has forums for over two dozen promotions. Click here.
KM Belt Gallery 4
This section contains an extensive title belt gallery... images of heavyweight, tag, U.S. and various regional title belts. To view it, click here.
Old School Tape Review 4
Reviews of various PPV's, commercial tapes and regional wrestling TV shows are available in this section. To read more, click here.
Website designed & maintained by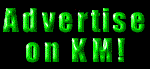 Thanks for visiting!