Regional Territories 4
This section contains monthly articles on over two dozen territories. To relive those wonderful days of old, click here.
Wrestlers 4
Enter this section for bios/profiles of various wrestlers from the regional days. To find more out about your favorite pro wrestler, click here.
Stories 4
This section contains stories from the pros themselves told exclusively to Kayfabe Memories. Want to know more as told from the wrestlers themselves? Click here.
Old School Book Reviews4
Click here to find various book reviews from old school wrestlers.
KM Links 4
For tons of links to old school related sites, click
here
.
KM Micro Wrestlers4
What are Micro Wrestlers? Click here
to find out.
KM Interviews... 4
Click here to read exclusive interviews with stars from the regional territories.
www.kayfabememories.com is © 2004 AtomDesigns. All promotional art, characters, logos and other depictions are © their respective owners. All Rights Reserved.
All contents save Wrestler Stories are © Kayfabe Memories.
Website designed and maintained by AtomDesigns © 2004 . If you experience any problems with this site or have any questions, please contact the Webmaster.
- Steve Petersen

Make no mistake about it Portland may, in the late 70's and well into the 80's been the most traditional wrestling company in the United States. With that said, out of the way, but still filed somewhere in your minds where it will be easy to retrieve let me talk about the personas of one Ed Wiskoski.

Ed Wiskoski was a big , strapping, athletic looking chap who came into the Northwest in the late 70's. The story on Ed was that he was a former Cincinatti Bengal who had decided to change his fortunes and become a professional wrestler.

Ed went about 6'4" and about 260 pounds, for the NW at the time he was a truly big man. His first run in the PNW he was a partner of Playboy Buddy Rose and was a heel who went by the moniker, 'Easy' Ed Wiskoski, he also referred to himself as the 'Polish Prince' Ed was pretty much a cookie-cutter late 1970s's styled heel, he played the coward, he begged off and he cheated. But Ed had a quality and would use current events that made people want to hate him. His interviews were by no stretches of the imagination charismatic or revolutionary. Instead he would stand there with his arms crossed in front of him and a cocky smile on his face as he told his next opponent what he was going to do to him. Or he would have the same cocky grin and would stand there and nod as Rose cut a promo. Some of the events that the Polish Prince mocked, and I got the Seattle show so they were geared towards that market, were the beloved Hydroplane races, or Boeing laying off people because there was no one in Seattle competent enough to build airplanes.

While Ed was by no means a great wrestler, or performer he was solid and believable and at one time was the PNW heavyweight champ. Even after he left the territory he would return from time to time to join up with old Buddy Rose and wreak havoc on the top babyfaces. Wiskoski and Rose set off more then their fair share of pandemonium though. One match in particular stands out in my memory. One night they were involved in a tag match with the freshly turned Sheepherders and after an entire match of Rose behaving deviously the fans lurched towards the ring at the Portland Sports Arena. Frank Bonnema was doing his usual spiel when this happened admonishing the fans to never get physically involved, this was before promotions began to take the cameras off any fan interaction and near the bottom of the screen you could clearly see Ed fire a left jab at a fan who got too close to the action.

Ed left the area for a while returning in the mid 80's and coming up with what was my favorite gimmick of his Mega Maharishi. Now, this gimmick is a little Northwest specific so let me explain. There was this guy named the Bhagwan who had taken over a small town in Oregon with his cult. And when I say took over I mean he took it over. He bussed in a bunch of homeless people, let them stay with him long enough to be residents and to become registered to vote, when they voted the Bagwhan's ticket and the mystic swami was in charge and even changed the name of the town to, I believe Rahjneeshville. This was HUGE news in the Northwest and it was from this controversy Ed's new character was born. Mega Maharishi had white hair, flowing robes and preached that peace and love should always be with you. His interviews during this period were both hilarious and drew major heat. Mega would stand there, holding his hands in front of him as if he were praying and he would tell how he detested violence and that love and peace were the TRUE answer. Of course he also would note that it was his duty to bring more people to the higher calling, and he would use the violence he so detested to achieve this goal. Often, as he spoke Rose would stand next to him and say Amen, over and over again.

More...

If you'd like to discuss the PNW region with other fans, please visit the KM Message Board

KM DVD/VHS Store 4
Click here to purchase DVD or VHS products direct from the official distributors.
KM Replica Masks 4
Click here to purchase pro quality replica wrestling masks of all your favorite old school masked wrestlers.
KM Store 4
The KM Store now features products featuring the GCW logo as well as some other very cool images. To see what's new and to purchase T-Shirts, ball caps, mouse pads and more, click here.
KM Message Board 4
Want to chat with other fans of regional wrestling? This message board has forums for over two dozen promotions. Click here.
KM Belt Gallery 4
This section contains an extensive title belt gallery... images of heavyweight, tag, U.S. and various regional title belts. To view it, click here.
Old School Tape Review 4
Reviews of various PPV's, commercial tapes and regional wrestling TV shows are available in this section. To read more, click here.
Website designed & maintained by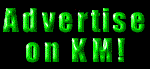 Thanks for visiting!