Regional Territories 4
This section contains monthly articles on over two dozen territories. To relive those wonderful days of old, click here.
Wrestlers 4
Enter this section for bios/profiles of various wrestlers from the regional days. To find more out about your favorite pro wrestler, click here.
Stories 4
This section contains stories from the pros themselves told exclusively to Kayfabe Memories. Want to know more as told from the wrestlers themselves? Click here.
Old School Book Reviews4
Click here to find various book reviews from old school wrestlers.
KM Links 4
For tons of links to old school related sites, click
here
.
KM Micro Wrestlers4
What are Micro Wrestlers? Click here
to find out.
KM Interviews... 4
Click here to read exclusive interviews with stars from the regional territories.
www.kayfabememories.com is © 2004 AtomDesigns. All promotional art, characters, logos and other depictions are © their respective owners. All Rights Reserved.
All contents save Wrestler Stories are © Kayfabe Memories.
Website designed and maintained by AtomDesigns © 2004 . If you experience any problems with this site or have any questions, please contact the Webmaster.
From time to time, I have been asked certain questions that pertain to my wrestling career from Genesis to Revelation so to speak. I thought that you all would enjoy reading certain tidbits of information that I provided to certain editors for publication in their papers. They include:

WHERE DID YOU GROW UP AND WERE YOU A FAN OF WRESTLING?

I was born and raised in rural Meridan, Kansas, a town about 15 miles northeast of Topeka, Kansas. Yes, I'm afraid that I was definitely a wrestling fan. My mom, Billie, and I used to travel 62 miles each Friday night to attend the matches in St. Joe, Missouri, where we would cheer for our favorite grapplers.

IF YOU WERE A FAN, WHO WERE SOME OF YOUR FAVORITES?

Boy, this question really made me think back! I liked many of the wrestlers but my favorites, to the best of my recollection, included: The Stomper (Archie Gouldie ), Omar Atlas, Bulldog Bob Brown, Percival A. Friend, The Fabulous Moolah, and Rufus Jones.

WHAT MADE YOU DECIDE TO BREAK INTO WRESTLING AND WHO HELPED TRAIN YOU?

If I'm going to be perfectly honest in this interview, and I'm trying to be that, I will have to admit that the idea of making it "big" and making "big" money was somewhere in my decision. Also, my mother played a very important part with her constant encouragement. Furthermore, I am an extremely competitive individual and I wanted to prove to myself that I could make it into the business.

Pat O'Connor and Ronnie Etchison mainly helped train me. I owe them much gratitude.

WHO, WHERE AND WHEN WAS YOUR FIRST MATCH AND WHAT MEMORIES DO YOU HAVE FROM THAT FIRST MATCH?

My very first match was in 1980 and it took place in Kansas City, Kansas. It was a television match and I wrestled against Billy Howard. It ended in a draw.

I thought that I was going to be very nervous during the match but as soon as the bell rang, something took over in me and I just went out and did what I had been taught and trained to do. I could hear the crowd cheering for me but somehow I just blocked it out. It was a great match.

YOU CAME TO THE PACIFIC NORTHWEST IN 1982 AND YOU GOT A CHANCE TO WORK WITH A GOOD GROUP OF PEOPLE INCLUDING GENE KINISKI, BUDDY ROSE, MATT BORNE, DIZZY HOGAN (BRUTUS BEEFCAKE), RIP OLIVER, AND CHRIS COLT. ANY MEMORIES OF THAT TIME PERIOD? WHO DID YOU HANG OUT WITH, ETC.

Yes, I was fortunate to have been in the company of the above wrestlers and it was, indeed, a very good group of people. I hung out with Rocky Johnson, Billy Whitecloud, Hack Sawyer, Steve Regal and Sandy Barr.

I have no particular memories that come to mind during this time period other than I got along really good with everyone. They all treated me with respect because of my training and mentoring with Bob Geigel, Pat O'Connor and Harley Race. And I treated everyone the way that I wanted to be treated. All in all, I remember this being a good group to work with and to be around. More...



KM DVD/VHS Store 4
Click here to purchase DVD or VHS products direct from the official distributors.
KM Replica Masks 4
Click here to purchase pro quality replica wrestling masks of all your favorite old school masked wrestlers.
KM Store 4
The KM Store now features products featuring the GCW logo as well as some other very cool images. To see what's new and to purchase T-Shirts, ball caps, mouse pads and more, click here.
KM Message Board 4
Want to chat with other fans of regional wrestling? This message board has forums for over two dozen promotions. Click here.
KM Belt Gallery 4
This section contains an extensive title belt gallery... images of heavyweight, tag, U.S. and various regional title belts. To view it, click here.
Old School Tape Review 4
Reviews of various PPV's, commercial tapes and regional wrestling TV shows are available in this section. To read more, click here.
Website designed & maintained by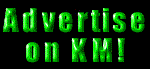 Thanks for visiting!