Regional Territories 4
This section contains monthly articles on over two dozen territories. To relive those wonderful days of old, click here.
Wrestlers 4
Enter this section for bios/profiles of various wrestlers from the regional days. To find more out about your favorite pro wrestler, click here.
Stories 4
This section contains stories from the pros themselves told exclusively to Kayfabe Memories. Want to know more as told from the wrestlers themselves? Click here.
Old School Book Reviews4
Click here to find various book reviews from old school wrestlers.
KM Links 4
For tons of links to old school related sites, click
here
.
KM Micro Wrestlers4
What are Micro Wrestlers? Click here
to find out.
KM Interviews... 4
Click here to read exclusive interviews with stars from the regional territories.
www.kayfabememories.com is © 2004 AtomDesigns. All promotional art, characters, logos and other depictions are © their respective owners. All Rights Reserved.
All contents save Wrestler Stories are © Kayfabe Memories.
Website designed and maintained by AtomDesigns © 2004 . If you experience any problems with this site or have any questions, please contact the Webmaster.
- John Baumer
NOTE: I'm not sure the date when this aired. It may have aired as a special during the week or during the regular Saturday night time slot. If the latter were the case the airdate would be 5/25/85. The matches took place on Tuesday 5/21/85.
---Opening video. Tonight's special wrestling presentation is brought to us by Tom Peterson's, but wait, this event is so big it needs more than just the regular sponsor. John Lucas Chevrolet in Stayton is also a sponsor.
---Don Coss opened the show up from ringside as the cameras panned the sell out crowd of 13,000 fans. Coss ran down the card. Basically the five main events will be aired on TV, although all were edited to fit.
---Match #1: Rowdy Roddy Piper vs. Playboy Buddy Rose. Rose is accompanied by a couple of girls wearing Playboy bunny outfits. Piper gets an absolutely thunderous ovation. It's hard to believe just two months earlier a sell out crowd at MSG was trying to kill him. Finish sees Piper block Rose's superplex and crossbody him for the pinfall.
---Coss interviewed Tom Peterson at ringside. The jist of the matter is that Peterson has enjoyed the 20 years he has sponsored Portland Wrestling. Funny line is that Peterson says he will be around for another 20 years. Everyone in this area remembers that Tom Peterson went bankrupt and could no longer sponsor Portland Wrestling, which was one of many factors that led to the program being replaced by WWF Superstars of Wrestling in December of 1991. Peterson eventually reopened his main store and was actually one of the sponsors on the short lived Portland Wrestling program that aired in 2000.

---Match #2: Sgt. Slaughter vs. Kendo Nagasaki. Poor Slaughter. They were totally not expecting a turn out like they got, so there was no ring barrier or isle barriers set up. Slaughter basically had to body surf through the crowd to get to the ring. Slaughter was still in pretty good shape at this point and did the best he could with the poor man's Kabuki. Finish sees Mega Mahareshee (I have no idea how the hell do spell this and because they didn't have name captions back then I never will, but its Col. DeBeers in a red robe) try to interfere, but Slaughter takes him down and finishes off Nagasaki with a clothesline. Ed. Note: It's Mega Maharishi
---Coss interviews KPTV 12's program director Gordon White. He ran down the history of Portland Wrestling on TV. Portland Wrestling was the very first wrestling program on TV in the country, debuting on KPTV in 1948.
---Match #3: AWA World tag team champs the Road Warriors (w/ Paul Ellering) vs. Larry & Curt Hennig. Now, I'm not real up on my AWA history, but from what I have gathered, the LOD were the heels here. Despite that, the fans were solidly behind the Warriors and solidly against the Hennigs. This match didn't do anything for me in Minneapolis and it didn't do anything for me in Portland either. Finish sees the LOD DQ'd for excessive double teaming on Curt. Billy Jack Haynes makes the save, and he and Curt clear the LOD from the ring.
---Coss interviews a Portland Wrestler from the 60s (I assume, anyway. All Coss said was he was a part of Portland Wrestling "from a few years past."), Joe Kayhan? Not sure if that is how the name is spelled, but that is how it sounded. I have no idea who he is, but he flew in from Hawaii for the event.
---Match #4: AWA World champ Rick Martel vs. PNW champ Mean Mike Miller. Miller had on his leather hat and jacket, which always made me wonder if he and Martel were out on a date or having a World title match. Martel scored the pinfall with a small package.
---Match #5: NWA World champ Ric Flair vs. Billy Jack Haynes. Haynes is monster over at this point. It's really too bad his personal problems kept him from achieving the success he should have had in pro wrestling. Flair needed a bulldozer to plow through all the fans blocking the aisle way and ringside area on his way to the ring. The match ended in a 45 minute time limit draw, but only 10 minutes was shown on TV. Time limit expired when Haynes finally got the full nelson locked in on Flair. So, Haynes is once again screwed out of the World title.
More...

KM DVD/VHS Store 4
Click here to purchase DVD or VHS products direct from the official distributors.
KM Replica Masks 4
Click here to purchase pro quality replica wrestling masks of all your favorite old school masked wrestlers.
KM Store 4
The KM Store now features products featuring the GCW logo as well as some other very cool images. To see what's new and to purchase T-Shirts, ball caps, mouse pads and more, click here.
KM Message Board 4
Want to chat with other fans of regional wrestling? This message board has forums for over two dozen promotions. Click here.
KM Belt Gallery 4
This section contains an extensive title belt gallery... images of heavyweight, tag, U.S. and various regional title belts. To view it, click here.
Old School Tape Review 4
Reviews of various PPV's, commercial tapes and regional wrestling TV shows are available in this section. To read more, click here.
Website designed & maintained by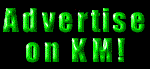 Thanks for visiting!