Regional Territories 4
This section contains monthly articles on over two dozen territories. To relive those wonderful days of old, click here.
Wrestlers 4
Enter this section for bios/profiles of various wrestlers from the regional days. To find more out about your favorite pro wrestler, click here.
Stories 4
This section contains stories from the pros themselves told exclusively to Kayfabe Memories. Want to know more as told from the wrestlers themselves? Click here.
Old School Book Reviews4
Click here to find various book reviews from old school wrestlers.
KM Links 4
For tons of links to old school related sites, click
here
.
KM Micro Wrestlers4
What are Micro Wrestlers? Click here
to find out.
KM Interviews... 4
Click here to read exclusive interviews with stars from the regional territories.
www.kayfabememories.com is © 2004 AtomDesigns. All promotional art, characters, logos and other depictions are © their respective owners. All Rights Reserved.
All contents save Wrestler Stories are © Kayfabe Memories.
Website designed and maintained by AtomDesigns © 2004 . If you experience any problems with this site or have any questions, please contact the Webmaster.
- Scott Keith
This is the followup to the awesome Great American Bash 89 PPV, as Sting & Ric Flair were going to team up to face Terry Funk and Great Muta. However, Flair went nuts on TBS a week or so prior to this and broke Funk's arm with a branding iron, so he's probably not gonna make it.
- Live from Columbia, South Carolina.
- Your hosts are Jim Ross & James E. Cornette.
- Opening match: The Road Warriors v. The Samoan Swat Team. Once again for the 13 people left who didn't catch this the first million times I said it: The SST is Samu and Fatu, with Fatu being better known today as Rikishi. The crowd heat here is INCREDIBLE, as the Road Warriors are just crazy over, even in their last days with the NWA. Animal blitzes Fatu to start, hitting a powerslam and knocking Samu off the apron. SST stalls, so the Warriors simply toss them back in and kick their ass. Good plan. Hawk fistdrop gets two on Fatu. Warrior work a headlock on Fatu and overpower him. Hawk hits the floor and some shenanigans from the heels takes him out, thus impeding his ability to no-sell. And we HIT THE BEARHUG! Ah, nothing like samoan restholds.
False tag to Animal, which allows more punishment for Hawk. Fatu goes airborne and does a devastating chindrop on Hawk's foot. Again, I question WHAT THE HELL that these guys are ever hoping to accomplish by coming off the top rope and landing on their feet in the general vicinity of the babyface's leg. Even if the babyface doesn't lift their leg, that move can't possibly hit anything to begin with. And yet heels have been doing that move for YEARS now with no sign of stopping. Hot tag to Animal, and it's BREAKING LOOSE IN TULSA! Heel miscommunication (ironically, involving Paul E's telephone) puts Fatu in a dazed state, and from there the Doomsday Device finishes at 6:43. Nothing match, but the heat was AMAZING. **1/4 The SST fires Dangerously after the match, leaving him in managerial exile until the coming of Mean Mark Callous in 1990.
- The Cuban Assassin (Fidel Sierra) v. The Z-Man This match would be Zenk's uninspiring NWA debut, as he managed to talk them out of the original gimmick idea ("The Zodiac Man" some six years before Beefcake, from which "Z-Man" was derived) and just be a guy in white tights who got a good reaction. Sierra gets some token jobber offense, but Zenk finishes with a sleeper at 3:35. Wow, a sleeperhold as a finisher…and he DIDN'T get over? Go figure. * More...

KM DVD/VHS Store 4
Click here to purchase DVD or VHS products direct from the official distributors.
KM Replica Masks 4
Click here to purchase pro quality replica wrestling masks of all your favorite old school masked wrestlers.
KM Store 4
The KM Store now features products featuring the GCW logo as well as some other very cool images. To see what's new and to purchase T-Shirts, ball caps, mouse pads and more, click here.
KM Message Board 4
Want to chat with other fans of regional wrestling? This message board has forums for over two dozen promotions. Click here.
KM Belt Gallery 4
This section contains an extensive title belt gallery... images of heavyweight, tag, U.S. and various regional title belts. To view it, click here.
Old School Tape Review 4
Reviews of various PPV's, commercial tapes and regional wrestling TV shows are available in this section. To read more, click here.
Website designed & maintained by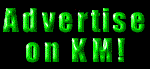 Thanks for visiting!