Regional Territories 4
This section contains monthly articles on over two dozen territories. To relive those wonderful days of old, click here.
Wrestlers 4
Enter this section for bios/profiles of various wrestlers from the regional days. To find more out about your favorite pro wrestler, click here.
Stories 4
This section contains stories from the pros themselves told exclusively to Kayfabe Memories. Want to know more as told from the wrestlers themselves? Click here.
Old School Book Reviews4
Click here to find various book reviews from old school wrestlers.
KM Links 4
For tons of links to old school related sites, click
here
.
KM Micro Wrestlers4
What are Micro Wrestlers? Click here
to find out.
KM Interviews... 4
Click here to read exclusive interviews with stars from the regional territories.
www.kayfabememories.com is © 2004 AtomDesigns. All promotional art, characters, logos and other depictions are © their respective owners. All Rights Reserved.
All contents save Wrestler Stories are © Kayfabe Memories.
Website designed and maintained by AtomDesigns © 2004 . If you experience any problems with this site or have any questions, please contact the Webmaster.
- Scott Keith
- Live from Charlotte, North Carolina.
- Your hosts are Tony Schiavone, Jim Ross and Bob Caudle.
- This was a highly-requested show: The first-ever Clash of Champions, done to screw with the Wrestlemania IV buyrate by being aired opposite on TBS.
- You know, it's almost worth the rental to see the cheesy T.H.E. video promos before the show. Beta? What's Beta?
- You know, back in 1988, I was incredibly stoked to see this show, because they hyped it on Worldwide forever, but then I found out that it was on TBS, which we didn't get in Canada until 1991, so that was kind of a downer. Anyway...
- Opening match: World TV title, Mike Rotundo v. Jimmy Garvin. This would be an Olympic rules match. Not to be confused with the "Olympic rules match" fought between Sabu and Cactus Jack in ECW. In this case, a one-count is all that is needed to win. Lots of basic stuff to start, with Rotundo bailing every time he gets taken down, for obvious reasons. This feud is another step in the ongoing "Kevin Sullivan wants Precious" storyline that concluded at Bash 88. Way too many shots of the crowd, as was the norm for that time period. First period is five minutes, and Rotundo nearly gets a pin with a three-quarter nelson. The second round begins with Garvin going for the brainbuster and Sullivan going after Precious to distract him. Rotundo cradles and gets the one-count for the pin. Big brawl erupts after the match. I don't see the point of the stips. *
- US tag team title: The Midnight Express v. The Fantastics. Sorry, was there some PPV going on? I forgot. Huge brawl to start, and I mean A HUGE BRAWL. Rogers goes after Lane in the ring and Fulton pounds Eaton with a chair. Lane rams Rogers into a chair to retaliate, and even Cornette hits the faces with chairs. Even a table gets used, albeit not broken. Finally they get into the ring and the Fantastics double-team the Express to death. The Express hits the Double Goozle on Rogers to take control. The action is literally non-stop here. Cornette holds up the table and Rogers gets whipped into it, selling it like he's been shot. Great looking spot. Eaton powerslams him and hits a Randy Savage elbow. More double-teams from the Express, including a Demolition Decapitation.
More...

KM DVD/VHS Store 4
Click here to purchase DVD or VHS products direct from the official distributors.
KM Replica Masks 4
Click here to purchase pro quality replica wrestling masks of all your favorite old school masked wrestlers.
KM Store 4
The KM Store now features products featuring the GCW logo as well as some other very cool images. To see what's new and to purchase T-Shirts, ball caps, mouse pads and more, click here.
KM Message Board 4
Want to chat with other fans of regional wrestling? This message board has forums for over two dozen promotions. Click here.
KM Belt Gallery 4
This section contains an extensive title belt gallery... images of heavyweight, tag, U.S. and various regional title belts. To view it, click here.
Old School Tape Review 4
Reviews of various PPV's, commercial tapes and regional wrestling TV shows are available in this section. To read more, click here.
Website designed & maintained by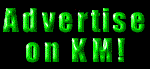 Thanks for visiting!