Regional Territories 4
This section contains monthly articles on over two dozen territories. To relive those wonderful days of old, click here.
Wrestlers 4
Enter this section for bios/profiles of various wrestlers from the regional days. To find more out about your favorite pro wrestler, click here.
Stories 4
This section contains stories from the pros themselves told exclusively to Kayfabe Memories. Want to know more as told from the wrestlers themselves? Click here.
Old School Book Reviews4
Click here to find various book reviews from old school wrestlers.
KM Links 4
For tons of links to old school related sites, click
here
.
KM Micro Wrestlers4
What are Micro Wrestlers? Click here
to find out.
KM Interviews... 4
Click here to read exclusive interviews with stars from the regional territories.
www.kayfabememories.com is © 2004 AtomDesigns. All promotional art, characters, logos and other depictions are © their respective owners. All Rights Reserved.
All contents save Wrestler Stories are © Kayfabe Memories.
Website designed and maintained by AtomDesigns © 2004 . If you experience any problems with this site or have any questions, please contact the Webmaster.
- Scott Keith
So the deal here is that the Gagne's produced a two hour sort-of retrospective on the AWA, although from the looks of things the AWAís history mainly involved Jesse Ventura, Hulk Hogan and Mad Dog Vachon. And like the sucker I am, I ordered it, because really isnít SOME wrestling better than no wrestling?
- Your hosts are Verne Gagne, Greg Gagne and Todd Okerlund (yes, heís his son).
- Opening match: Jesse Ventura & Adrian Adonis v. Greg Gagne & "Jumpin" Jim Brunzell. Quick montage of Jesseís interviews precedes the match. Can we kiss the govís ass ANY MORE? This is listed as being from 1982, with the East/West Connection supposedly holding the tag titles here. That makes no sense, because they lost the tag titles to the High Flyers a year previous to that and never won them back again. I think Greg was a wee bit confused in his pre-match introduction, or else they got the date wrong. We pick this up with Gagne working on Jesseís leg and Brunzell choking him in the corner. Brunzell is of course more famous for being one half of the Killer Bees. God knows thereís probably many people reading this who donít know him for THAT, either, and believe me, that scares me sometimes. Backbreaker gets two, and a brawl erupts, with the High Flyers applying spinning toeholds to Ventura. He dodges the dreaded DROPKICK OF DEATH, however, and Adonis (looking slim and trim) comes in and beats the hell out of Gagne. Ugly clothesline gets two. Bulldog gets nothing. Gagne reverses a second try at it and gets the hot tag to Brunzell. Dropkick gets two. Piledriver gets two, and the announcer sounded pretty worried about Brunzell pulling out the feared "skullcracker" variation of the move. I have no idea what that would be, but it sure SOUNDS painful. Sadly, my curiosity was to remain piqued but unfulfilled, as we never find out what the feared skullcracker piledriver actually entails. Iím assuming that some sort of cracking of the skull is involved. See, now, thatís just not nice Ė teasing people with a vicious-sounding move like that, especially from a wuss like Brunzell, and then leaving us hanging. No wonder they went out of business. Hopefully Nova will "invent" a new move and call it the skullcracker, just so I can hear Joey Styles call it. "Oh my god, itís the SKULLCRACKER!" Whatever. Iím not bitter. Pier-six erupts and the champs(?) hit a spike piledriver on Greg for the pin. I was hoping that THAT would be the teased "skullcracker", but no, the announcer just calls it a spike piledriver. Decent enough action for a match with Gagne involved. **1/2 More...

KM DVD/VHS Store 4
Click here to purchase DVD or VHS products direct from the official distributors.
KM Replica Masks 4
Click here to purchase pro quality replica wrestling masks of all your favorite old school masked wrestlers.
KM Store 4
The KM Store now features products featuring the GCW logo as well as some other very cool images. To see what's new and to purchase T-Shirts, ball caps, mouse pads and more, click here.
KM Message Board 4
Want to chat with other fans of regional wrestling? This message board has forums for over two dozen promotions. Click here.
KM Belt Gallery 4
This section contains an extensive title belt gallery... images of heavyweight, tag, U.S. and various regional title belts. To view it, click here.
Old School Tape Review 4
Reviews of various PPV's, commercial tapes and regional wrestling TV shows are available in this section. To read more, click here.
Website designed & maintained by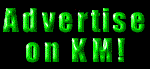 Thanks for visiting!