Regional Territories 4
This section contains monthly articles on over two dozen territories. To relive those wonderful days of old, click here.
Wrestlers 4
Enter this section for bios/profiles of various wrestlers from the regional days. To find more out about your favorite pro wrestler, click here.
Stories 4
This section contains stories from the pros themselves told exclusively to Kayfabe Memories. Want to know more as told from the wrestlers themselves? Click here.
Old School Book Reviews4
Click here to find various book reviews from old school wrestlers.
KM Links 4
For tons of links to old school related sites, click
here
.
KM Micro Wrestlers4
What are Micro Wrestlers? Click here
to find out.
KM Interviews... 4
Click here to read exclusive interviews with stars from the regional territories.
www.kayfabememories.com is © 2004 AtomDesigns. All promotional art, characters, logos and other depictions are © their respective owners. All Rights Reserved.
All contents save Wrestler Stories are © Kayfabe Memories.
Website designed and maintained by AtomDesigns © 2004 . If you experience any problems with this site or have any questions, please contact the Webmaster.
- Bill Camp
Last month I said I would cover 1982 in this column. While I still intend to do just that, I must admit that my memory is somewhat fuzzy from that time period, and I will probably end up covering a lot of 1983 here as well. Anyway, there were several great feuds and title changes to report about in these two years, so letís get started.
One of the greatest feuds was between Chief Jay Strongbow and his younger brother Jules Strongbow (Frank Hill, no relation to Jay, whose isnít even Native America himself, real name Joe Scarpa) and two very sinister Japanese men named Mr. Fuji and Mr. Saito. Fuji was already a three-time tag champ along with Professor Toru Tanaka. In fact, Fuji and Strongbow were no strangers to one another as they had feuded with each other over the tag titles numerous times in the past with Strongbow taking on different partners to try unseating Fuji and Tanaka. Now Tanaka was getting on in years and was slowing down on taking wrestling matches in favor of a movie career. (Donít laugh, he did wind up doing numerous commercials and had several short spots on movies including Last Action Hero, Pee Weeís Big Adventure and The Running Man.
Now Fuji was a tag champ again having defeated Tony Garea and Rick Martel for the titles in late 1981. They received a few quick rematches before Martel returned to the AWA and eventually received superstardom as their World Champion. Garea, being left without a partner, left Strongbow to received shots at the tag titles. He and his brother defeated the top rated tandem of Jesse ďThe BodyĒ Ventura and Adrian Adonis, the East-West Connection, just before Adonis and Ventura left to join Martel in the AWA.
However, every time the Strongbows were about to win the titles, one of the Japanese would throw salt in their eyes either causing a disqualification or leading to a Strongbow getting pinned. If the salt trick didnít work their manager Capt. Lou Albano interfered. Finally, in New Yorkís Madison Square Garden the Strongbows won the titles, however, the referee didnít notice that Fujiís foot was on the ropes during the pin, so later the belts were held up. Also in that best-of-3-falls match at the Garden, the Japanese team threw salt in all three falls. They had a rematch on television from (you guessed it) Allentown, PA, and the Japanese won again using their usual devious tactics. But this time the Indians had enough and protested the match by not letting the next bout take place in the arena and refusing to leave the ring.
More...
If you'd like to discuss the WWWF/WWF region with other fans, please visit the KM Message Board

KM DVD/VHS Store 4
Click here to purchase DVD or VHS products direct from the official distributors.
KM Replica Masks 4
Click here to purchase pro quality replica wrestling masks of all your favorite old school masked wrestlers.
KM Store 4
The KM Store now features products featuring the GCW logo as well as some other very cool images. To see what's new and to purchase T-Shirts, ball caps, mouse pads and more, click here.
KM Message Board 4
Want to chat with other fans of regional wrestling? This message board has forums for over two dozen promotions. Click here.
KM Belt Gallery 4
This section contains an extensive title belt gallery... images of heavyweight, tag, U.S. and various regional title belts. To view it, click here.
Old School Tape Review 4
Reviews of various PPV's, commercial tapes and regional wrestling TV shows are available in this section. To read more, click here.
Website designed & maintained by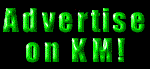 Thanks for visiting!