Regional Territories 4
This section contains monthly articles on over two dozen territories. To relive those wonderful days of old, click here.
Wrestlers 4
Enter this section for bios/profiles of various wrestlers from the regional days. To find more out about your favorite pro wrestler, click here.
Stories 4
This section contains stories from the pros themselves told exclusively to Kayfabe Memories. Want to know more as told from the wrestlers themselves? Click here.
Old School Book Reviews4
Click here to find various book reviews from old school wrestlers.
KM Links 4
For tons of links to old school related sites, click
here
.
KM Micro Wrestlers4
What are Micro Wrestlers? Click here
to find out.
KM Interviews... 4
Click here to read exclusive interviews with stars from the regional territories.
www.kayfabememories.com is © 2004 AtomDesigns. All promotional art, characters, logos and other depictions are © their respective owners. All Rights Reserved.
All contents save Wrestler Stories are © Kayfabe Memories.
Website designed and maintained by AtomDesigns © 2004 . If you experience any problems with this site or have any questions, please contact the Webmaster.
- Manuel Gonzalez
There is no doubt that the hottest feud in the history of Puerto Rican wrestling history is the feud between Carlos Colón and Abdullah The Butcher. This feud was very wild and bloody during the late 70's, the whole 80's and early 90's, so it covers three decades.
How did it begin? Both wrestlers began this feud in Canada in the early 70's, when Carlos worked for the Stu Hart promotion, Stampede Wrestling, under the name Carlos Belafonte. It was believed, at the time, that Belafonte was his real last name, until he get married with his wife, Nancy Coates, where the last name Colón was revealed. In Canada, and before moving to Puerto Rico, Carlos had feuds with several wrestlers, including Abdullah, but this part of his career is an almost forgotten one and finding information about it was a real assignment.
Abdullah debuted in Puerto Rico in 1978 and was basically an instant hit. Carlos Colón was the top babyface of the promotion, then named Capitol Sports Promotions, and was attacked by a wild Abdullah The Butcher. At the time, Carlos was the Puerto Rican champion and quickly a feud for the title began. They traded this title several times. The first one was on November 18, 1978, when Abdullah defeated Carlos Colón (who was wearing this title for the second time) and his title reign was ended by Pampero Firpo 8 months later (in a heels match). During his reign he was a monster heel. Abdullah regained this title for the second time from Carlos (who defeated Firpo) on December 15, 1979. Carlos won the title back a month later (January 12, 1980, but was held up on January 5, 1980). Abdullah defeated Carlos for the last and third time (for this title) on July, 1981, and Colón regained it back on September 26, 1981.
During this war, Abdullah and Carlos faced each other in some classic battles. One included a match for the title on September 26, 1981, that Carlos won, in which Carlos injured Abdullah The Butcher's knee, in a wild brawl. This match was a classic since it was a barbed wired match.
On June 1982, Carlos wrestled once again against Abdullah The Butcher in a match with the stipulation in which the loser leaves Puerto Rico in a barbed wire match (they love this matches). Abdullah lost and a month later reappeared, this time billed as the WWC WORLD champion and lost the title to Carlos Colón in July 24, 1982. More...
If you'd like to discuss the WWC region with other fans, please visit the KM Message Board

KM DVD/VHS Store 4
Click here to purchase DVD or VHS products direct from the official distributors.
KM Replica Masks 4
Click here to purchase pro quality replica wrestling masks of all your favorite old school masked wrestlers.
KM Store 4
The KM Store now features products featuring the GCW logo as well as some other very cool images. To see what's new and to purchase T-Shirts, ball caps, mouse pads and more, click here.
KM Message Board 4
Want to chat with other fans of regional wrestling? This message board has forums for over two dozen promotions. Click here.
KM Belt Gallery 4
This section contains an extensive title belt gallery... images of heavyweight, tag, U.S. and various regional title belts. To view it, click here.
Old School Tape Review 4
Reviews of various PPV's, commercial tapes and regional wrestling TV shows are available in this section. To read more, click here.
Website designed & maintained by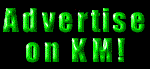 Thanks for visiting!