Regional Territories 4
This section contains monthly articles on over two dozen territories. To relive those wonderful days of old, click here.
Wrestlers 4
Enter this section for bios/profiles of various wrestlers from the regional days. To find more out about your favorite pro wrestler, click here.
Stories 4
This section contains stories from the pros themselves told exclusively to Kayfabe Memories. Want to know more as told from the wrestlers themselves? Click here.
Old School Book Reviews4
Click here to find various book reviews from old school wrestlers.
KM Links 4
For tons of links to old school related sites, click
here
.
KM Micro Wrestlers4
What are Micro Wrestlers? Click here
to find out.
KM Interviews... 4
Click here to read exclusive interviews with stars from the regional territories.
www.kayfabememories.com is © 2004 AtomDesigns. All promotional art, characters, logos and other depictions are © their respective owners. All Rights Reserved.
All contents save Wrestler Stories are © Kayfabe Memories.
Website designed and maintained by AtomDesigns © 2004 . If you experience any problems with this site or have any questions, please contact the Webmaster.
World Class Championship Wrestling
January 1986
- Max Levy
A New Year Begins
World Class Championship Wrestling took forward, but tentative steps into 1986. The Christmas Star Wars show at Reunion Arena had drawn well below expectations and the promotion hoped to quickly regain its fading momentum. Change gripped pro wrestling tightly as the WWF expansion had now lasted two years and showed no sign of letting up. Alliances formed in response to this threat began to crumble and the territorial promotions began to look suspiciously at one another. World Class Championship Wrestling responded to this changing world by looking towards the past for help. Many of the area's top stars dated back to 1983 when World Class had taken flight as a major promotion. Would these tried and true names and feuds lead the way back to success? Let's take a look at January of 1986.
The Roster
The premier babyfaces were, as always, Kerry, Kevin, and Lance Von Erich. Battling their old rivals The Fabulous Freebirds, with Lance filling the spot occupied in the past by David and Mike, it felt like old times again. Aiding the Von Erichs and rivaling them at times in popularity was Bruiser Brody. Brody's name and fame put him in demand around the world, but he spent more time in World Class than anyplace else during the early part of 1986. Sunshine enjoyed immense popularity and her endorsement combined with his wild demeanor made The Missing Link a new favorite. Iceman Parsons was a solid standby, but perhaps had become a bit stale. Brian Adias' push to the upper midcard was over, but he stayed on in a position lower down the ladder. Chief Mark Youngblood mostly worked the low midcard and whatever plans World Class had for Mark seemed to evaporate. Jerry Allen entered the promotion working the bottom of the card. Familiar faces Dave Peterson and Johnny Mantell had departed. Meanwhile the fans were really taking an old favorite to heart. Chris Adams started hearing the fans' cheers for the first time since way back in September 1984 due to his break up with Gino Hernandez.
The Fabulous Freebirds reigned as lead heels. Michael Hayes, Terry Gordy, and Buddy Roberts topped almost everyone's most hated lists among World Class fans. The top singles heel was Ravishing Rick Rude with manager Percival Pringle III by his side as always. Gino Hernandez, clearly the bad guy in his split with Chris Adams, deserved all every jeer directed his way. The fans despised Missy Hyatt and her beau Hollywood John Tatum to an almost unhealthy degree. One Man Gang's heat did not even approach its levels of the previous year, but he still wrestled high on the card. The Grappler couldn't quite seem to rise above midcard levels despite efforts to associate him with higher-ranking heels. The Great Kabuki continued to wrestle in World Class Championship Wrestling as a midcard heel while the promoters searched for a new role for the mysterious master of the martial arts. Jack Victory was a good utility heel, mostly wrestling nearer the bottom than the top of the card, but capable of holding his own when circumstances required him to move up the ladder.
Feuds
Undoubtedly the biggest feud in World Class featured those perennial foes, The Von Erichs and The Freebirds. With Hayes, Gordy, and Roberts clinging to the Six Man Title and their popular foes in hot pursuit, the feud was a natural and if it didn't quite recapture the magic of 1983 and 1984, it did at least produce some very entertaining and intense matches. Missy Hyatt and Sunshine seemed to have an almost unhealthy hatred for one another and whether in the ring or roaming ringside, they produced nuclear heat. Their respective charges John Tatum and The Missing Link fought with one another as well. Brian Adias pursued his former Texas Title and the man who defeated him, The Grappler. One Man Gang and Bruiser Brody bled their way through more wars even taking their feud to San Antonio with Texas All Star Wrestling. However in that promotion the heel and babyface roles were reversed due to Brody's association with OMG's former World Class manager Gary Hart. One glaring hole in the cloth of World Class Championship Wrestling was the lack of a true feud and challenger for American Champion Rick Rude who defended the belt against a variety of foes yet did not really have a major rivalry with any of them in particular. More...

KM DVD/VHS Store 4
Click here to purchase DVD or VHS products direct from the official distributors.
KM Replica Masks 4
Click here to purchase pro quality replica wrestling masks of all your favorite old school masked wrestlers.
KM Store 4
The KM Store now features products featuring the GCW logo as well as some other very cool images. To see what's new and to purchase T-Shirts, ball caps, mouse pads and more, click here.
KM Message Board 4
Want to chat with other fans of regional wrestling? This message board has forums for over two dozen promotions. Click here.
KM Belt Gallery 4
This section contains an extensive title belt gallery... images of heavyweight, tag, U.S. and various regional title belts. To view it, click here.
Old School Tape Review 4
Reviews of various PPV's, commercial tapes and regional wrestling TV shows are available in this section. To read more, click here.
Website designed & maintained by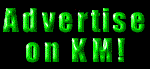 Thanks for visiting!