Regional Territories 4
This section contains monthly articles on over two dozen territories. To relive those wonderful days of old, click here.
Wrestlers 4
Enter this section for bios/profiles of various wrestlers from the regional days. To find more out about your favorite pro wrestler, click here.
Stories 4
This section contains stories from the pros themselves told exclusively to Kayfabe Memories. Want to know more as told from the wrestlers themselves? Click here.
Old School Book Reviews4
Click here to find various book reviews from old school wrestlers.
KM Links 4
For tons of links to old school related sites, click
here
.
KM Micro Wrestlers4
What are Micro Wrestlers? Click here
to find out.
KM Interviews... 4
Click here to read exclusive interviews with stars from the regional territories.
www.kayfabememories.com is © 2004 AtomDesigns. All promotional art, characters, logos and other depictions are © their respective owners. All Rights Reserved.
All contents save Wrestler Stories are © Kayfabe Memories.
Website designed and maintained by AtomDesigns © 2004 . If you experience any problems with this site or have any questions, please contact the Webmaster.
World Class Championship Wrestling
December 1985
- Max Levy
The Action Rolls On
The end of the year was always a very busy time in World Class Championship Wrestling due to so many important cards following one another in such close succession. No sooner had the Thanksgiving show ended than the promotion started gearing up for the Christmas Wrestling Star Wars at Reunion Arena in Dallas. Let's look at what was going on during the eventful final month of 1985, starting with a shocking return.
The Boys Are Back In Town
Terry Gordy had appeared as a special referee at Reunion Arena on Thanksgiving night. However he flew to World Class alone. That same night Michael Hayes and Buddy Roberts teamed in defeat to The Road Warriors on an AWA card in St. Paul. Even into December The Birds continued to wrestle AWA dates. Thus it shocked everyone when they made a sudden and violent arrival in World Class Championship Wrestling in early December. The promotion was taping Championship Sports in Fort Worth at Will Rogers Memorial Auditorium due to the unavailability of the nearby Will Rogers Coliseum because of a livestock show. Kerry and Kevin faced One Man Gang and John Tatum in the best of 3 falls main event. Suddenly, lightning struck!
Between falls, The Fabulous Freebirds hit the ring in a sneak attack and soon left the Von Erichs in a beaten daze. Announcer Marc Lowrance exclaimed, "The Devil has come out tonight in Fort Worth!" one of World Class' most famous broadcast calls. Terry Gordy inflicted plenty of damage with his new Bamm Bamm Slam, a second rope powerslam. Brian Adias sprinted to the ring to help his fallen friends, but could nothing to stem the Freebirds' onslaught and took a rough beating himself. In the aftermath, The Freebirds cut a chilling promo. Michael Hayes explained that The Fabulous Freebirds were back and ready to reclaim the Six Man Title and to settle all scores with the Von Erichs. Hayes also alluded to resentment over Kevin winning the car and the Freebirds and Von Erichs having to split the $100,000 purse from the 12-man match at Texas Stadium as another root of resentment. In Hayes' succinct words "If you play with fire, you're gonna get burnt." The most famous feud in World Class history lived again.
The Roster
As always, the Von Erichs anchored the babyface faction of World Class. Lance had really become a huge fan favorite since his debut. He admittedly was far from the best wrestler, but his look made him an instant hit with the fans and they immediately took Lance to heart. Kerry and Kevin remained as popular as ever and had really come into their own as a tag team. Kerry was at his peak as a wrestler and Kevin also looked great during this period. Apart from these three, perennials Iceman Parsons and Brian Adias remained on the scene. Bruiser Brody appeared much more frequently than in recent years as a prelude to becoming a regular. Sunshine began guiding The Missing Link. The Missing Link's babyface turn was explained with the story that he had been abused and mistreated as a child and then in adulthood by various unscrupulous managers. Sunshine explained that all Link had needed was a bit of kindness and understanding. With that, the fans quickly adopted Link as a popular monster babyface. Scott Casey was still on hand, but finishing up in the promotion. Chief Mark Youngblood arrived in World Class. His father Ricky Romero was a wrestling legend in West Texas. Mark had achieved past success in the Mid-Atlantic promotion where his brother Jay had headlined in a tag team with Rick Steamboat. The likes of Dave Peterson and Johnny Mantell, both fundamentally sound, but lacking charisma, filled out the lower part of the cards.
Standing as kings of the heel mountain were Michael Hayes, Terry Gordy, and Buddy Roberts. Michael maintained his charisma and incredible gift of gab. Terry Gordy unquestionably stood as one of the most talented and underrated wrestlers in the world. Buddy Roberts bumped and sold for everyone and while some felt he played the role of the fall guy a bit too much, his unselfishness kept Michael and Terry strong. More...

KM DVD/VHS Store 4
Click here to purchase DVD or VHS products direct from the official distributors.
KM Replica Masks 4
Click here to purchase pro quality replica wrestling masks of all your favorite old school masked wrestlers.
KM Store 4
The KM Store now features products featuring the GCW logo as well as some other very cool images. To see what's new and to purchase T-Shirts, ball caps, mouse pads and more, click here.
KM Message Board 4
Want to chat with other fans of regional wrestling? This message board has forums for over two dozen promotions. Click here.
KM Belt Gallery 4
This section contains an extensive title belt gallery... images of heavyweight, tag, U.S. and various regional title belts. To view it, click here.
Old School Tape Review 4
Reviews of various PPV's, commercial tapes and regional wrestling TV shows are available in this section. To read more, click here.
Website designed & maintained by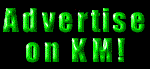 Thanks for visiting!