Regional Territories 4
This section contains monthly articles on over two dozen territories. To relive those wonderful days of old, click here.
Wrestlers 4
Enter this section for bios/profiles of various wrestlers from the regional days. To find more out about your favorite pro wrestler, click here.
Stories 4
This section contains stories from the pros themselves told exclusively to Kayfabe Memories. Want to know more as told from the wrestlers themselves? Click here.
Old School Book Reviews4
Click here to find various book reviews from old school wrestlers.
KM Links 4
For tons of links to old school related sites, click
here
.
KM Micro Wrestlers4
What are Micro Wrestlers? Click here
to find out.
KM Interviews... 4
Click here to read exclusive interviews with stars from the regional territories.
www.kayfabememories.com is © 2004 AtomDesigns. All promotional art, characters, logos and other depictions are © their respective owners. All Rights Reserved.
All contents save Wrestler Stories are © Kayfabe Memories.
Website designed and maintained by AtomDesigns © 2004 . If you experience any problems with this site or have any questions, please contact the Webmaster.
World Class Championship Wrestling
October 1985
- Max Levy
Review
When last we left World Class, the promotion was gearing up for the big show at the Cotton Bowl during the annual State Fair of Texas. The promotion basically built this show around a single match, but it truly was a bout the people wanted to see. Kerry and Kevin Von Erich would finally get their shot at revenge against Chris Adams and Gino Hernandez in a Hair vs. Hair match demanded by The Dynamic Duo. Apart from this huge event, World Class experienced some comings and goings that would shape the promotion over the next few months. Let's get down to business.
Talent
Needless to say, Kerry and Kevin Von Erich were by far and away the top babyfaces in World Class. Bruiser Brody still stopped in frequently between tours of other promotions. Others on the babyface tier included Sunshine and her duo of Scott Casey and The Great Kabuki. Iceman King Parsons remained a popular mainstay. Brian Adias' babyface push continued as well. Dave Peterson and Johnny Mantell filled out the lower part of the card. Prelim guys Tommy Montana and Rangi received a bit more of a push than wrestlers in their spots normally received in World Class. Rangi was billed from Tahiti and used a Polynesian gimmick.
Arriving amidst much fanfare was Lance Von Erich. A Von Erich cousin had been on Fritz's mind for a while. He had many good reasons for making this move. Anything with the Von Erich name on it drew, so why not bring in a new family member? The family was constantly in demand for public appearances. Lance could now shoulder some of the load and free up the others. Kerry and Kevin almost always made the Dallas and Fort Worth shows and the other big cities. However often one or both of them skipped the small town spot shows. This disappointed the locals to be sure. Lance's presence meant a Von Erich would be in every town. Lance had been mentioned once in passing as far back as the spring of 1984. Clearly the idea had been in the works for a while. Now World Class would make that idea a reality.
Lance had been working out of the view of Texas fans for Don Owen's Portland based territory. He went by his real name Ricky Vaughn held the top title there, the Pacific Northwest Title. The plan was for Vaughn to gain experience before coming into Texas as Lance Von Erich. I am not sure whether his World Class debut was on schedule or if it was hastened by Mike Von Erich's illness and the impending arrival of The Fabulous Freebirds before the end of the year. Whatever the case, Lance debuted to a hero's welcome. Fritz explained that his nephew was the son of his brother Waldo Von Erich and had wrestled under an assumed name in Portland until he felt he was ready under his true Von Erich name. Of course Fritz and Waldo were not really brothers and Lance was not Waldo's son (it is unlikely that they have ever met). But the great thing about the Kayfabe era was that the fans accepted this story as the truth and took to Lance like a duck to water from minute one without the slightest bit of skepticism.
The lead heels by a distance were Chris Adams and Gino Hernandez, better known as The Dynamic Duo. Gary Hart's stable consisted of One Man Gang, Maniac Mark Lewin, and Jack Victory. Killer Brooks also returned and associated himself with Hart. Hollywood John Tatum made huge waves in the promotion with no small thanks going to his valet Missy Hyatt. Kelly Kiniski sat in his usual position in the low midcard to prelims. Some big changes occurred as the month progressed. First, Ravishing Rick Rude arrived. Memphis pushed Rude to the top in 1984 and Florida followed suit in 1985. Rude possessed a superstar buzz as he entered World Class. Accompanying Rick was his manager from Florida, Percival Pringle III. Gary Hart and Mark Lewin headed out the door as the month ended. One Man Gang and Lewin had come to blows following a match against Kerry and Iceman at The Sportatorium. Hart sided with Lewin and it seemed like a feud with those to against a babyface OMG was in the offing. Instead One Man Gang remained a solo heel while Lewin returned to the Florida territory and Hart headed south to San Antonio as a manager and booker for Texas All Star Wrestling. More...
If you'd like to discuss the World Class region with other fans, please visit the KM Message Board

KM DVD/VHS Store 4
Click here to purchase DVD or VHS products direct from the official distributors.
KM Replica Masks 4
Click here to purchase pro quality replica wrestling masks of all your favorite old school masked wrestlers.
KM Store 4
The KM Store now features products featuring the GCW logo as well as some other very cool images. To see what's new and to purchase T-Shirts, ball caps, mouse pads and more, click here.
KM Message Board 4
Want to chat with other fans of regional wrestling? This message board has forums for over two dozen promotions. Click here.
KM Belt Gallery 4
This section contains an extensive title belt gallery... images of heavyweight, tag, U.S. and various regional title belts. To view it, click here.
Old School Tape Review 4
Reviews of various PPV's, commercial tapes and regional wrestling TV shows are available in this section. To read more, click here.
Website designed & maintained by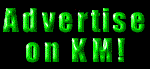 Thanks for visiting!