Regional Territories 4
This section contains monthly articles on over two dozen territories. To relive those wonderful days of old, click here.
Wrestlers 4
Enter this section for bios/profiles of various wrestlers from the regional days. To find more out about your favorite pro wrestler, click here.
Stories 4
This section contains stories from the pros themselves told exclusively to Kayfabe Memories. Want to know more as told from the wrestlers themselves? Click here.
Old School Book Reviews4
Click here to find various book reviews from old school wrestlers.
KM Links 4
For tons of links to old school related sites, click
here
.
KM Micro Wrestlers4
What are Micro Wrestlers? Click here
to find out.
KM Interviews... 4
Click here to read exclusive interviews with stars from the regional territories.
www.kayfabememories.com is © 2004 AtomDesigns. All promotional art, characters, logos and other depictions are © their respective owners. All Rights Reserved.
All contents save Wrestler Stories are © Kayfabe Memories.
Website designed and maintained by AtomDesigns © 2004 . If you experience any problems with this site or have any questions, please contact the Webmaster.
World Class Championship Wrestling
August – September 1985
- Max Levy
Catching Up
As the summer of 1985 wound down, some old faces had gone. The Fantastics and The Midnight Express and Jim Cornette had all departed. Rip Oliver had also left the territory. However other new faces were coming and World Class Championship Wrestling had a prize match on its hands. It was already announced that The Cotton Bowl in Dallas would play host to a bout pitting Kerry and Kevin Von Erich against Chris Adams and Gino Hernandez on Sunday October 6, 1985. Both members of the losing team would have their heads shaved in the ring immediately afterwards. Leading up to match day World Class Championship Wrestling centered entirely on these wrestlers and this feud.
The Roster
The unquestioned kings of the babyface pile were Kerry and Kevin Von Erich who remained immensely popular with the fans and at their collective peak in the ring. Brian Adias was getting a huge push as the top non Von Erich babyface, much as Iceman Parsons and Chris Adams had received in the past. Looking back, despite good intentions Adias was not as charismatic or talented as those two and was perhaps pushed a bit beyond his true level. Bruiser Brody was back after an absence of two years. Brody's popularity had not waned a bit although commitments to other promotions made his appearances somewhat irregular. Although lacking a natural rival like Precious or even Jim Cornette, Sunshine remained as much a star as ever. She continued to guide Scott Casey and The Great Kabuki. Iceman King Parsons was still on hand. Jim Powers was still in the area although soon he'd be on his way.
When you talked about heels in World Class during this era, the first two names had to be Chris Adams and Gino Hernandez. These two were as hot as any two heels in the business at the time. The Dynamic Duo knew exactly which buttons to push with the audience. Gary Hart remained a force as well. One Man Gang and Mark Lewin were his main charges. Killer Tim Brooks was in and out of the area while Jack Victory was paired with Hart to give him a push. Although things never quite panned out for him, back in 1985 Victory seemed like a future star to many observers. Hollywood John Tatum began his climb from the undercard. He had charisma, but still lacked that superstar touch. That touch was on its way. World Class perennial Kelly Kiniski rounded out the heel roster.
The Titles
The championship getting most of the focus in the late summer of 1985 was the American Tag Team Title. Chris Adams and Gino Hernandez reigned as champs and rubbed it in the noses of the fans at every opportunity. Kerry and Kevin Von Erich stood as their main challengers and the two teams battled almost nightly in some terrific bouts. Much to the chagrin of Gino, Brian Adias held the Texas Title. Gino did ultimately regain it on Labor Day September 2, 1985 in Fort Worth only for Brian Adias to take it back on September 20, 1985 in Dallas. One Man Gang, Killer Tim Brooks, and Mark Lewin held the Six Man Title. This championship was rarely defended although it did change hands on September 2, 1985. Brooks no showed so Kerry and Kevin teamed with Adias (in place of the seriously ill Mike) to beat One Man Gang, Mark Lewin, and substitute Jack Victory for the belts. The TV Title passed from Iceman King Parsons to the up and coming John Tatum. Speaking of Iceman, he technically held the American Title, but you certainly wouldn't know that from watching World Class TV. The promotion had decided to deemphasize the title for the time being. Thus during his reign as champ Iceman was rarely if ever referred to as the Champ on TV and did not carry the belt.
The Feuds
All World Class had to do in the summer of 1985 was book Chris Adams and Gino Hernandez in the main event against Kerry and Kevin Von Erich and it had a match that was guaranteed to draw the fans to the arena and send them home happy, but wanting to see a rematch. More...
If you'd like to discuss the World Class region with other fans, please visit the KM Message Board

KM DVD/VHS Store 4
Click here to purchase DVD or VHS products direct from the official distributors.
KM Replica Masks 4
Click here to purchase pro quality replica wrestling masks of all your favorite old school masked wrestlers.
KM Store 4
The KM Store now features products featuring the GCW logo as well as some other very cool images. To see what's new and to purchase T-Shirts, ball caps, mouse pads and more, click here.
KM Message Board 4
Want to chat with other fans of regional wrestling? This message board has forums for over two dozen promotions. Click here.
KM Belt Gallery 4
This section contains an extensive title belt gallery... images of heavyweight, tag, U.S. and various regional title belts. To view it, click here.
Old School Tape Review 4
Reviews of various PPV's, commercial tapes and regional wrestling TV shows are available in this section. To read more, click here.
Website designed & maintained by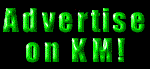 Thanks for visiting!