Regional Territories 4
This section contains monthly articles on over two dozen territories. To relive those wonderful days of old, click here.
Wrestlers 4
Enter this section for bios/profiles of various wrestlers from the regional days. To find more out about your favorite pro wrestler, click here.
Stories 4
This section contains stories from the pros themselves told exclusively to Kayfabe Memories. Want to know more as told from the wrestlers themselves? Click here.
Old School Book Reviews4
Click here to find various book reviews from old school wrestlers.
KM Links 4
For tons of links to old school related sites, click
here
.
KM Micro Wrestlers4
What are Micro Wrestlers? Click here
to find out.
KM Interviews... 4
Click here to read exclusive interviews with stars from the regional territories.
www.kayfabememories.com is © 2004 AtomDesigns. All promotional art, characters, logos and other depictions are © their respective owners. All Rights Reserved.
All contents save Wrestler Stories are © Kayfabe Memories.
Website designed and maintained by AtomDesigns © 2004 . If you experience any problems with this site or have any questions, please contact the Webmaster.
World Class Championship Wrestling
June – July 1985
- Max Levy
Catching Up
We last left World Class Championship Wrestling on the field of Texas Stadium where Chris Adams and Gino Hernandez had just used One Man Gang's chain to smash the Lincoln Continental won by Kevin Von Erich for scoring the match ending pin in the big 12 man, 2 ring, best of 5 falls tag team match. Chris and Gino had put on over on their hated foes and the Von Erich family vowed revenge. Needless to say, this war had only just begun. Beside that issue plenty else was happening in World Class in the summer of 1985. Let's take a look at all the action.
The Roster
As always Kerry and Kevin Von Erich stood as the top babyfaces. Mike was around too, but limited to occasional duty by his shoulder injuries. Mike's bout with Toxic Shock Syndrome was not far in the future. The Fantastics were still on hand although on their way out. World Class pushed Brian Adias more than ever before. Clearly they aimed to establish him as the top non Von Erich although he never quite caught on. Sunshine's duo of Kabuki and Scott Casey were quite over, as was Sunshine herself. Jim Powers arrived to some fanfare although his push ultimately never caught on. A past favorite returned after a lengthy absence. Iceman "King" Parsons came back to World Class after wrestling elsewhere for most of the year.
The Dynamic Duo of Chris Adams and Gino Hernandez led the heel roster. Gary Hart rebuilt his stable to include not only One Man Gang, but also returning charges Killer Tim Brooks and Maniac Mark Lewin. Jim Cornette continued to manage his Midnight Express as well as Rip Oliver. The entire Cornette stable was finishing out its World Class run. Perennial heel midcarder Kelly Kiniski remained a fixture. A young Jack Victory started to make his mark. His future tag team partner John Tatum also began wrestling in World Class, minus Missy Hyatt. She would not arrive for a few months.
For a moment I will step out of the role of fan and into the role of analyst. Business was still on fire in World Class during 1985, but the future problems are already apparent based on the talent pool. In the preceding months out had gone the likes of The Freebirds, Billy Jack Haynes, Hercules Hernandez, Jake Roberts, and Kamala while the likes of Butch Reed and Steve Williams teased coming in only to either leave quickly or not arrive at all. Coming in were people like Mark Lewin and Killer Brooks who still had some name value but had passed their primes in the ring and at the box office. Iceman Parsons was a big favorite in World Class and fans were happy to see him return, but he had not been gone long enough to seem fresh and have a positive impact at the gate. There was an old hat feeling about all of them, even if Lewin and Brooks had been gone for years. Brian Adias did not have the talent or charisma to fill the top non Von Erich babyface role once held by Parsons and later Chris Adams. Meanwhile The Midnight Express and Jim Cornette were finishing up and about to leave. The Fantastics also moved towards the exit door. World Class needed to bring in some big name talent to keep up the momentum. Some effort was made to maintain the talent pool, but not enough and this failure would hurt the promotion down the line.
The Titles
If anything sums up the World Class title scene in the summer of 1985, it is The Dynamic Duo. Chris Adams and Gino Hernandez were at their peak as a team and dominated the championships. Adams continued to reign as American Champion until Iceman Parsons won the gold in Dallas at The Sportatorium on July 5, 1985. Gino's Texas Title reign exceeded one year before Brian Adias upset him in Fort Worth on July 29, 1985. To top it off, on June 24, 1985 The Dynamic Duo upended The Fantastics in Fort Worth to claim the American Tag Team Title. For a time in late June and early July Chris and Gino controlled both of the main singles titles and the tag team title.
Apart from The Dynamic Duo, plenty else was happening in the title picture. Gary Hart's trio of One Man Gang, Killer Tim Brooks, and Mark Lewin won the Six Man Title via a phantom switch allegedly taking place in Reno, NV on July 7, 1985. They defeated Kerry and Kevin Von Erich and their partner for the day, Brian Adias who was credited for standing in for the injured Mike Von Erich. More...
If you'd like to discuss the World Class region with other fans, please visit the KM Message Board

KM DVD/VHS Store 4
Click here to purchase DVD or VHS products direct from the official distributors.
KM Replica Masks 4
Click here to purchase pro quality replica wrestling masks of all your favorite old school masked wrestlers.
KM Store 4
The KM Store now features products featuring the GCW logo as well as some other very cool images. To see what's new and to purchase T-Shirts, ball caps, mouse pads and more, click here.
KM Message Board 4
Want to chat with other fans of regional wrestling? This message board has forums for over two dozen promotions. Click here.
KM Belt Gallery 4
This section contains an extensive title belt gallery... images of heavyweight, tag, U.S. and various regional title belts. To view it, click here.
Old School Tape Review 4
Reviews of various PPV's, commercial tapes and regional wrestling TV shows are available in this section. To read more, click here.
Website designed & maintained by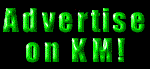 Thanks for visiting!