Regional Territories 4
This section contains monthly articles on over two dozen territories. To relive those wonderful days of old, click here.
Wrestlers 4
Enter this section for bios/profiles of various wrestlers from the regional days. To find more out about your favorite pro wrestler, click here.
Stories 4
This section contains stories from the pros themselves told exclusively to Kayfabe Memories. Want to know more as told from the wrestlers themselves? Click here.
Old School Book Reviews4
Click here to find various book reviews from old school wrestlers.
KM Links 4
For tons of links to old school related sites, click
here
.
KM Micro Wrestlers4
What are Micro Wrestlers? Click here
to find out.
KM Interviews... 4
Click here to read exclusive interviews with stars from the regional territories.
www.kayfabememories.com is © 2004 AtomDesigns. All promotional art, characters, logos and other depictions are © their respective owners. All Rights Reserved.
All contents save Wrestler Stories are © Kayfabe Memories.
Website designed and maintained by AtomDesigns © 2004 . If you experience any problems with this site or have any questions, please contact the Webmaster.
Life at the Bottom of the Card
- Max Levy
Call them carpenters. Call them enhancement guys. Call them prelim wrestlers. Just don't call them jobbers! The wrestlers who faced life at the bottom of World Class Championship Wrestling cards and racked up more losses than wins were a hearty group, whose contribution to professional wrestling is often unfairly, overlooked. They worked hard to make the bigger stars look better and sometimes had quite a bit of skill and just lacked the intangibles or the luck to make it as a major star. Their pay was generally low, so many of these men were in it for the love of the game so to speak. Let's take a closer look at a few of these men.
Guys Who Made It Big Later On
Most undercard and TV enhancement guys were grizzled veterans or journeymen types. Some of them went on to become bigger stars however and it is now rather fun to look back at tapes and see them way back when.
Shawn Michaels – The future Heartbreak Kid was just a green 18 year old when he debuted on World Class Championship Wrestling at the end of 1984. One Man Gang demolished Shawn in one of his first matches. At the time no one took note of Shawn and certainly never expected that he'd become such a huge star.
Rick Rude – Not long before Rick Rude made it big (he was still Rick Rood at the time), he was on the wrong end of a squash match with Kamala in 1983. Rick had a great physique and natural charisma and it should have surprised no one to see Rude become a top star in World Class after leaving to first make his name in Memphis and Florida.
Tonga John – Tonga John was on hand in the fall of 1983 doing a Polynesian gimmick, as the name would suggest. He won a few, but mostly lost. Soon he was gone and not long afterwards became known to fans as The Barbarian, doing a Road Warrior gimmick.
The Samoan – The Samoan was a babyface for a time in 1982 and did little of note in World Class rings. However he soon moved on to fame and fortune after moving to the WWF in 1983 to join his father Afa and uncle Sika as Samala of the Wild Samoans. He later returned to World Class in 1988 as Samu and along with Fatu had a smashing run as The Samoan Swat Team. The SST later went to WCW and then on to the WWF as The Headshrinkers.
Guys Who Never Quite Made It To Stardom
Plenty of talented wrestlers had long careers and even minor pushes, but never quite graduated to the ranks of the big stars. Here is a sampling of these men.
Skip Young – Skip Young was a Dallas-Fort Worth native whose career rocketed to a fast start in the late 1970s in Florida under a mask as Sweet Brown Sugar. Alas once he unmasked in the early 1980s, the magic subsided and Young never regained his momentum. Skip Young wrestled on and off for World Class and occasionally received a push, but he never went far and inevitably wound up losing more than he won.
Kelly Kiniski – Kelly Kiniski was a mainstay in World Class in the mid 1980s. He wasn't a bad wrestler, just rather bland in appearance and personality. Kelly often received midcard pushes and was the type to always get his offense in before losing or to be the one whose partner was pinned in a tag bout. Yet Kelly never broke out and became a star like his legendary father Gene Kiniski.
Johnny Mantell – In 1983 Johnny Mantell was solidly pushed as a midcarder and even enjoyed a TV Title reign. At the end of the year Johnny left, but when he returned all of his momentum had subsided. Runs in 1984 and 1985 saw Johnny slide to the bottom of the card, still a capable wrestler, but now someone who was on the losing end of the stick far more often than the winning end.
The Grappler – When I say The Grappler never made it to stardom, I am speaking strictly about his stint in World Class. The Grappler had big runs in many other territories. Yet his World Class run from late 1985 to mid 1987 was largely spent at the bottom of the card. The Grappler came in with Percy Pringle as his manager and quickly won the Texas Title. Soon he was apart from Pringle, but teaming with John Tatum who was getting a push with valet Missy Hyatt. More...
If you'd like to discuss the World Class region with other fans, please visit the KM Message Board

KM DVD/VHS Store 4
Click here to purchase DVD or VHS products direct from the official distributors.
KM Replica Masks 4
Click here to purchase pro quality replica wrestling masks of all your favorite old school masked wrestlers.
KM Store 4
The KM Store now features products featuring the GCW logo as well as some other very cool images. To see what's new and to purchase T-Shirts, ball caps, mouse pads and more, click here.
KM Message Board 4
Want to chat with other fans of regional wrestling? This message board has forums for over two dozen promotions. Click here.
KM Belt Gallery 4
This section contains an extensive title belt gallery... images of heavyweight, tag, U.S. and various regional title belts. To view it, click here.
Old School Tape Review 4
Reviews of various PPV's, commercial tapes and regional wrestling TV shows are available in this section. To read more, click here.
Website designed & maintained by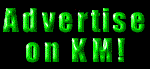 Thanks for visiting!