Regional Territories 4
This section contains monthly articles on over two dozen territories. To relive those wonderful days of old, click here.
Wrestlers 4
Enter this section for bios/profiles of various wrestlers from the regional days. To find more out about your favorite pro wrestler, click here.
Stories 4
This section contains stories from the pros themselves told exclusively to Kayfabe Memories. Want to know more as told from the wrestlers themselves? Click here.
Old School Book Reviews4
Click here to find various book reviews from old school wrestlers.
KM Links 4
For tons of links to old school related sites, click
here
.
KM Micro Wrestlers4
What are Micro Wrestlers? Click here
to find out.
KM Interviews... 4
Click here to read exclusive interviews with stars from the regional territories.
www.kayfabememories.com is © 2004 AtomDesigns. All promotional art, characters, logos and other depictions are © their respective owners. All Rights Reserved.
All contents save Wrestler Stories are © Kayfabe Memories.
Website designed and maintained by AtomDesigns © 2004 . If you experience any problems with this site or have any questions, please contact the Webmaster.
World Class Championship Wrestling
April – May 1985
- Max Levy
Back to Business
After a brief hiatus from our historical tour of World Class we are back on the road. This month we will look at the months of April and May of 1985. These months were full of action as World Class headed towards the Second Annual David Von Erich Memorial Parade of Champions at Texas Stadium. A lot of things that happened in these months set the table for angles and feuds that encompassed the rest of the year. Let's get started.
The Champions
The title scene was fairly stable in World Class during the spring of 1985. Gino Hernandez continued his long-standing run as Texas Champion. Chris Adams continued to reign as the American Champion. The Six Man Title was still held by Kevin, Kerry, and Mike Von Erich, but was rarely defended let alone mentioned during this time. Rip Oliver held the TV Title until being suspended for breaking Mike Von Erich's hand. Scott Casey then claimed the TV Title in Fort Worth on April 1, 1985 after beating Dennis Condrey in a tournament final. The main action centered on the American Tag Team Title. The Midnight Express had reigned since January and battled over the belts mainly with The Fantastics. A March 8, 1985 bout at The Sportatorium in Dallas saw the title held up due to Jim Cornette interfering with his tennis racquet. A rematch to settle the issue was ordered for the Parade of Champions at Texas Stadium in May.
The Roster
As ever the top babyfaces were the Von Erichs, Kerry, Kevin, and Mike, although Mike was often absent due to injury. Sunshine was still very popular in her babyface manager role. Her main protégé remained Hercules Hernandez. Sunshine then added a new charge in the form of The Great Kabuki. Kabuki had not competed fulltime in World Class since early 1983 although he made a brief return in mid 1984. Kabuki had always been a heel. Seeing him as a babyface for the first time and managed by Sunshine was a delightful surprise for the fans. The Fantastics remained very popular on the tag team scene. Other babyfaces included Brian Adias who had returned after an extended run in the Mid-Atlantic territory, Scott Casey who enjoyed tremendous popularity with Southwest Championship Wrestling in San Antonio, and Skip Young whose career had fallen off considerably from his days in Florida as the masked Sweet Brown Sugar. Johnny Mantell was also on hand as a babyface although he could occasionally play a subtle heel role in the undercard.
Unquestionably the top heels were Chris Adams and Gino Hernandez who united as The Dynamic Duo. More on the formation of this duo is forthcoming in this article. Gary Hart continued to guide the One Man Gang. Jim Cornette was the area's other heel manager, leading The Midnight Express, consisting of Dennis Condrey and Bobby Eaton, as well as Rip Oliver. Kelly Kiniski continued to wrestle as a low midcard to undercard heel. Steve Williams made some appearances in Fort Worth, but never came in on a permanent basis. As you can see, the heel roster was a bit light. However all the main heels had tremendous heat and reinforcements were due in after the Parade of Champions.
The Feuds
As was its usual policy, World Class Championship Wrestling kept the number of feuds small, but then put as much push behind those feuds as possible. Kerry and Kevin Von Erich found themselves wrestling quite often against Chris Adams and Gino Hernandez, The Dynamic Duo. This was a continuation of Kevin's long running feud with Chris Adams that showed no signs of subsiding. Meanwhile Kerry battled with One Man Gang in a version of The Unstoppable Force vs. The Immovable Object. Gino Hernandez continued to feud with Hercules Hernandez and now had back up from Adams leading to Sunshine bringing in Kabuki to back Hercules. More...
If you'd like to discuss the World Class region with other fans, please visit the KM Message Board

KM DVD/VHS Store 4
Click here to purchase DVD or VHS products direct from the official distributors.
KM Replica Masks 4
Click here to purchase pro quality replica wrestling masks of all your favorite old school masked wrestlers.
KM Store 4
The KM Store now features products featuring the GCW logo as well as some other very cool images. To see what's new and to purchase T-Shirts, ball caps, mouse pads and more, click here.
KM Message Board 4
Want to chat with other fans of regional wrestling? This message board has forums for over two dozen promotions. Click here.
KM Belt Gallery 4
This section contains an extensive title belt gallery... images of heavyweight, tag, U.S. and various regional title belts. To view it, click here.
Old School Tape Review 4
Reviews of various PPV's, commercial tapes and regional wrestling TV shows are available in this section. To read more, click here.
Website designed & maintained by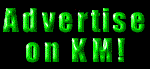 Thanks for visiting!