Regional Territories 4
This section contains monthly articles on over two dozen territories. To relive those wonderful days of old, click here.
Wrestlers 4
Enter this section for bios/profiles of various wrestlers from the regional days. To find more out about your favorite pro wrestler, click here.
Stories 4
This section contains stories from the pros themselves told exclusively to Kayfabe Memories. Want to know more as told from the wrestlers themselves? Click here.
Old School Book Reviews4
Click here to find various book reviews from old school wrestlers.
KM Links 4
For tons of links to old school related sites, click
here
.
KM Micro Wrestlers4
What are Micro Wrestlers? Click here
to find out.
KM Interviews... 4
Click here to read exclusive interviews with stars from the regional territories.
www.kayfabememories.com is © 2004 AtomDesigns. All promotional art, characters, logos and other depictions are © their respective owners. All Rights Reserved.
All contents save Wrestler Stories are © Kayfabe Memories.
Website designed and maintained by AtomDesigns © 2004 . If you experience any problems with this site or have any questions, please contact the Webmaster.
World Class January - February 1985
- Max Levy
Catching Up
The early part of 1985 was a transition period for World Class Championship Wrestling. Some old stars departed as the remaining Freebirds, Iceman Parsons, and Devastation Incorporated. Meanwhile some newly arrived and recently arrived stars blended with the remaining established wrestlers to start building new feuds and action in the promotion. Let's take a look at the action.
Talent
On the babyface roster, Kevin, Kerry, and Mike Von Erich were the top stars as always. The Fantastics really stepped to the forefront on the tag team scene after getting an elite level rival in that division. Sunshine remained a very popular personality. Billy Jack Haynes was being pushed as her managerial charge and as the top non-Von Erich. When he flew the coop, Hercules Hernandez arrived as a babyface managed by Sunshine and was an instant hit with the fans. Hercules had most recently been a heel in Mid-South. His babyface act seemed to be a variation of Bruiser Brody. Among others Jose Lothario was still being pushed, despite being well past his best. Jose gained this push on the basis of still drawing in the Latino fan base. Johnny Mantell provided depth and Brian Adias would soon return.
Undeniably the team of Gino Hernandez and Chris Adams anchored the heel roster. Adams was in the midst of one of the great heel runs of the era. Words can barely describe the hatred fans held for him. Gino also had a very small fan club. They were not The Dynamic Duo yet, but the seeds had been planted. Gary Hart seconded Chris. Hart also guided the massive One Man Gang. Jim Cornette managed Dennis Condrey and Bobby Eaton, The Midnight Express. Cornette also steered "The Crippler" Rip Oliver. Jake Roberts was still on the scene although his push was diminishing. Kelly Kiniski remained a staple of the low midcard.
Feuds
World Class pulled in fans by booking five solid feuds. Needless to say, the Kevin Von Erich vs. Chris Adams feud remained the centerpiece with their all action brawls enthralling the fans. Increasingly the feud extended to tag bouts including Gino Hernandez and Kerry Von Erich on the respective teams. It was a good way to keep the feud fresh and not let singles bouts between Kevin and Chris seem stale. Gary Hart continued to second Chris, although that relationship would soon end.
The tag team division found new life on the strength of the rivalry between The Fantastics and The Midnight Express. As any fan can tell you, these teams produced magic when paired off in the ring. Fans just despised Cornette and of course his team. Meanwhile Bobby Fulton and Tommy Rogers were just natural babyfaces. They had an infectious enthusiasm that really made the fans take them to heart. With good and evil so defined and such talent on both sides of the ring, the feud got over instantly.
Sunshine continued to wage war against Gino Hernandez, using Billy Jack Haynes and later Hercules Hernandez as her main charges. Haynes also wrestled his old foe from Portland, Rip Oliver. World Class positioned itself very well here. Instead of making Billy Jack the main focus with Sunshine as an afterthought at ringside, she was presented as a vital piece of the puzzle. It made Billy Jack's subsequent departure easier to absorb and explain within the storyline.
Meanwhile Kerry Von Erich found a new foe in the One Man Gang. This was a good pairing. Making Kerry a believable underdog was a difficult task at times due to his big name and impressive physique. In OMG the promotion had a very over monster heel whose mere size made him intimidating. Combine this with the notorious Gary Hart at ringside and World Class had someone who could pose a believable threat to Kerry. Fuel was added to the fire when OMG helped cost Kerry the American Title.
Another issue concerned Mike Von Erich and Jake Roberts. Pro Wrestling Illustrated magazine awarded Mike its Rookie of the Year honor for 1984. Mike of course then violated the cardinal rule of pro wrestling stating "thou shall not bring valuable awards on TV unless thou wants the heels to smash them." More...
If you'd like to discuss the World Class region with other fans, please visit the KM Message Board

KM DVD/VHS Store 4
Click here to purchase DVD or VHS products direct from the official distributors.
KM Replica Masks 4
Click here to purchase pro quality replica wrestling masks of all your favorite old school masked wrestlers.
KM Store 4
The KM Store now features products featuring the GCW logo as well as some other very cool images. To see what's new and to purchase T-Shirts, ball caps, mouse pads and more, click here.
KM Message Board 4
Want to chat with other fans of regional wrestling? This message board has forums for over two dozen promotions. Click here.
KM Belt Gallery 4
This section contains an extensive title belt gallery... images of heavyweight, tag, U.S. and various regional title belts. To view it, click here.
Old School Tape Review 4
Reviews of various PPV's, commercial tapes and regional wrestling TV shows are available in this section. To read more, click here.
Website designed & maintained by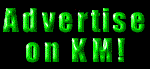 Thanks for visiting!