Regional Territories 4
This section contains monthly articles on over two dozen territories. To relive those wonderful days of old, click here.
Wrestlers 4
Enter this section for bios/profiles of various wrestlers from the regional days. To find more out about your favorite pro wrestler, click here.
Stories 4
This section contains stories from the pros themselves told exclusively to Kayfabe Memories. Want to know more as told from the wrestlers themselves? Click here.
Old School Book Reviews4
Click here to find various book reviews from old school wrestlers.
KM Links 4
For tons of links to old school related sites, click
here
.
KM Micro Wrestlers4
What are Micro Wrestlers? Click here
to find out.
KM Interviews... 4
Click here to read exclusive interviews with stars from the regional territories.
www.kayfabememories.com is © 2004 AtomDesigns. All promotional art, characters, logos and other depictions are © their respective owners. All Rights Reserved.
All contents save Wrestler Stories are © Kayfabe Memories.
Website designed and maintained by AtomDesigns © 2004 . If you experience any problems with this site or have any questions, please contact the Webmaster.
World Class December 1984
- Max Levy
Catching Up
World Class roared out of a hot November with little settled. The Chris Adams vs. Kevin Von Erich feud that had dominated the fall months continued unabated. Terry Gordy's feud with Devastation Incorporated also continued to rage. With Ric Flair returning for a visit, World Class Championship Wrestling had a busy December ahead of it in 1984.
Big Name Talent Arrives
Some big name talent joined World Class Championship Wrestling in December 1984, joining the already impressive roster. The only major departure was that of the PYTs, although with new talent coming in and others still to leave, World Class Championship Wrestling's talent pool was somewhat in flux at this time, largely to the benefit of the fans.
On the babyface roster Kerry, Kevin, and Mike Von Erich remained top dogs. The Fantastics also held a big place in the hearts of the fans. Sunshine was getting into the groove of things again and now had Billy Jack on her side. His signing was a major coup for World Class. Legal action from actor Tom Laughlin, who played the character Billy Jack in the movies, forced a change to the name Billy Haynes. The explanation from World Class was that the change was to honor his ill and aged father. As he became widely known soon afterwards as Billy Jack Haynes, we'll refer to him as such. Terry Gordy, having made peace with the Von Erichs, remained to battle Devastation Incorporated and brought back Buddy Roberts for help. Others on hand included the soon to be departing trio of Iceman Parsons, Chic Donovan, and Buck Zumhofe. Jose Lothario still made the odd appearance.
Chris Adams continued to reign as the top heel in the area with Gary Hart at his side as always. Gino Hernandez was still on top of the mountain and began teaming with Adams on a frequent basis, something that would have a big effect on future events. Jake Roberts was still on hand as well. Kelly Kiniski was still on the undercard. General Skandor Akbar's Devastation Incorporated was still on hand with The Missing Link and briefly Killer Khan. New to the scene was Rip Oliver who like Billy Jack Haynes had made his name in the Pacific Northwest. The big hitters were The Midnight Express with Jim Cornette. They had reigned over Mid-South for a year and were clearly among the best tag teams and best managers in the game. Their presence instantly raised standards of World Class Championship Wrestling and provided The Fantastics with a natural foe.
Tracking The Titles
In December 1984 the title scene was fairly stable. Kerry Von Erich still reigned as American Champion. Gino Hernandez continued his impressive run with the Texas Title. The Fantastics controlled the American Tag Team Title. In Fort Worth Chris Adams maintained his remarkable hold on the normally tumultuous TV title. The one title that changed hands was the Six Man Title. Kerry, Kevin, and Mike Von Erich reclaimed the title on 12-31-84 in Fort Worth, regaining the title from Chris Adams, Gino Hernandez, and Jake Roberts.
Feuds
Chris Adams and Kevin Von Erich were still generating enough heat to burn down arenas. Kevin had responded well to his role as top babyface and Chris fit like a glove as top heel. Both men were really hitting their collective stride. Their bouts tended to start with some brawling, settle into wrestling, and then degenerate into even more brawling towards the conclusion. Speaking of brawls, that pretty much nails Terry Gordy's feud with Devastation Incorporated. On other fronts Mike Von Erich moved towards a feud with Jake Roberts while the newly arrived Billy Jack Haynes battled Gino Hernandez. Kerry Von Erich didn't have a natural foe within World Class, but Ric Flair ventured in to do battle with his old enemy. The Fantastics gained new rivals in The Midnight Express as the departed PYTs headed for Florida. More...
If you'd like to discuss the World Class region with other fans, please visit the KM Message Board

KM DVD/VHS Store 4
Click here to purchase DVD or VHS products direct from the official distributors.
KM Replica Masks 4
Click here to purchase pro quality replica wrestling masks of all your favorite old school masked wrestlers.
KM Store 4
The KM Store now features products featuring the GCW logo as well as some other very cool images. To see what's new and to purchase T-Shirts, ball caps, mouse pads and more, click here.
KM Message Board 4
Want to chat with other fans of regional wrestling? This message board has forums for over two dozen promotions. Click here.
KM Belt Gallery 4
This section contains an extensive title belt gallery... images of heavyweight, tag, U.S. and various regional title belts. To view it, click here.
Old School Tape Review 4
Reviews of various PPV's, commercial tapes and regional wrestling TV shows are available in this section. To read more, click here.
Website designed & maintained by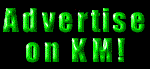 Thanks for visiting!