Regional Territories 4
This section contains monthly articles on over two dozen territories. To relive those wonderful days of old, click here.
Wrestlers 4
Enter this section for bios/profiles of various wrestlers from the regional days. To find more out about your favorite pro wrestler, click here.
Stories 4
This section contains stories from the pros themselves told exclusively to Kayfabe Memories. Want to know more as told from the wrestlers themselves? Click here.
Old School Book Reviews4
Click here to find various book reviews from old school wrestlers.
KM Links 4
For tons of links to old school related sites, click
here
.
KM Micro Wrestlers4
What are Micro Wrestlers? Click here
to find out.
KM Interviews... 4
Click here to read exclusive interviews with stars from the regional territories.
www.kayfabememories.com is © 2004 AtomDesigns. All promotional art, characters, logos and other depictions are © their respective owners. All Rights Reserved.
All contents save Wrestler Stories are © Kayfabe Memories.
Website designed and maintained by AtomDesigns © 2004 . If you experience any problems with this site or have any questions, please contact the Webmaster.
World Class September-October 1984
- Max Levy
World Class Championship Wrestling, A Promotion in Flux
The fall of 1984 was a time for change for World Class Championship Wrestling. After nearly two years the feud between the Von Erichs and The Freebirds had ended. It was time for the promotion to find a new direction. It wasn't easy at first, but once things got going, things took off like a rocket ship. Let's take a look in depth.
Chase For The Championships
In the fall of 1984 if you wondered who held a particular title, Gino Hernandez was a good guess. Gino held the American and Texas Titles throughout the time period covered by this month's article. Before all was said and done, Gino held the Six Man Title with Chris Adams and Jake Roberts as well. Heck Gino even showed up with the largely forgotten Brass Knuckles Title for a spell. For the most part the Six Man Title was the property of Kevin, Kerry, and Mike Von Erich who now stood as the kingpins of the Six Man division with The Freebirds having exited. The TV Title did not move around as per usual. Chris Adams controlled that staple of the Fort Worth cards. The American Tag Titles moved around a bit. Iceman Parsons and Buck Zumhofe held the decreasingly defended belts until losing to Scott and Bill Irwin on September 28, 1984 in Dallas at The Sportatorium. Ultimately the Irwin brothers were just keeping the belts warm for on October 22, 1984 in Fort Worth, The Fantastics claimed the championship gold beginning a tag team renaissance in World Class. The real new and exciting thing to hit the World Class Title scene were new championship belts for the American, Texas, American Tag Team, and Six Man Titles. The former three replaced increasingly tattered belts while the latter replaced a large, but rather impractical trophy.
A Changing Roster
The babyface side was fairly stable for World Class in the fall of 1984. Obviously Kerry, Kevin, and Mike Von Erich were the kings of the hill although they needed a new set of foes with their old enemies The Freebirds gone to the WWF. Iceman Parsons remained popular if a bit past his peak. The Fantastics soon arrived to bolster the tag team division. Stella Mae French continued her war with Gino Hernandez and Nicola Roberts. Buck Zumhofe continued his slide down the card. Skip Young, Jules Strongbow, and George Weingroff filled out the ranks. Chris Adams began the season as a babyface, but that would soon change.
Over on the heel side of the fence Gino Hernandez clearly ruled the roost, holding the American and Texas Titles simultaneously. As always Nicola Roberts scowled in Gino's corner and fended off the eager interference of Stella Mae. Jake "The Snake" Roberts made his presence known although he ultimately didn't quite have the impact that might have been expected considering his big run in Georgia earlier that year. Norvell Austin and Koko Ware competed as the PYTs. General Skandor Akbar's Devastation Incorporated wreaked havoc with Killer Khan, The Missing Link, and The Irwins among the ranks. Kelly Kiniski rounded out the heel side of the fence. Butch Reed was supposed to become a regular too, but did not. We'll get into this situation in greater depth later on. More...
If you'd like to discuss the World Class region with other fans, please visit the KM Message Board

KM DVD/VHS Store 4
Click here to purchase DVD or VHS products direct from the official distributors.
KM Replica Masks 4
Click here to purchase pro quality replica wrestling masks of all your favorite old school masked wrestlers.
KM Store 4
The KM Store now features products featuring the GCW logo as well as some other very cool images. To see what's new and to purchase T-Shirts, ball caps, mouse pads and more, click here.
KM Message Board 4
Want to chat with other fans of regional wrestling? This message board has forums for over two dozen promotions. Click here.
KM Belt Gallery 4
This section contains an extensive title belt gallery... images of heavyweight, tag, U.S. and various regional title belts. To view it, click here.
Old School Tape Review 4
Reviews of various PPV's, commercial tapes and regional wrestling TV shows are available in this section. To read more, click here.
Website designed & maintained by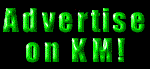 Thanks for visiting!