Regional Territories 4
This section contains monthly articles on over two dozen territories. To relive those wonderful days of old, click here.
Wrestlers 4
Enter this section for bios/profiles of various wrestlers from the regional days. To find more out about your favorite pro wrestler, click here.
Stories 4
This section contains stories from the pros themselves told exclusively to Kayfabe Memories. Want to know more as told from the wrestlers themselves? Click here.
Old School Book Reviews4
Click here to find various book reviews from old school wrestlers.
KM Links 4
For tons of links to old school related sites, click
here
.
KM Micro Wrestlers4
What are Micro Wrestlers? Click here
to find out.
KM Interviews... 4
Click here to read exclusive interviews with stars from the regional territories.
www.kayfabememories.com is © 2004 AtomDesigns. All promotional art, characters, logos and other depictions are © their respective owners. All Rights Reserved.
All contents save Wrestler Stories are © Kayfabe Memories.
Website designed and maintained by AtomDesigns © 2004 . If you experience any problems with this site or have any questions, please contact the Webmaster.
World Class May - July 1984
- Max Levy
Intro
World Class was on a tear coming out of the Parade of Champions and its record crowd of 43,518 fans. Kerry Von Erich was NWA World Champion. Feuds between the Von Erichs and The Freebirds, Jimmy Garvin and Precious and Chris Adams and Sunshine, and Iceman Parsons and Buck Zumhofe and The Super Destroyers continued to rage. Some familiar faces were back and the action was possibly at its peak. Let's look at what was going on.
The Roster
World Class maintained a fairly stable roster during this time. Kerry, Kevin, and Mike Von Erich were prominently featured on the babyface side of things. Chris Adams and Iceman Parsons were on the next tier. Buck Zumhofe, Chick Donovan, Johnny Mantell, George Weingroff and Chief Jules Strongbow were another step down from there. Jose Lothario also still competed on a frequent basis. Sunshine of course had been a major babyface over the past eight months or so. She had some issue in her life that necessitated taking a break from the wrestling scene. Sunshine's departure was sold as an injury although it was never really defined. Stella Mae French, billed as Sunshine's truck driving aunt, showed up to avenge her niece and make life hell for the heels. Gary Hart eventually wound up on the babyface side of the fence as well.
The Fabulous Freebirds led the heel roster. Hayes, Gordy, and Roberts soon gained a dangerous ally in Killer Khan. General Skandor Akbar's Devastation Incorporated suffered a noticeable loss in the departure of Kamala. Kabuki was recruited to fill the gap although his tenure was brief. The Missing Link and The Super Destroyers anchored the group. Gino Hernandez was back as a regular for the first time in many years and made an immediate impact. Jimmy Garvin and Precious were still on hand although they were beginning their exit from the promotion. Kelly Kiniski had never quite gotten over as had been hoped, but he still was a solid midcard heel. Veteran Black Gordman still appeared now and then as a foil for Jose Lothario.
The Champions
During the late spring and early summer of 1984, the title scene was fairly cut and dry. Kerry Von Erich held the NWA World Title although his reign was brief. The American Title was the premier title in the promotion and was dominated by Gino Hernandez who seems to have won it in a phantom title change. The American Tag Team Title bounced between the popular duo of Iceman Parsons and Buck Zumhofe and their foes The Super Destroyers who were unmasked during this time period as Scott and Bill Irwin. The Von Erichs and The Fabulous Freebirds swapped the Six Man Title. As usual the TV Title bounced around with Killer Khan, Kevin Von Erich, and Chris Adams all getting turns. The Texas Title last held by David Von Erich remained dormant until June 23, 1984 when Gino Hernandez upset Ric Flair in controversial circumstances to win title tournament in San Antonio.
Kerry Von Erich - NWA World Champion, 18 Days At The Top
When Kerry Von Erich won the NWA World Title at the Parade of Champions, a 20 year long family quest had been completed. The celebration with the fans was emotional, but the next day it was back to business. Kerry had won the title, now he had to defend it.
More...
If you'd like to discuss the World Class region with other fans, please visit the KM Message Board

KM DVD/VHS Store 4
Click here to purchase DVD or VHS products direct from the official distributors.
KM Replica Masks 4
Click here to purchase pro quality replica wrestling masks of all your favorite old school masked wrestlers.
KM Store 4
The KM Store now features products featuring the GCW logo as well as some other very cool images. To see what's new and to purchase T-Shirts, ball caps, mouse pads and more, click here.
KM Message Board 4
Want to chat with other fans of regional wrestling? This message board has forums for over two dozen promotions. Click here.
KM Belt Gallery 4
This section contains an extensive title belt gallery... images of heavyweight, tag, U.S. and various regional title belts. To view it, click here.
Old School Tape Review 4
Reviews of various PPV's, commercial tapes and regional wrestling TV shows are available in this section. To read more, click here.
Website designed & maintained by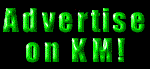 Thanks for visiting!