Regional Territories 4
This section contains monthly articles on over two dozen territories. To relive those wonderful days of old, click here.
Wrestlers 4
Enter this section for bios/profiles of various wrestlers from the regional days. To find more out about your favorite pro wrestler, click here.
Stories 4
This section contains stories from the pros themselves told exclusively to Kayfabe Memories. Want to know more as told from the wrestlers themselves? Click here.
Old School Book Reviews4
Click here to find various book reviews from old school wrestlers.
KM Links 4
For tons of links to old school related sites, click
here
.
KM Micro Wrestlers4
What are Micro Wrestlers? Click here
to find out.
KM Interviews... 4
Click here to read exclusive interviews with stars from the regional territories.
www.kayfabememories.com is © 2004 AtomDesigns. All promotional art, characters, logos and other depictions are © their respective owners. All Rights Reserved.
All contents save Wrestler Stories are © Kayfabe Memories.
Website designed and maintained by AtomDesigns © 2004 . If you experience any problems with this site or have any questions, please contact the Webmaster.
- Arnold Schwartz
Say the name J.R. Foley in a crowd of wrestling fans around the world and chances are you might get a look of uncertainty. At best you might get, "oh you mean good ol J.R. on WWF right?" However say that name to a small group of wrestling fans who followed Stampede wrestling in the late 70's-80's and you will get a wide eyed look and even maybe a chill down the back as they recall interview lines like, "you ain't invited to the party Ed." Say the name J.R. Foley to me and you also get a warm smile of a special manager in wrestling's history.
Everyone needs a arch enemy in their life. Luke needed Darth Vader. Archie needed Reggie. The Steelers needed the Cowboys. William Shatner (like me) needed male pattern baldness, etc. Wrestling is no different. To make the show complete wrestling needs villians. In Stampede it was no different. The Hart brothers always wore the white hats. There was no grey area. Singles/Tags it didn't matter. The head of the Hart brothers was Stu Hart. Promoter and sometimes combatant along side his boys. Stu Harts nemisis was a manager called John Foley. Later called J.R. Foley. If Bruce, Keith, Bret and later Owen were on one side of the ring you can be sure on the opposite side J.R. Foley was directing his troops of Duke Myers, Kerry Brown, Honky Tonk Wayne, The Viet Cong Express, Dynamite Kid, and The Cobra.
J.R. wore the black hat and he wore it well. John Foley came to Stampede wrestling from Liverpool, England and brought fans to their feet (and sometimes to the ring in anger), with arrogance a mile wide. He looked down upon the upstart colonists in Canada. He came to set things straight. He didn't drape himself in the standard union jack flag that most English wrestlers do. Instead he came to the ring in the early years sporting khaki pants and jacket and a German WW2-esque helmet. And... a moustache similar...to another WW2 German. He named his organization Foley's Army and recruited the best young wrestlers that came to Calgary. Through the years he recruited a variety of styles not limiting himself to one category. J.R. had his eyes on all the belts, not just the North American Heavyweight title. Gama Singh quickly found success under J.R. winning the British Commonwealth Mid-heavyweight title on several occasions. Archie "the stomper" Gouldie,while never needing a manager found gold in the Heavyweight category under J.R. He looked to the tag titles and and put together two heavyweights in Kerry Brown and Duke Myers. He used his black hat to get Dukes leather wrist support legalized. An old Vietnam injury you know.
More...
If you'd like to discuss the Stampede region with other fans, please visit the KM Message Board

KM DVD/VHS Store 4
Click here to purchase DVD or VHS products direct from the official distributors.
KM Replica Masks 4
Click here to purchase pro quality replica wrestling masks of all your favorite old school masked wrestlers.
KM Store 4
The KM Store now features products featuring the GCW logo as well as some other very cool images. To see what's new and to purchase T-Shirts, ball caps, mouse pads and more, click here.
KM Message Board 4
Want to chat with other fans of regional wrestling? This message board has forums for over two dozen promotions. Click here.
KM Belt Gallery 4
This section contains an extensive title belt gallery... images of heavyweight, tag, U.S. and various regional title belts. To view it, click here.
Old School Tape Review 4
Reviews of various PPV's, commercial tapes and regional wrestling TV shows are available in this section. To read more, click here.
Website designed & maintained by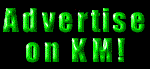 Thanks for visiting!