Regional Territories 4
This section contains monthly articles on over two dozen territories. To relive those wonderful days of old, click here.
Wrestlers 4
Enter this section for bios/profiles of various wrestlers from the regional days. To find more out about your favorite pro wrestler, click here.
Stories 4
This section contains stories from the pros themselves told exclusively to Kayfabe Memories. Want to know more as told from the wrestlers themselves? Click here.
Old School Book Reviews4
Click here to find various book reviews from old school wrestlers.
KM Links 4
For tons of links to old school related sites, click
here
.
KM Micro Wrestlers4
What are Micro Wrestlers? Click here
to find out.
KM Interviews... 4
Click here to read exclusive interviews with stars from the regional territories.
www.kayfabememories.com is © 2004 AtomDesigns. All promotional art, characters, logos and other depictions are © their respective owners. All Rights Reserved.
All contents save Wrestler Stories are © Kayfabe Memories.
Website designed and maintained by AtomDesigns © 2004 . If you experience any problems with this site or have any questions, please contact the Webmaster.
- David Galvan
A couple of months ago, I received a phone call from VKM, the gentleman who runs this fantastic website. We spoke for a bit, talking about wrestling and the memories that it has left on us both. Some friends and I had decided to do a documentary called "Excitement in the Air" which was a history/retrospective/informational study on Portland wrestling. The phrase 'Excitement in the Air' had been started by legend Lonnie Mayne, but had been used by all announcers here in the Northwest. Various websites had exploded with people wanting to know more after the news broke.
In our almost one year of filming this project, and almost 40 hours of footage, we have come to meet some fantastic legends on the field of this business and this region: Buddy Rose, Rip Oliver, Dutch Savage, Barry Owen, Col. DeBeers, Buddy Wayne, Moondog Morretti. The stories we have collected for everyone to see will make people laugh, grimace, and shake their heads in wonder.
I know you are reading this and wondering why I am mentioning this.
Very simple my friends. When VKM was looking for someone to write a monthly column about wrestling here in the PNW, I volunteered. I figured I could do it for six months. Anything after that has probably already been covered by more capable people than I. Yet, I do hold an interesting perspective on the life and times here working for Don Owen, Dean Silverstone and other promoters.
I started watching wrestling as a child. A very common time to start watching the sport. I was attracted to the characters, the athletics, the stories, and yes, the violence. I followed the careers of Billy Jack, Tom Zenk and booed the likes of Buddy Rose, Rip Oliver and the Assassin. Amusing for me to find out that those who played the villains have been the nicest to us.
I mention our documentary for a couple of reasons; a cheap plug never hurt anyone www.riskmanagmentent.com to view the trailer of our project), and to let you all know that I am somewhat qualified to write a column for six months.
With this month being the first for us all, I have decided to share with all of you my personal notes regarding the history of wrestling here in the Northwest. This is by no means to be considered perfect, or complete. Since we have been focusing on Don Owen's (and mentioning Dean Silverstone and Billy Jack's OWF) within the film itself, that is how I put the history together. What you are about to read here consists of almost a year of research for this project. After most paragraphs, you will see the names of wrestling persons whom we have interviewed during our months of this project. They would be considered the 'source' of the information.
This is the official history that we will be using for our documentary (to be shown at a film festival near you sometime in 2005!). I hope that you will find it as interesting as we did.
HISTORY
Ted Thye, an Australian, decides to come to Portland to promote boxing and wrestling in 1925. He hires an upstart named Herb Owen to be his assistant. Herb was traditionally a manual laborer, but was injured at one point, and was having a hard time getting work in Oregon as the main industry here was logging at the time. (Mike Rodgers)
Herb Owen steals promotion from Ted Thye by putting the company in his name while Thye went home to Australia for a few weeks. Due to the laws at the time, only one company could promote wrestling and boxing in the state at the time. Thye came back very angry, but Herb out smarted him, and Herb unknowingly starts a wrestling empire that would last 67 years. Thye eventually cooperated with the US Justice Department in an investigation in the NWA. Thye's brother becomes US Senator in the mid-1950's (Mike Rodgers)
Herb promoted boxing originally, and then starts to promote wrestling, mostly light-weights. Don Owen, and his brother Elton, helped out with the promotion by setting up chairs and such. Elton and Don also were known to step in the ring to do some boxing. Elton was more of the 'tough guy', and also did a little wrestling since he had a good wrestling background when he was in college. (Barry Owen)

KM DVD/VHS Store 4
Click here to purchase DVD or VHS products direct from the official distributors.
KM Replica Masks 4
Click here to purchase pro quality replica wrestling masks of all your favorite old school masked wrestlers.
KM Store 4
The KM Store now features products featuring the GCW logo as well as some other very cool images. To see what's new and to purchase T-Shirts, ball caps, mouse pads and more, click here.
KM Message Board 4
Want to chat with other fans of regional wrestling? This message board has forums for over two dozen promotions. Click here.
KM Belt Gallery 4
This section contains an extensive title belt gallery... images of heavyweight, tag, U.S. and various regional title belts. To view it, click here.
Old School Tape Review 4
Reviews of various PPV's, commercial tapes and regional wrestling TV shows are available in this section. To read more, click here.
Website designed & maintained by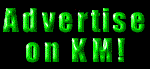 Thanks for visiting!