Regional Territories 4
This section contains monthly articles on over two dozen territories. To relive those wonderful days of old, click here.
Wrestlers 4
Enter this section for bios/profiles of various wrestlers from the regional days. To find more out about your favorite pro wrestler, click here.
Stories 4
This section contains stories from the pros themselves told exclusively to Kayfabe Memories. Want to know more as told from the wrestlers themselves? Click here.
Old School Book Reviews4
Click here to find various book reviews from old school wrestlers.
KM Links 4
For tons of links to old school related sites, click
here
.
KM Micro Wrestlers4
What are Micro Wrestlers? Click here
to find out.
KM Interviews... 4
Click here to read exclusive interviews with stars from the regional territories.
www.kayfabememories.com is © 2004 AtomDesigns. All promotional art, characters, logos and other depictions are © their respective owners. All Rights Reserved.
All contents save Wrestler Stories are © Kayfabe Memories.
Website designed and maintained by AtomDesigns © 2004 . If you experience any problems with this site or have any questions, please contact the Webmaster.
- Steve Petersen
Portland Wrestling was, and of course my opinion IS biased, a unique promotion. Even before the days of the two party system of wrestling it was a very traditional promotion. What made it unique was the TV show, especially the show geared to the Seattle market, always showed very good, competitive matches. Rarely were we given a squash. Therefore when one looks at enhancement wrestlers from the Northwest one has to have a slightly different perspective. From my point of view they were more just fine performers who happened to be on the undercard. That said, here is my tribute to some unsung heroes of the promotion, my favorite carpenters.
Rick Hunter. Hunter was a solid journeyman who had some fine runs in other promotions and territories. His matches were always scientific marvels and he always made his opponent look like a credible wrestler. He was often used to held 'build' a heel, by showing how the heel could really WRESTLE when he was forced to. Hunter was also one of the true tough guys of the game and was respected for that and his professionalism in every locker room he ever entered.
Matty Suzuki. I do not know too much about what he did outside of the PNW but I sure remember him for what he did while he was here. He was a barefoot Asian wrestler who worked tons of TV preliminary, usually against either another face or a new heel. Good performer who excelled at selling his opponents offense.
Rocky Montero. A versatile underneath guy who could work both heel and face. Looked like a Rocky should look and fought that rough, tough style. One of those guys who you always thought had a chance to win but never seemed to.
Steve Pardee. A very solid performer, excellent seller. Part of a great angle with Piper and Rose where Rose was beating him badly, getting lots of juice, while Rose called for Piper with every shot he gave Mr. Pardee. Piper then got on the mike and told Rose off. Pardee was around for quite a spell and actually had some decent runs as a tag team guy.
Eric Embry. Early in his career, he was much thinner and took really good bumps. Introduced us to Rip the Crippler by selling a beating and an injury. Obviously he liked the way the promotion was booked because if you look at any territory that he helped with and that compare it to a Portland tape and you will see tons of similarities.
Dizzy Hogan. Best known as Brutus Beefcake but I will always remember him as the guy who got his shoulders pinned when he tagged with Dr D. Did not stick around long but he was memorable for his claim to be a relative to the 'Star' of Rocky III, Hulk Hogan.
Coco Samoa. Had a run in the 80's on top of the promotion but in the 70's he was used often on TV to hype the return of his 'cousin' Jimmy Snuka by taking a beating at the hands of a heel. Kind of a smaller, less charismatic version of Snuka, a high flyer in a traditional promotion, used to enhance the guys on top.
Bart Sawyer. Smallish type who could take great bumps. Had a decent run as 'Bartman', but mostly was used on TV to put over the lead heels on TV. He did have an excellent feud with Al Madril that was hilarious.
Art Barr. Undersized, but obviously a great talent. Everything he did seemed to be a little bigger and a little crisper then the people who worked around him, this included when he wore the candy cane tights and lost matches on television. His bumps and selling were first rate, but the psychology of his matches were the most memorable, he always seemed to be an inch away from victory, but never got there,,,,,,until later.
Sandy Barr. Really good selling, and some fine ref bumps, took shots from the heels and faces alike and always looked like he got annihilated.
NEXT MONTH:
Hopefully at least, an interview with a Northwest legend.
If you'd like to discuss the PNW region with other fans, please visit the KM Message Board

KM DVD/VHS Store 4
Click here to purchase DVD or VHS products direct from the official distributors.
KM Replica Masks 4
Click here to purchase pro quality replica wrestling masks of all your favorite old school masked wrestlers.
KM Store 4
The KM Store now features products featuring the GCW logo as well as some other very cool images. To see what's new and to purchase T-Shirts, ball caps, mouse pads and more, click here.
KM Message Board 4
Want to chat with other fans of regional wrestling? This message board has forums for over two dozen promotions. Click here.
KM Belt Gallery 4
This section contains an extensive title belt gallery... images of heavyweight, tag, U.S. and various regional title belts. To view it, click here.
Old School Tape Review 4
Reviews of various PPV's, commercial tapes and regional wrestling TV shows are available in this section. To read more, click here.
Website designed & maintained by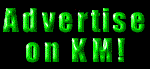 Thanks for visiting!