Regional Territories 4
This section contains monthly articles on over two dozen territories. To relive those wonderful days of old, click here.
Wrestlers 4
Enter this section for bios/profiles of various wrestlers from the regional days. To find more out about your favorite pro wrestler, click here.
Stories 4
This section contains stories from the pros themselves told exclusively to Kayfabe Memories. Want to know more as told from the wrestlers themselves? Click here.
Old School Book Reviews4
Click here to find various book reviews from old school wrestlers.
KM Links 4
For tons of links to old school related sites, click
here
.
KM Micro Wrestlers4
What are Micro Wrestlers? Click here
to find out.
KM Interviews... 4
Click here to read exclusive interviews with stars from the regional territories.
www.kayfabememories.com is © 2004 AtomDesigns. All promotional art, characters, logos and other depictions are © their respective owners. All Rights Reserved.
All contents save Wrestler Stories are © Kayfabe Memories.
Website designed and maintained by AtomDesigns © 2004 . If you experience any problems with this site or have any questions, please contact the Webmaster.
- Steve Petersen
Hello again Portland Wrestling fans. As we near the end of the year, we will soon be besieged by the best of 2002 lists. I have to admit, with shame, that I enjoy these. In fact I like going back years later and looking at the lists for different years, it always kind of jogs a memory, and takes me back to a certain time. With that sentiment in mind here is my list, a fan's list for my ten favorite Portland/Big Time Wrestling memories, I am only including shows I have seen either as they aired or on tape when they were happening. There will be some great angles that you may love, and that may be why they are not here. For example, I have STILL not seen Billy Jack's heel turn, and although I have heard nothing but raves about it, I can not include it. And if this can give any of you a twitch of nostalgia, make you remember, or just get you to smile then I will be happy with my work here. I promised ten memories and you will get them, however because of length I will break them into two installments.
Number 10. THE FINAL SHOW
Although this is a bittersweet memory and it truly marked the end of a wonderful era I have decided to include it just because it is so historic. In November of 1991, we were told that channel 12 of Portland would no longer be carrying Portland Wrestling and that it was going off the air for good. This was like a punch to the solar plexus that left you breathless, surely Portland Wrestling would find a way to survive anything this side of a nuclear explosion. But, sadly, it was true. The last show was highlighted by an appearance by Roddy Piper where he thanked channel 12 for the great run. However, Roddy, being Roddy, could not resist getting a couple of digs in at the station. "Don't know why you want to end the relationship," and in his interview he put over many of the boys who worked the promotion, promoter Don Owen while letting his feelings be known towards those who in his opinion stabbed Don Owen in the back. I got the feeling these comments were aimed at Billy Jack and Rip Oliver who tried to start their own promotion in the late 80's and Owen was still willing to take them back. I will still, on occasion pop in a copy of the last show and it never fails to bring a tear to my eye and put a knot in my throat.
Number 9 RACE DEFENDS BELT
The legendary Harley Race shows up and defends the NWA strap on TV due to the insistence of sponsor, or so claimed Don Owen. Race arrives in a snit, scowling and angry that he has to defend the belt in a 2 out of 3 falls match. Owen informs him that he signed the contract so he will have to, Race stomps off to his corner. Side note: Amazing how something so small could garner so much heat, tribute to the talent of Harley Race. Race is defending against the very green, but very powerful Billy Jack. Great back and forth match as Race brings out the best in Billy, time limit draw ends with Harley trapped in Billy's Full Nelson. I knew by this time that it was all a work, but Harley was so good I suspended disbelief and really thought that Billy was going over. Kudos to Harley for busting his butt to get the story across, and kudos to Billy who was never better.
Number 8 PIPER SHOOTS ON THE OREGONIAN
Roddy Piper returned from the Carolinas with the US Belt for a title shot at Ric Flair. Piper, even in his darkest heel days in the WWF was a huge favorite here, even though he busted a coconut over Snuka's head. Snuka was also a huge baby face here, so when Piper returned the place was absolutely electric with enthusiasm and anticipation. Piper just happened to return when the local paper had just had a scathing article printed about wrestling in it. The article blasted both wrestling and the wrestling fans, insinuating that only low class, low-browed yokels attend these shows. Piper took to the crow's nest and completely SHOT on the reporter who wrote the piece. I may not have all the quotes right but I am very sure of their tone. Piper said, "first thing you got to know about this geek is he got in for free man. More...
If you'd like to discuss the PNW region with other fans, please visit the KM Message Board

KM DVD/VHS Store 4
Click here to purchase DVD or VHS products direct from the official distributors.
KM Replica Masks 4
Click here to purchase pro quality replica wrestling masks of all your favorite old school masked wrestlers.
KM Store 4
The KM Store now features products featuring the GCW logo as well as some other very cool images. To see what's new and to purchase T-Shirts, ball caps, mouse pads and more, click here.
KM Message Board 4
Want to chat with other fans of regional wrestling? This message board has forums for over two dozen promotions. Click here.
KM Belt Gallery 4
This section contains an extensive title belt gallery... images of heavyweight, tag, U.S. and various regional title belts. To view it, click here.
Old School Tape Review 4
Reviews of various PPV's, commercial tapes and regional wrestling TV shows are available in this section. To read more, click here.
Website designed & maintained by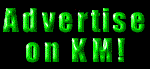 Thanks for visiting!