Regional Territories 4
This section contains monthly articles on over two dozen territories. To relive those wonderful days of old, click here.
Wrestlers 4
Enter this section for bios/profiles of various wrestlers from the regional days. To find more out about your favorite pro wrestler, click here.
Stories 4
This section contains stories from the pros themselves told exclusively to Kayfabe Memories. Want to know more as told from the wrestlers themselves? Click here.
Old School Book Reviews4
Click here to find various book reviews from old school wrestlers.
KM Links 4
For tons of links to old school related sites, click
here
.
KM Micro Wrestlers4
What are Micro Wrestlers? Click here
to find out.
KM Interviews... 4
Click here to read exclusive interviews with stars from the regional territories.
www.kayfabememories.com is © 2004 AtomDesigns. All promotional art, characters, logos and other depictions are © their respective owners. All Rights Reserved.
All contents save Wrestler Stories are © Kayfabe Memories.
Website designed and maintained by AtomDesigns © 2004 . If you experience any problems with this site or have any questions, please contact the Webmaster.
- Steve Petersen

When I think of my time enjoying the best the PNW it is impossible to not think that in terms of my time being a fan, Buddy Rose was our icon. Piper, Snuka, Ventura, Adonis they all moved on, Buddy would leave, but the Playboy always came back. Of course, I did not get to see much of the other territories in the 'old' days, but in thumbing through the Apter mags it seemed like that usually the face would win the blow off match, and they always seemed to win the loser leaves town matches.

Buddy, however, won more then his share of blowoff matches, which goes to show the staying power of Buddy as a draw. Some more of my Buddy Rose highlights.

Rose and Wiskoski. Amazing that a team that was this funny could draw so much heat. Their interviews were priceless. A couple that stand out.

Wiskoski presents Rose with prize purebred Daschunds,even though Wiskoski, "can't stand the beasts" He presents them to Rose as a gift because Buddy appreciates the finer things in life, although what Daschunds have to do with the finer things in life, I will never know, and I am a dog lover.

Wiskoski and Rose with a couple of women who, I will try to be nice here, look like they were rode hard and hung up wet, doing a promo, with Rose wearing a blonde wig, he had lost a hair match, and the girls telling Buddy that he pushes all the right buttons, and Wiskoski just nodding his head and grinning like a chesire cat. This sounds very simple and no big deal, especially in the era of T and A wrestling, but to hear the crowd in the background going crazy the heat they were drawing was unreal.

Wiskoski as Mega Mahirishi doing interviews and talking about peace, love and understanding while Rose stands with him saying, Amen over and over, while keeping a straight face. A goofy gimmick for sure and very Northwest specific, but these two got major heat with it.

Buddy on the beach. Rose cuts a promo from Waikiki. Rose is relaxing on a beach in Waikiki, with a camcorder, complete with the mic cable in the background. Rose has several young lovelies rubbing him with oil while geriatrics wander about aimlessly in the background. Rose says the body is healing, and he will be coming back soon, he shows us tan lines even, all the while informing the viewer that Rose is keeping close tabs on the NW, and he will soon be back better then ever.

The Rose Garden. After Buddy came back from his AWA run, he was much larger than he had ever been and he became more of a comic heel then he had ever been before. The Rose Garden was a Piper's Pit knock off, which Piper apparently approved of because he would appear on it with some regularity, and it really kept Buddy in the mix. Buddy had, at this point, put on a lot of weight and he wasn't as good as he had once been in the ring.

More...

If you'd like to discuss the PNW region with other fans, please visit the KM Message Board

KM DVD/VHS Store 4
Click here to purchase DVD or VHS products direct from the official distributors.
KM Replica Masks 4
Click here to purchase pro quality replica wrestling masks of all your favorite old school masked wrestlers.
KM Store 4
The KM Store now features products featuring the GCW logo as well as some other very cool images. To see what's new and to purchase T-Shirts, ball caps, mouse pads and more, click here.
KM Message Board 4
Want to chat with other fans of regional wrestling? This message board has forums for over two dozen promotions. Click here.
KM Belt Gallery 4
This section contains an extensive title belt gallery... images of heavyweight, tag, U.S. and various regional title belts. To view it, click here.
Old School Tape Review 4
Reviews of various PPV's, commercial tapes and regional wrestling TV shows are available in this section. To read more, click here.
Website designed & maintained by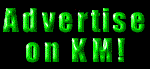 Thanks for visiting!