Regional Territories 4
This section contains monthly articles on over two dozen territories. To relive those wonderful days of old, click here.
Wrestlers 4
Enter this section for bios/profiles of various wrestlers from the regional days. To find more out about your favorite pro wrestler, click here.
Stories 4
This section contains stories from the pros themselves told exclusively to Kayfabe Memories. Want to know more as told from the wrestlers themselves? Click here.
Old School Book Reviews4
Click here to find various book reviews from old school wrestlers.
KM Links 4
For tons of links to old school related sites, click
here
.
KM Micro Wrestlers4
What are Micro Wrestlers? Click here
to find out.
KM Interviews... 4
Click here to read exclusive interviews with stars from the regional territories.
www.kayfabememories.com is © 2004 AtomDesigns. All promotional art, characters, logos and other depictions are © their respective owners. All Rights Reserved.
All contents save Wrestler Stories are © Kayfabe Memories.
Website designed and maintained by AtomDesigns © 2004 . If you experience any problems with this site or have any questions, please contact the Webmaster.
- John Baumer
Originally I was going to talk about the 1985 Owens Family 60th Anniversary Extravaganza this month. However I'm out of town and I'd rather not talk about that great card off the top of my head, thereby not to leave any details out. There will be a column on it next month.
If you ask the average person walking down the street to name five pro wrestlers, they will of course name Hulk Hogan, and you can bet one of the other four will be "Rowdy" Roddy Piper. That's because Roddy Piper has wrestled virtually everywhere on the map at one time or another, but I don't think he was loved or remembered more anywhere besides the great Pacific Northwest territory, more specifically Portland, OR.
During Piper's several years in the Northwest, he faced some of wrestling's most prominent people including: Jesse Ventura, the Sheepherders, Don Leo Jonathan, "Easy" Ed Wiskowski (Col. DeBeers), Ron Bass, and others. But none of these battles are as memorable as his wars with one "Playboy" Buddy Rose. Many talk about the greatest feuds in the Pacific Northwest… the wars between Dutch Savage and the Iron Sheik, Billy Jack Haynes and Rip Oliver, Bull Ramos and Dutch Savage, and Jesse Ventura and Buddy Rose. However, they all pale in comparison to the Roddy Piper/Buddy Rose rivalry.
It all began on a fateful day in April of 1979. Roddy Piper and his tag team partner "Killer" Tim Brooks joined forces with Buddy Rose and his tag team partner "Easy" Ed Wiskowski for an eight-man tag team match up at the Sports Arena in Portland. Unfortunately for the heels they lost in two straight with Brooks going down for the final decision. Rose and Wiskowski blamed Brooks for the loss and jumped him. Piper tried to defend his partner but was viciously thrown to the floor. Rose placed Brooks over his knee in a backbreaker type hold and Wiskowski came off the top rope with a series of headbutts, injuring Brooks' neck.
In Brooks' absence Piper waged the war on Buddy Rose, determined to gain revenge for his injured friend. Piper would eventually capture the PNW heavyweight title, and that would only add more fuel to the fire. Some six weeks after Killer Brooks was put on the sideline, Piper met Rose in a lumberjack match at the Sports Arena. The lumberjacks, as always, became involved. As they worked over Rose on the floor, Wiskowski rolled into the ring and attacked Piper. Killer Brooks made his triumphant return and saved Piper from the attack. Rose rolled into the ring to help Wiskowski out and got a chain to the head. Brooks tossed Piper on top of Rose and victory belonged to the Scotsman.
More...
If you'd like to discuss the PNW region with other fans, please visit the KM Message Board

KM DVD/VHS Store 4
Click here to purchase DVD or VHS products direct from the official distributors.
KM Replica Masks 4
Click here to purchase pro quality replica wrestling masks of all your favorite old school masked wrestlers.
KM Store 4
The KM Store now features products featuring the GCW logo as well as some other very cool images. To see what's new and to purchase T-Shirts, ball caps, mouse pads and more, click here.
KM Message Board 4
Want to chat with other fans of regional wrestling? This message board has forums for over two dozen promotions. Click here.
KM Belt Gallery 4
This section contains an extensive title belt gallery... images of heavyweight, tag, U.S. and various regional title belts. To view it, click here.
Old School Tape Review 4
Reviews of various PPV's, commercial tapes and regional wrestling TV shows are available in this section. To read more, click here.
Website designed & maintained by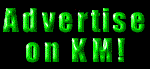 Thanks for visiting!