Regional Territories 4
This section contains monthly articles on over two dozen territories. To relive those wonderful days of old, click here.
Wrestlers 4
Enter this section for bios/profiles of various wrestlers from the regional days. To find more out about your favorite pro wrestler, click here.
Stories 4
This section contains stories from the pros themselves told exclusively to Kayfabe Memories. Want to know more as told from the wrestlers themselves? Click here.
Old School Book Reviews4
Click here to find various book reviews from old school wrestlers.
KM Links 4
For tons of links to old school related sites, click
here
.
KM Micro Wrestlers4
What are Micro Wrestlers? Click here
to find out.
KM Interviews... 4
Click here to read exclusive interviews with stars from the regional territories.
www.kayfabememories.com is © 2004 AtomDesigns. All promotional art, characters, logos and other depictions are © their respective owners. All Rights Reserved.
All contents save Wrestler Stories are © Kayfabe Memories.
Website designed and maintained by AtomDesigns © 2004 . If you experience any problems with this site or have any questions, please contact the Webmaster.
- Mike Rodgers
Currently every year one of the most anticipated issues for my bulletin Ring Around The Northwest are the year end awards issue. We look at what wrestlers were the most successful during that year. Now currently I have a Wrestler of The Year which I define as the wrestler that was the most successful. The wrestler who the fans perceive as the most successful. I chart all wins over each wrestler and it becomes clear who the most successful were. In recent times I have found out that sometimes the most successful in terms of wins is not necessarily the "best worker". Now I have another category, that I call hardest or best worker, that honors a wrestlers work even if they don't go over every time. What I have this edition is the Wrestler and Tag Team of The Year in The Northwest for the past 50 years. Next edition I will have the winners for 2001 and probably some other surprises.
Wrestler of the Year, Tag Team of Year
1950. Leo Wallick
1951 Andy Tremaine
1952 Kurt Von Poppenheim
1953 Eric Pederson
1954 Kurt Von Poppenheim, Ivan & Boris Kameroff
1955 Kurt Von Poppenheim, Doug Donovan & Ivan Kameroff
1956 Bull Montana, Doug & Red Donovan
1957 Ed Francis, The Donovans
1958 Bill Savage, Eric Pederson & H enry Lenz
1959 Bill Savage, Kurt Von Poppenheim & Fritz Von Brauner
1960 Soldat Gorky, Kurt Von Poppenheim & Soldat Gorky
1961 Billy Whitewolf, Herb Freeman & Luther Lindsey
1962 Fritz Von Goering, Fritz Von Goering & Mad Dog Vachon
1963 Mad Dog Vachon, Destroyer & Art Mahilik
1964 Destroyer, Destroyer & Art Mahilik
1965 Stan Stasiak, Mad Russian & El Shereef
1966 Tony Borne, Shag Thomas & Bearcat Wright
1967 Lonnie Mayne, Lonnie Mayne & Tony Borne
1968 Lonnie Mayne, Lonnie Mayne & Tony Borne
1969 Lonnie Mayne, Lonnie Mayne & Tony Borne
1970 Lonnie Mayne, Kurt & Karl Von Steiger
1971 Johnny Boyd, Kurt & Karl Von Steiger
1972 Bull Ramos, Dutch Savage & Lonnie Mayne
1973 Bull Ramos, Jimmy Snuka & Dutch Savage
1974 Dutch Savage, Jimmy Snuka & Dutch Savage
1975 Jimmy Snuka, Royal Kangaroos
1976 Jesse Ventura, Jimmy Snuka & Dutch Savage
1977 Ron Bass, Lonnie Mayne & Les Thornton
1978 Ed Wiskwoski, Buddy Rose & Ed Wiskwoski
If you'd like to discuss the PNW region with other fans, please visit the KM Message Board

KM DVD/VHS Store 4
Click here to purchase DVD or VHS products direct from the official distributors.
KM Replica Masks 4
Click here to purchase pro quality replica wrestling masks of all your favorite old school masked wrestlers.
KM Store 4
The KM Store now features products featuring the GCW logo as well as some other very cool images. To see what's new and to purchase T-Shirts, ball caps, mouse pads and more, click here.
KM Message Board 4
Want to chat with other fans of regional wrestling? This message board has forums for over two dozen promotions. Click here.
KM Belt Gallery 4
This section contains an extensive title belt gallery... images of heavyweight, tag, U.S. and various regional title belts. To view it, click here.
Old School Tape Review 4
Reviews of various PPV's, commercial tapes and regional wrestling TV shows are available in this section. To read more, click here.
Website designed & maintained by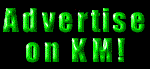 Thanks for visiting!