Regional Territories 4
This section contains monthly articles on over two dozen territories. To relive those wonderful days of old, click here.
Wrestlers 4
Enter this section for bios/profiles of various wrestlers from the regional days. To find more out about your favorite pro wrestler, click here.
Stories 4
This section contains stories from the pros themselves told exclusively to Kayfabe Memories. Want to know more as told from the wrestlers themselves? Click here.
Old School Book Reviews4
Click here to find various book reviews from old school wrestlers.
KM Links 4
For tons of links to old school related sites, click
here
.
KM Micro Wrestlers4
What are Micro Wrestlers? Click here
to find out.
KM Interviews... 4
Click here to read exclusive interviews with stars from the regional territories.
www.kayfabememories.com is © 2004 AtomDesigns. All promotional art, characters, logos and other depictions are © their respective owners. All Rights Reserved.
All contents save Wrestler Stories are © Kayfabe Memories.
Website designed and maintained by AtomDesigns © 2004 . If you experience any problems with this site or have any questions, please contact the Webmaster.
- Mike Rodgers
Lonnie only appeared in the area for special bouts in late 1971 and early 72 spending most of his time in Hawaii. In early 72 a wrestler came to the Northwest who had a big reputation, Bull Ramos. It was said that he could be the most vicious wrestler ever step foot into the Northwest. The question was raised, who was going to meet him? The promotion decided that Lonnie would be the best choice for an opponent.
The first confrontation between Mayne and Ramos was a classic. Ramos was everything he had been billed. The match ended with Ramos breaking Mayne's arm. Mayne returned to the area full time in March of 72 to seek revenge on Ramos. He chalked up some impressive victories over the likes of the Royal Kangaroos, Jack Armstrong, Masai Ota and even managed to take a few tough decisions over Bull Ramos.
He once again teamed with Tony Borne and became involved in a feud with the Royal Kangaroos, Johnny Boyd and Norman Charles III. On April 17th, Mayne and Borne were able to capture the NW tag belts for a record setting 9th time by beating the Roo's. They held the titles for about a month before losing them back to the team from down under. After this loss thing became shaky for the popular team, and after a skirmish they split up. Mayne was able to beat Borne in nearly all the following matches they had. Borne countered by bringing in a new protege, a wrestler by the name of The Skull (Bugsy McGraw). In the meantime Mayne went to his former enemy Dutch Savage and they formed a tremendous team and were able to beat the Royal Kangaroos for the tag titles. They cut through teams like Ramos & El Gringo, Skull and Borne, Skull and Ramos, Ramos and Haru Sasaki, Fuji and Sasaki and even went to a full 60 minute draw with the World Tag Champs Lars Anderson & Paul Demarco.
Mayne also wracked up victories over Borne, Jack Bence, Sasaki, Skull in a Mormon Death Match and Ramos in a Apache Strap Match. At the end of 1972 Mayne had an offer to go to the WWWF, so he told the fans he was leaving but that he would be back. He gave up his tag title and headed East.
Lonnie returned for 2 matches in 1973 and 2 more in 1974. In 1975 he came back for a series of matches with the Royal Kangaroos with partners like Jimmy Snuka, Raul Mata and Dory Funk Jr. The tag matches were part of a bounty hunters match that television sponsors had put on the Aussie team. Funk and Mayne made an impressive team but their lack of working together for any length of time hurt them.
More...
If you'd like to discuss the PNW region with other fans, please visit the KM Message Board

KM DVD/VHS Store 4
Click here to purchase DVD or VHS products direct from the official distributors.
KM Replica Masks 4
Click here to purchase pro quality replica wrestling masks of all your favorite old school masked wrestlers.
KM Store 4
The KM Store now features products featuring the GCW logo as well as some other very cool images. To see what's new and to purchase T-Shirts, ball caps, mouse pads and more, click here.
KM Message Board 4
Want to chat with other fans of regional wrestling? This message board has forums for over two dozen promotions. Click here.
KM Belt Gallery 4
This section contains an extensive title belt gallery... images of heavyweight, tag, U.S. and various regional title belts. To view it, click here.
Old School Tape Review 4
Reviews of various PPV's, commercial tapes and regional wrestling TV shows are available in this section. To read more, click here.
Website designed & maintained by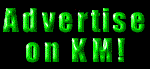 Thanks for visiting!