Regional Territories 4
This section contains monthly articles on over two dozen territories. To relive those wonderful days of old, click here.
Wrestlers 4
Enter this section for bios/profiles of various wrestlers from the regional days. To find more out about your favorite pro wrestler, click here.
Stories 4
This section contains stories from the pros themselves told exclusively to Kayfabe Memories. Want to know more as told from the wrestlers themselves? Click here.
Old School Book Reviews4
Click here to find various book reviews from old school wrestlers.
KM Links 4
For tons of links to old school related sites, click
here
.
KM Micro Wrestlers4
What are Micro Wrestlers? Click here
to find out.
KM Interviews... 4
Click here to read exclusive interviews with stars from the regional territories.
www.kayfabememories.com is © 2004 AtomDesigns. All promotional art, characters, logos and other depictions are © their respective owners. All Rights Reserved.
All contents save Wrestler Stories are © Kayfabe Memories.
Website designed and maintained by AtomDesigns © 2004 . If you experience any problems with this site or have any questions, please contact the Webmaster.
- Tim Dills

Recently, this web site asked visitors to elect a Memphis Wrestling Hall of Fame here. This month's topic was scheduled to be a look at 1972 in the territory but the fact that the Memphis territory was honored with the

Kayfabe

Memories Hall of Fame selection, this writer got to thinking about a lot of things in regards to the territory and felt a change in this month's regularly scheduled article was due.

As a contributor to this site since its inception in 2000, I have tried to paint as realistic a portrait of what is known as the Memphis territory as possible through words. My memory and efforts though generally turn nostalgic and tend to favor the good aspects of the territory. While often I'm as sharp as a plastic knife, I do understand that each of us tends to look more favorably upon what we either first saw as a wrestling product or what we grew up watching as it generally became the measuring stick against whatever else we watched. Haggling over which territory was "the best" to me seems as useless as trying to determine what ice cream is the best. Some like one flavor, others dislike that flavor and like another flavor and the reasons for the various likes and dislikes are themselves varied. Ultimately, it is all subjective. It even seems a bit elitist to try to determine what territory was "the best" since there are so many variables to ever objectively know.

All that being said though, my favorite wrestling territory is the Memphis territory. This writer though doesn't mask the fact that that thought and three quarters will get you a cup of coffee at a rundown café on the outskirts of town.

It's easy to analyze a territory and discover the highlights and understand who the stars were. With this promotion, Monroe, Lawler, Fargo, Gulas, Welch, Jarrett, Hart, Valiant, Dundee, LeDuc, Idol, Keirn & Lane and others seem to be shoo-ins for so many of the highlights held high in memory banks. But there is another side, a side hidden underneath all the good stuff hiding the bitter underbelly of wrestlers and events and gimmicks that didn't get over or ideas that just plain didn't work out as planned. That brings us to this special article on Memphis wrestling, the Hall of Shame.

The Hall of Shame

Worst Faces

Defined as: a fan favorite, significantly pushed by the promotion, who for whatever reason, just didn't cut it.

George Gulas (Gulas-Welch, 1974-80) The most controversial figure in the Tennessee-based territory during the 1970s, George Gulas, the son of promoter Nick Gulas, was pushed as a main event star from the very beginning of his ring career. George had actually worked as an announcer and referee before donning his tights and zip-up boots in 1974. Actually in 1973, George worked most of the cities in the territory as an advertised special referee. One year later, George was working shows as a wrestler. While promoter's sons or booker's sons are often held in contempt within and without the business due to perceived or imagined nepotism, no promoter's son or booker's son has drawn more ill will from those who worked in the business or with longtime fans than George Gulas. George is remembered for not paying his dues in the business. In ring, George was a mess. He was tall and thin and not very muscular, which made him look really strange when standing next to frequent tag partner Tojo Yamamoto, who looked like a compact fireplug. George also was less than graceful in ring. Since Yamamoto was his partner, George used some of Yamamoto's signature moves including Tojo's chops. The problem with George's use of chops was he didn't know how to throw them in a worked way. Of course, the promotion split up when after a number of years where George was used mostly on the eastern end, Nick Gulas wanted George on the western end. Booker Jerry Jarrett balked and the rest is history. Just how bad was George Gulas? A thread on the KM message board discusses whether or not George was as bad as believed. Of course, the legend of George Gulas is such that even many who never once saw George wrestle view him as the worst wrestler ever. How they came to that conclusion is inexplicable without them having experienced George Gulas-mania firsthand, although drawing such a conclusion isn't too far from the truth.

More...

If you'd like to discuss the Memphis/CWA region with other fans, please visit the KM Message Board

KM DVD/VHS Store 4
Click here to purchase DVD or VHS products direct from the official distributors.
KM Replica Masks 4
Click here to purchase pro quality replica wrestling masks of all your favorite old school masked wrestlers.
KM Store 4
The KM Store now features products featuring the GCW logo as well as some other very cool images. To see what's new and to purchase T-Shirts, ball caps, mouse pads and more, click here.
KM Message Board 4
Want to chat with other fans of regional wrestling? This message board has forums for over two dozen promotions. Click here.
KM Belt Gallery 4
This section contains an extensive title belt gallery... images of heavyweight, tag, U.S. and various regional title belts. To view it, click here.
Old School Tape Review 4
Reviews of various PPV's, commercial tapes and regional wrestling TV shows are available in this section. To read more, click here.
Website designed & maintained by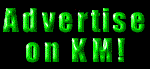 Thanks for visiting!