Regional Territories 4
This section contains monthly articles on over two dozen territories. To relive those wonderful days of old, click here.
Wrestlers 4
Enter this section for bios/profiles of various wrestlers from the regional days. To find more out about your favorite pro wrestler, click here.
Stories 4
This section contains stories from the pros themselves told exclusively to Kayfabe Memories. Want to know more as told from the wrestlers themselves? Click here.
Old School Book Reviews4
Click here to find various book reviews from old school wrestlers.
KM Links 4
For tons of links to old school related sites, click
here
.
KM Micro Wrestlers4
What are Micro Wrestlers? Click here
to find out.
KM Interviews... 4
Click here to read exclusive interviews with stars from the regional territories.
www.kayfabememories.com is © 2004 AtomDesigns. All promotional art, characters, logos and other depictions are © their respective owners. All Rights Reserved.
All contents save Wrestler Stories are © Kayfabe Memories.
Website designed and maintained by AtomDesigns © 2004 . If you experience any problems with this site or have any questions, please contact the Webmaster.
- Andrew Calvert
Canada has a long and varied history with professional wrestling, from the Hart's and Kiniski in the west to the Rougeau's and Emile Dupree in the east, however few have reached the pinnacle of Toronto promoter Frank Tunney. From the thirties to the early eighties Frank Tunney brought the worlds greatest wrestlers to Maple Leaf Gardens and showcased countless world title matches and the great feuds of the day. Sadly neither Mr. Tunney or the Gardens are still with us but the memories of a great promotion live on to this day.
Frank Tunney took over the Toronto booking office in the late thirties and ran under Tunney Sports and continued to promote until his death in 1983 at which point his nephew Jack took over the reigns and went on to align himself exclusively with the WWF in July 1984. At this time the Toronto promotion or Maple Leaf Wrestling as it was later called basically ceased to exist. Gone were the days of homegrown talent supplemented by a steady stream of World Champions and stars from all corners of the globe to be replaced by the oncoming Hulkamania.
Mr. Tunney was a past president (in the 60's) of the NWA and also was a vice president to Vince McMahon Sr. in the WW(W)F as well as having close ties with Japanese promoters. This meant non-stop action in the Gardens every two weeks or so. It wasn't unusual to see two world title matches on the same card during this time and Frank pulled off his share of promotional coups including WWWF champ Bob Backlund against then AWA champ Nick Bockwinkel with a classic Steamboat vs. Flair match for the NWA U.S. Title on the undercard (March 25, 1979).

Another classic match that took place on Jan 24 1963 directly led to the WWWF being formed after the great Lou Thesz beat then world champ Buddy Rogers and the Northeast promoters refused to acknowledge Thesz as champ. There was no shortage of homegrown talent however with the likes of Tiger Jeet Singh, Bulldog Brower, Dino Bravo, Tony Parisi, The Sheik and Dewey Robertson (later the Missing Link) among others who either started at the Garden or put in lengthy runs as regulars in Maple Leaf Wrestling. At one point Dino Bravo's Canadian Heavyweight Championship was recognized by the NWA, WWWF and AWA and made for some more great inter-promotional angles and matches. In the wrestling boom of the 50's and 60's, Maple Leaf Gardens would routinely sell around 10,000 seats for a card, the 70's would see an upturn to 17-18000 during the great run by The Sheik (Ed Farhat) and later with Bravo and the most popular wrestler ever in Toronto - Ric Flair- during the early days with Greg Valentine as his partner and their subsequent feud. The Gardens was quite a place in those days, comparable with Madison Sqaure Garden in atmosphere. When I started attending in the mid 70's a majority of the crowd would be "the elderly". Did I mention Screaming Elderly? You couldn't hear yourself think above all the caterwauling and general mayhem going on when the Sheik or Flair came in and put the later days of the Hulkster to shame. There were altercations with the fans on a regular basis including one night when a 70-year-old lady whacked one of the Privates (Don Kernodle, I think) with her cane on the ramp leading to the ring, and even the wrestlers were laughing with us. In those days even though Tunney was adamant about keeping kayfabe, the heels and the faces would arrive within minutes of each other at the back entrance of the Garden and would talk to fans and pose for pictures before scattering when their "arch enemy" drove up.
The areas biggest prize was the Canadian Heavyweight Championship going back to the 30's and through the years was held by Johnny Valentine, (1959) Killer Kowalski (1961), Greg Valentine (1979), Hussein the Arab (Iron Sheik) (1980), and Bravo (1978 & 1979). It was abandoned in 1984 when Jack Tunney joined the WWF. The title was resurrected in 1998 and continues to be recognized to this day in the Canadian independent scene. Not to be outdone we also had our own version of the NWA U.S. Title with such greats as Bruno Sammartino (1962), the Sheik (1974,75,76), Bobo Brazil (1977) and many others until it was merged with the Mid Atlantic area U.S title in 1978.
More...

KM DVD/VHS Store 4
Click here to purchase DVD or VHS products direct from the official distributors.
KM Replica Masks 4
Click here to purchase pro quality replica wrestling masks of all your favorite old school masked wrestlers.
KM Store 4
The KM Store now features products featuring the GCW logo as well as some other very cool images. To see what's new and to purchase T-Shirts, ball caps, mouse pads and more, click here.
KM Message Board 4
Want to chat with other fans of regional wrestling? This message board has forums for over two dozen promotions. Click here.
KM Belt Gallery 4
This section contains an extensive title belt gallery... images of heavyweight, tag, U.S. and various regional title belts. To view it, click here.
Old School Tape Review 4
Reviews of various PPV's, commercial tapes and regional wrestling TV shows are available in this section. To read more, click here.
Website designed & maintained by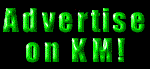 Thanks for visiting!