Regional Territories 4
This section contains monthly articles on over two dozen territories. To relive those wonderful days of old, click here.
Wrestlers 4
Enter this section for bios/profiles of various wrestlers from the regional days. To find more out about your favorite pro wrestler, click here.
Stories 4
This section contains stories from the pros themselves told exclusively to Kayfabe Memories. Want to know more as told from the wrestlers themselves? Click here.
Old School Book Reviews4
Click here to find various book reviews from old school wrestlers.
KM Links 4
For tons of links to old school related sites, click
here
.
KM Micro Wrestlers4
What are Micro Wrestlers? Click here
to find out.
KM Interviews... 4
Click here to read exclusive interviews with stars from the regional territories.
www.kayfabememories.com is © 2004 AtomDesigns. All promotional art, characters, logos and other depictions are © their respective owners. All Rights Reserved.
All contents save Wrestler Stories are © Kayfabe Memories.
Website designed and maintained by AtomDesigns © 2004 . If you experience any problems with this site or have any questions, please contact the Webmaster.
- John Hitchcock
When I was a kid growing up in the mighty Mid-Atlantic, you could tell who were wrestling fans very easy. Even if they were not fans, they still did a Brute Bernard impression. I remember working at Food World in the early Seventies and I was unloading a truck. This old truck driver guy suddenly breaks into the walk. He started to move in a short circle and move his arms like a chicken. While he did this, he said, "Oooo, Oooo, Ooo."
Then he stopped, looked skyward and yelled, "OoooOOooo hhhh!"
That is the Brute Bernard Shuffle.
Then everyone in earshot would do the same impression. And then everyone would then start laughing.
Before Flair's "Whooo", there was the Brute. There was no one like him. When I first started watching TV Wrestling Brute Bernard and Skull Murphy were the first team that really stood out. Skull Murphy was a real intense interview that was the leader and controlling force of this team. Brute Bernard was the animal that stalked around ringside scaring everyone. And I mean scaring. Everyone believed this guy was totally nuts and it pushed The Skulls to the top.
When Skull Murphy died, every fan was worried about what would happen to the Brute. I know I thought about it because Murphy was the controller of this mad beast.
Who would get him food? How would he pay his bills? As a single, would the chicks still dig him?
The fans were told that Skull Murphy had passed due to a heart attack. That was a believable explanation but he really committed suicide. (Why? Who really knows about that kind of thing)?
Soon after, the Brute began to tag with the Missouri Mauler. This was a good thing because even if they were the bad guys at least the Brute had someone to care for him. These kind of things really mattered when you were about ten years old.
The Mauler and Brute became big time main event wrestlers in the Mid-Atlantic. One day on an interview, Charlie Harville asked the Mauler if he could control this man. Mauler said and I quote, "What do you mean? If I had a son, I would want him to be just like Brute Bernard!"
The camera then took a shot of the Brute as he stood there drooling all over himself. It was a classic wrestling moment that few will ever forget.
One night, the Brute was wrestling "Number One" Paul Jones. Brute had Jones in a front face lock and began to scream in his own unusual way. As he held the hold, Brute began to drool. It wasn't any old drool. This was a white, I got a bad cold kind of drool and Paul Jones saw it coming! This was the most punishing time consuming thing I ever remember watching. This snotty drool began to climb out of Brutes mouth and began to fall down right at Paul Jones face! As this thing got closer, you could see Paul Jones try to escape and get away from this fate worse than death. But no dice, The Brute continued to yell and drool until it ran right on Jones face. And man, Paul Jones was not a happy camper.
I got a ton of Brute Bernard stories.
And what ever happened to Brute Bernard? Well he got dropped from Crockett because he was really too old to continue wrestling. He then went to the independent wrestling scene. Working around the Mid-Atlantic Territory picking up a match whenever he could. There is one thing that I do know, Brute Bernard loved wrestling. It was his life and really when you think about it what could a guy like that do?
One night working for Johnny Hunter, the Brute snapped. The ref Dave Routh had no choice but to do a double count out finish that was not planned. The Brute was fighting on the floor and wouldn't get back in the ring. It was a mess and Routh did the right thing. After the match, Brute ran back to the dressing room and hit Routh and broke his nose. He was raising hell about being counted out and was totally out of control. Hunter had no choice but to fire Brute Bernard on the spot. When the reality sank in that Brute no longer had a job wrestling, he broke down and started to cry.
A few months later, Brute Bernard went hunting with a few green kids. Suddenly, Brute said, "Hey, you want to really see something?" Brute Bernard then raised his gun and shot himself in the head. The guys that were there couldn't do a thing to help him. They were too far away to get help in time.
When I think about wrestling this story runs around in my head.
NEXT MONTH:
Johnny the Champ

If you'd like to discuss the Mid-Atlantic region with other fans, please visit the KM Message Board

KM DVD/VHS Store 4
Click here to purchase DVD or VHS products direct from the official distributors.
KM Replica Masks 4
Click here to purchase pro quality replica wrestling masks of all your favorite old school masked wrestlers.
KM Store 4
The KM Store now features products featuring the GCW logo as well as some other very cool images. To see what's new and to purchase T-Shirts, ball caps, mouse pads and more, click here.
KM Message Board 4
Want to chat with other fans of regional wrestling? This message board has forums for over two dozen promotions. Click here.
KM Belt Gallery 4
This section contains an extensive title belt gallery... images of heavyweight, tag, U.S. and various regional title belts. To view it, click here.
Old School Tape Review 4
Reviews of various PPV's, commercial tapes and regional wrestling TV shows are available in this section. To read more, click here.
Website designed & maintained by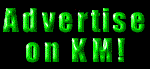 Thanks for visiting!