Regional Territories 4
This section contains monthly articles on over two dozen territories. To relive those wonderful days of old, click here.
Wrestlers 4
Enter this section for bios/profiles of various wrestlers from the regional days. To find more out about your favorite pro wrestler, click here.
Stories 4
This section contains stories from the pros themselves told exclusively to Kayfabe Memories. Want to know more as told from the wrestlers themselves? Click here.
Old School Book Reviews4
Click here to find various book reviews from old school wrestlers.
KM Links 4
For tons of links to old school related sites, click
here
.
KM Micro Wrestlers4
What are Micro Wrestlers? Click here
to find out.
KM Interviews... 4
Click here to read exclusive interviews with stars from the regional territories.
www.kayfabememories.com is © 2004 AtomDesigns. All promotional art, characters, logos and other depictions are © their respective owners. All Rights Reserved.
All contents save Wrestler Stories are © Kayfabe Memories.
Website designed and maintained by AtomDesigns © 2004 . If you experience any problems with this site or have any questions, please contact the Webmaster.
- Steve Laflamme

THE CREATCHMANS: COMMITTED TO ELIMINATING DINO BRAVO

You just can't talk about International Wrestling without talking a bit about Superstars of Wrestling, its predecessor on Quebecer ground. I mentioned previously that Superstars of Wrestling was aired between 1980 and 1984 before IW would take its place. The reason I mention that program is because Eddie Creatchman started chasing Dino Bravo's International Title right at the beginning of Varoussac Promotions' programming. Creatchman, in my opinion, is one of the best managers I've seen in wrestling. I couldn't tell if he happened to manage on other territories than Montreal and Detroit (where he managed The Sheik and Abdullah the Butcher), but if not, he would have done a helluva job, because I believe he was better than a lot of those guys who believed they were good managers but were not, in my book.

My earliest memory of Eddie Creatchman goes back to 1982, when Dino Bravo was involved in a wild and brutal feud with The Masked Superstar, Bill Eadie. At the time, the WWF would come on Quebecer soil to promote some of its wrestlers on Superstars of Wrestling. The Masked Superstar was managed back then by Lord Alfred Hayes, who was a well appreciated heel manager over here since he was able to speak convenient French. I remember a scheduled match between Bravo and Superstar where Bravo got manhandled like a dummy. Superstar didn't let him time enough to undress and attacked him from behind, bloodying him and applying his devastating Cobra Clutch on him. After the match, while Bravo was taken away from the ringside area, Superstar and Hayes, being interviewed, were interrupted by Eddy Creatchman, who offered Hayes to buy Superstar's contract, since he was the only guy who had been able to beat up Bravo like he deserved to be. Hayes politely refused but promised history would repeat itself especially for Creatchman.

Eddie Creatchman also managed several teams on this territory, such as the one formed by Pierre "Mad Dog" Lefebvre and Frenchie Martin, who were headed for the International Tag Team Title, according to Creatchman. But his main goal remained getting rid of Bravo—and any other French Canadian babyface who was over with the crowds.

More...

If you'd like to discuss the International Wrestling - Montreal region with other fans, please visit the KM Message Board

KM DVD/VHS Store 4
Click here to purchase DVD or VHS products direct from the official distributors.
KM Replica Masks 4
Click here to purchase pro quality replica wrestling masks of all your favorite old school masked wrestlers.
KM Store 4
The KM Store now features products featuring the GCW logo as well as some other very cool images. To see what's new and to purchase T-Shirts, ball caps, mouse pads and more, click here.
KM Message Board 4
Want to chat with other fans of regional wrestling? This message board has forums for over two dozen promotions. Click here.
KM Belt Gallery 4
This section contains an extensive title belt gallery... images of heavyweight, tag, U.S. and various regional title belts. To view it, click here.
Old School Tape Review 4
Reviews of various PPV's, commercial tapes and regional wrestling TV shows are available in this section. To read more, click here.
Website designed & maintained by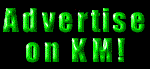 Thanks for visiting!