Regional Territories 4
This section contains monthly articles on over two dozen territories. To relive those wonderful days of old, click here.
Wrestlers 4
Enter this section for bios/profiles of various wrestlers from the regional days. To find more out about your favorite pro wrestler, click here.
Stories 4
This section contains stories from the pros themselves told exclusively to Kayfabe Memories. Want to know more as told from the wrestlers themselves? Click here.
Old School Book Reviews4
Click here to find various book reviews from old school wrestlers.
KM Links 4
For tons of links to old school related sites, click
here
.
KM Micro Wrestlers4
What are Micro Wrestlers? Click here
to find out.
KM Interviews... 4
Click here to read exclusive interviews with stars from the regional territories.
www.kayfabememories.com is © 2004 AtomDesigns. All promotional art, characters, logos and other depictions are © their respective owners. All Rights Reserved.
All contents save Wrestler Stories are © Kayfabe Memories.
Website designed and maintained by AtomDesigns © 2004 . If you experience any problems with this site or have any questions, please contact the Webmaster.
- Daren Gleason

INTER-PROMOTIONAL INSURRECTION Part 2: ALL-STAR vs. GRAND PRIX

Was it his ego that eventually brought down the mighty Eddie Quinn's empire? Well, not exactly. As we discovered last time in Part 1 of this series, Mr.
Quinn was quite the big spender and bon vivant. However, it was the changing times that primarily contributed to his demise. While professional wrestling was a white hot television commodity in the 1950's, things cooled down considerably by the time the next decade began. Simply put, the writing was on the wall for Eddie Quinn after he lost his Quebec TV deal in 1960. What had been nurtured as his main promotional tool for house shows at the
Montreal Forum came back to haunt him with its removal. He was never able to recover and his company withered away and died within a few years. A year after that, Quinn himself was also dead.

Like Vince McMahon Jr., Eddie Quinn had great promotional instincts and would have been an odds on favourite to successfully operate on a national basis back in his day. But unlike McMahon, Quinn lacked that singularity of vision which I talked about back in Part 1. Instead of focusing on the vast
potential his wrestling empire of offered, Eddie became distracted by too many other outside interests and amusements. As a result, he was totally unprepared to deal with the new reality in 1960, and it put out him out of business.

By the beginning of 1965, Quinn was dying and pro wrestling was dead as far as Quebec was concerned. With the playing field now clear, former local star Johnny Rougeau - once a protege of Yvon Robert's - decided to open up a new wrestling office. Rougeau, a one-time International champion who had retired from the mat game a few years earlier to run the popular Mocambo nightclub, invested $50,000 and signed an exclusive french-language television deal with CFTM channel 10, a four-year old independent station in Montreal. The promotion was christened "Les As De La Lutte" in French - or "The Aces Of Wrestling" in English. (However, there has always been some confusion about this because the bilingual company logo lists the English name as "All-Star Wrestling." That is the moniker under which the cards were booked and is generally referred to as such since it is emblazoned on the promotion's
crest).

Scroll down to skip ad

Rougeau wisely ventured out cautiously and set up his home base at the modest Paul Sauve Centre in the east-end of Montreal. He then proceeded to recruit an interesting mix of veteran workers such as Antonino Rocca, Larry Moquin and Tony Angelo to headline over lesser local talent and a few imports from other Canadian provinces. The sensible decision was also made to continue the lineage of Quinn's International heavyweight title, tying the new company to Quebec's rich wrestling history. Since former International titleholder Edouard Carpentier had abandoned the belt in 1964 for greener pastures,
Rougeau held a tournament. It was won by the hated Hans Schmidt on October 1st, 1965. But it soon became crystal clear who the real star of the show was intended to be when Johnny Rougeau himself came out of retirement to wrest the belt from Schmidt a little over one month later on November 18th. Former wrestler Bob "Legs" Langevin was then installed as the figurehead All-Star "promoter."

1966 saw All-Star Wrestling slowly but steadily rising. When the Rougeau-Schmidt feud cooled down, Edouard Carpentier made a triumphant return
to Quebec and traded the belt with Hans over the course of the year. Edouard and Johnny also made a solid one-two babyface punch at the top of the card. Other stalwarts around the circuit were Eddie Auger (a Rougeau relative), Tony Marino, Baron Gattoni, The Beast (Yvon Cormier), Dick "Bulldog" Brower, and Buster "Guillotine" Gordon. In the latter half of the year, Maurice "Mad Dog" Vachon came in from a hot tour of the AWA, as did Wladek "Killer"
Kowalski from the northeastern U.S. The tag team of Terry & Ronnie Garvin were active as was a youngster by the name of Zelis Amara, who would later do on to carve his niche (quite literally) as Abdullah The Butcher!

More...

KM DVD/VHS Store 4
Click here to purchase DVD or VHS products direct from the official distributors.
KM Replica Masks 4
Click here to purchase pro quality replica wrestling masks of all your favorite old school masked wrestlers.
KM Store 4
The KM Store now features products featuring the GCW logo as well as some other very cool images. To see what's new and to purchase T-Shirts, ball caps, mouse pads and more, click here.
KM Message Board 4
Want to chat with other fans of regional wrestling? This message board has forums for over two dozen promotions. Click here.
KM Belt Gallery 4
This section contains an extensive title belt gallery... images of heavyweight, tag, U.S. and various regional title belts. To view it, click here.
Old School Tape Review 4
Reviews of various PPV's, commercial tapes and regional wrestling TV shows are available in this section. To read more, click here.
Website designed & maintained by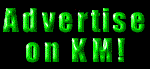 Thanks for visiting!