Regional Territories 4
This section contains monthly articles on over two dozen territories. To relive those wonderful days of old, click here.
Wrestlers 4
Enter this section for bios/profiles of various wrestlers from the regional days. To find more out about your favorite pro wrestler, click here.
Stories 4
This section contains stories from the pros themselves told exclusively to Kayfabe Memories. Want to know more as told from the wrestlers themselves? Click here.
Old School Book Reviews4
Click here to find various book reviews from old school wrestlers.
KM Links 4
For tons of links to old school related sites, click
here
.
KM Micro Wrestlers4
What are Micro Wrestlers? Click here
to find out.
KM Interviews... 4
Click here to read exclusive interviews with stars from the regional territories.
www.kayfabememories.com is © 2004 AtomDesigns. All promotional art, characters, logos and other depictions are © their respective owners. All Rights Reserved.
All contents save Wrestler Stories are © Kayfabe Memories.
Website designed and maintained by AtomDesigns © 2004 . If you experience any problems with this site or have any questions, please contact the Webmaster.
- Daren Gleason

TARZAN TYLER: DECADES OF GLORY,
DAY OF TRAGEDY

Another holiday season has come and gone and I truly hope it was a festive and happy one for all of Kayfabe Memories readers. However, for longtime
Quebec wrestling fans, Christmas time will forever be linked with tragedy because it was on December 24th, 1985 that a shocking and horrific car accident claimed the lives of International Wrestling's Pierre "Mad Dog" Lefebvre, referee Adrien Desbois, and manager Tarzan Tyler. For fellow wrestlers, it was a devastating personal loss. For the promotion itself, it
was a blow from which it never truly recovered. All three men left behind families to mourn them and it was particularly sad because both Lefebvre and
Desbois were only in their thirties and had so much life yet to experience. Then there was Tyler, the multi-decade veteran who had competed around the
world and logged hundreds of thousands of travel miles only to meet his end back home where it all began so many years earlier.

Camille Laurent Tourville was born in 1927 and grew up in Montreal. Before he even hit his teenage years it became clear that the youngster was going to be
an athlete. Blessed with a large frame and solid physique, his friends had nicknamed him "Tarzan" by the age of ten. Several years later, when local
wrestling began to climb back in popularity throughout Quebec, Camille became quite a fan of the mat game, idolizing superstars like Buddy Rogers, Paul Baillargeon and, of course, Yvon Robert. He soon took to amateur wrestling and was spotted by local promoter Sylvio Samson (who ran the smaller venues around Montreal while Eddie Quinn ran the Forum) and got his first few bookings shortly thereafter.

For the next while, Camille plied his trade on the small Quebec circuits and filled out the bottom of cards in several northeastern U.S. states when
another of his boyhood idols, Manuel Cortez, recommended him to Quinn following a stint in Boston. Young Camille soon found himself in his very first Forum bout as a babyface, going up against young sensation Don Leo Jonathan. Now he was in the big time - but not for long.

The 1950's truly were the "Golden Era" for pro wrestling in Montreal. All the greatest stars and champions from around the globe during that era appeared every Wednesday night at the Forum. For local fans, it was pure heaven. For most local wrestlers, however, it was pure hell. There were so many big names coming and going that just procuring a spot on a Forum card was difficult
enough. Getting to the top of the card was next to impossible. By the time 1959 rolled around, Camille decided to make a move which would drastically
alter his fortunes. He headed to the United States on a permanent basis.

Wrestling as "Tarzan Tourville," he quickly learned the reality of American promotional thinking at the time vis-a-vis most French-Canadians: his name
was the first thing to go. It was the legendary Sam Muchnick of St.Louis who first nicknamed him "Tarzan Tyler" and, from that moment on, Camille finally began to climb up the card. His first big success came in 1962 with a good run in Texas. Partnered with Jay York, the newly-christened Tyler captured the tag team championship. Two years later, he hit pay dirt and became a major heel attraction in Florida where he would remain solid box office for many years after. Between 1964 and 1971, Tyler won every title there was to win in the state. Alternating with his Florida successes, Tyler hit
practically all the southeast and southwest states and even managed a few Japanese sojourns for good measure.

A fascinating yet little known fact about this period in Tyler's career was his increasing influence behind the scenes. In several territories during the mid to late 60's, including Omaha, Nebraska, Tarzan actually served as a booker and became well-respected among his peers as a man brimming with vision and ideas. By this time a seasoned veteran, he was also gaining a reputation as an excellent teacher for the younger wrestlers who were just learning the ropes.

More...

If you'd like to discuss the International Wrestling - Montreal region with other fans, please visit the KM Message Board

KM DVD/VHS Store 4
Click here to purchase DVD or VHS products direct from the official distributors.
KM Replica Masks 4
Click here to purchase pro quality replica wrestling masks of all your favorite old school masked wrestlers.
KM Store 4
The KM Store now features products featuring the GCW logo as well as some other very cool images. To see what's new and to purchase T-Shirts, ball caps, mouse pads and more, click here.
KM Message Board 4
Want to chat with other fans of regional wrestling? This message board has forums for over two dozen promotions. Click here.
KM Belt Gallery 4
This section contains an extensive title belt gallery... images of heavyweight, tag, U.S. and various regional title belts. To view it, click here.
Old School Tape Review 4
Reviews of various PPV's, commercial tapes and regional wrestling TV shows are available in this section. To read more, click here.
Website designed & maintained by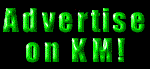 Thanks for visiting!