Regional Territories 4
This section contains monthly articles on over two dozen territories. To relive those wonderful days of old, click here.
Wrestlers 4
Enter this section for bios/profiles of various wrestlers from the regional days. To find more out about your favorite pro wrestler, click here.
Stories 4
This section contains stories from the pros themselves told exclusively to Kayfabe Memories. Want to know more as told from the wrestlers themselves? Click here.
Old School Book Reviews4
Click here to find various book reviews from old school wrestlers.
KM Links 4
For tons of links to old school related sites, click
here
.
KM Micro Wrestlers4
What are Micro Wrestlers? Click here
to find out.
KM Interviews... 4
Click here to read exclusive interviews with stars from the regional territories.
www.kayfabememories.com is © 2004 AtomDesigns. All promotional art, characters, logos and other depictions are © their respective owners. All Rights Reserved.
All contents save Wrestler Stories are © Kayfabe Memories.
Website designed and maintained by AtomDesigns © 2004 . If you experience any problems with this site or have any questions, please contact the Webmaster.
- Daren Gleason

T.V. WRESTLING: THE MEN BEHIND THE MICROPHONE

In my last column, I examined the character of the manager and went on to underline just how important that role was and is to the promotional aspect of a wrestling company. This time out, I'll be taking a look at the men who called the action on television for the various Quebec promotions. Although their part in the wrestling universe may not be as glamorous as the manager's, the men behind the microphone can be just as influential a force
in putting over characters and storylines to the fans. Even though professional wrestling had enjoyed significant popularity in Montreal dating as far back as the late 19th century (with regular shows
doing fairly well at the old Mount Royal Arena), the industry really took off here under the deft promotional hand of ex-boxer Eddie Quinn. A native of Massachusetts in the United States, Quinn took over the local reigns from Jack Ganson in 1939, having been granted a license by the Montreal Athletic Commission. Basing his operations out of the Montreal Forum, home to the NHL's Canadiens, Quinn began to steadily re-invent the game by introducing those now-familiar elements of glitter and mayhem into his shows. It was in stark contrast to Ganson's concept of promoting serious, no-frills wrestling cards.

With local star Yvon Robert headlining his shows, Quinn's "Canadian Athletic Promotions" company grew steadily throughout the 1940's. A series of bouts between Robert and Gorgeous George drew record crowds to the Forum late in the decade, but it was the emergence of national Canadian television which saw pro wrestling really explode in popularity. Signing on the air in 1952 with the English-language Canadian Broadcasting Corporation (CBC) and the French-language Societe Radio-Canada (SRC), local
television had finally arrived. One of the very first programs on the SRC network was wrestling from the Forum, entitled "La Lutte". Sponsored by the
old Dow Brewery and broadcast throughout Quebec every Wednesday evening, fans were treated to live wrestling (in glorious black & white) which lasted until the semi-final bout.

Of course, Montreal already boasted a strong grappling tradition, but the debut of televised wrestling opened up the spectacle to a whole new audience. The program was an instant hit and spawned one of French-Canadian broadcasting's first TV stars: Michel Normandin. To any Montrealer of a certain age, be they English or French, his name is legendary. A man of immense talent and energy, Normandin began his career in 1935 and first gained fame by broadcasting sports for French-speaking troops overseas during World War II. He later received the Order of the British Empire in honor of his outstanding work. He was the French-language voice of the Montreal Canadiens for 12 years but also amazingly had long stints doing play-by-play for the old Montreal Royals minor-league baseball team, the Canadian Football League's Montreal Alouettes and even served on Montreal's City Council for six years. To describe Normandin's style to those unfortunate enough to have never heard him, the word "intense" immediately comes to mind. Even if you couldn't understand French, Normandin's impeccable diction, colorful style and raw emotion in describing the action could be appreciated by everybody, regardless of language or culture. Yes, he was that good. He also became famous all over the country for his trademark "un...deux...trrrrrrrois!!!" catchphrase when counting out a pinfall. By the autumn of 1955, professional wrestling was actually running a close second to hockey in popularity with
Quebecers, due in large part to Normandin's broadcasts. Quinn even ran annual summer spectaculars at the old Delormier baseball stadium which were huge successes.

Unfortunately, things began to unravel as the 1960's dawned. As the health of both Eddie Quinn and Michel Normandin began to slip, so did the TV ratings for wrestling. In 1960, SRC cancelled the show. With no English-language program to pick up the slack, Quinn's gates at the Forum dropped off
dramatically. He briefly handed the booking reigns over to local wrestler Bob "Legs" Langevin, but things failed to improve. More...

If you'd like to discuss the International Wrestling - Montreal region with other fans, please visit the KM Message Board

KM DVD/VHS Store 4
Click here to purchase DVD or VHS products direct from the official distributors.
KM Replica Masks 4
Click here to purchase pro quality replica wrestling masks of all your favorite old school masked wrestlers.
KM Store 4
The KM Store now features products featuring the GCW logo as well as some other very cool images. To see what's new and to purchase T-Shirts, ball caps, mouse pads and more, click here.
KM Message Board 4
Want to chat with other fans of regional wrestling? This message board has forums for over two dozen promotions. Click here.
KM Belt Gallery 4
This section contains an extensive title belt gallery... images of heavyweight, tag, U.S. and various regional title belts. To view it, click here.
Old School Tape Review 4
Reviews of various PPV's, commercial tapes and regional wrestling TV shows are available in this section. To read more, click here.
Website designed & maintained by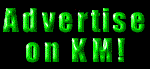 Thanks for visiting!