Regional Territories 4
This section contains monthly articles on over two dozen territories. To relive those wonderful days of old, click here.
Wrestlers 4
Enter this section for bios/profiles of various wrestlers from the regional days. To find more out about your favorite pro wrestler, click here.
Stories 4
This section contains stories from the pros themselves told exclusively to Kayfabe Memories. Want to know more as told from the wrestlers themselves? Click here.
Old School Book Reviews4
Click here to find various book reviews from old school wrestlers.
KM Links 4
For tons of links to old school related sites, click
here
.
KM Micro Wrestlers4
What are Micro Wrestlers? Click here
to find out.
KM Interviews... 4
Click here to read exclusive interviews with stars from the regional territories.
www.kayfabememories.com is © 2004 AtomDesigns. All promotional art, characters, logos and other depictions are © their respective owners. All Rights Reserved.
All contents save Wrestler Stories are © Kayfabe Memories.
Website designed and maintained by AtomDesigns © 2004 . If you experience any problems with this site or have any questions, please contact the Webmaster.
- Daren Gleason

THE QUEBEC - PUERTO RICO CONNECTION

On the surface, the province of Quebec and the island of Puerto Rico couldn't possibly appear more different from one another. We're located in the upper half of North America, where the cold winter months last far too long for

our liking, while Puerto Rico lies 1,050 miles south of the Florida coast, where the sunny subtropical climate lasts year-round. Yet when one looks beyond this quick glance it becomes easy to see that there are quite a few similarities between the two, not the least of which is that both locales sport bilingual cultures (French & English in Quebec, and Spanish & English

in Puerto Rico). Additionally, both places have long and rich histories when it comes to professional wrestling, with Puerto Rico's saga wonderfully documented here on Kayfabe Memories by Manuel Gonzalez. What is not so well documented, however, is that there was a mutually beneficial promotional co-operation between the two territories which dated all the way back to the

late 1960's.

During the latter half of that decade, Johnny Rougeau's "All-Star Wrestling" group had this province all to itself. By 1969, the promotion was at the peak of its powers, drawing record-breaking crowds to weekly cards at the Paul Sauve Centre, bigger shows at the Montreal Forum, and in cities throughout Quebec. Even though the company was based around local stars like Johnny, his brother Jacques, Gino Brito, Edouard Carpentier, Hans Schmidt and Waldo Von Erich, imported superstars like Bruno Sammartino (WWWF) and The Sheik (Detroit) were brought in occasionally to great public acclaim.

Two of the most successful heels of that period were Abdullah The Butcher and Fidel Castillo, managed by the immortal Eddy "The Brain" Creatchman. Together they captured the promotion's tag team titles from Brito and Domenic DeNucci on September 29th, 1969 at the Montreal Forum on the undercard of a Jacques Rougeau/Ivan Koloff International heavyweight championship main event. Abdullah's Quebec history is well known, but many old school fans may not realize that Castillo, while a hated heel up here, became a legend in his homeland where he was known as Hurricane Castillo. But in Quebec during the late 60's, he had to be considered as the second top heel in the territory, next to Abdullah himself.

One of the main reasons Puerto Rican wrestlers began to score huge heel heat here was that they were usually passed off as Cubans. Keep in mind that this was during the height of the Cold War and the infamous Cuban Missile Crisis was less than a decade removed. So, Russians and Cubans began slowly replacing the tried and true World War II Nazi German heels. Castillo was really the first of this breed to hit Quebec rings and was probably the most successful.

As the seventies dawned, the Rougeau troupe began importing Puerto Ricans in droves, hoping to capitalize on Castillo's heat.

More...

If you'd like to discuss the International Wrestling - Montreal region with other fans, please visit the KM Message Board

KM DVD/VHS Store 4
Click here to purchase DVD or VHS products direct from the official distributors.
KM Replica Masks 4
Click here to purchase pro quality replica wrestling masks of all your favorite old school masked wrestlers.
KM Store 4
The KM Store now features products featuring the GCW logo as well as some other very cool images. To see what's new and to purchase T-Shirts, ball caps, mouse pads and more, click here.
KM Message Board 4
Want to chat with other fans of regional wrestling? This message board has forums for over two dozen promotions. Click here.
KM Belt Gallery 4
This section contains an extensive title belt gallery... images of heavyweight, tag, U.S. and various regional title belts. To view it, click here.
Old School Tape Review 4
Reviews of various PPV's, commercial tapes and regional wrestling TV shows are available in this section. To read more, click here.
Website designed & maintained by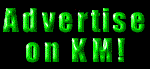 Thanks for visiting!