Regional Territories 4
This section contains monthly articles on over two dozen territories. To relive those wonderful days of old, click here.
Wrestlers 4
Enter this section for bios/profiles of various wrestlers from the regional days. To find more out about your favorite pro wrestler, click here.
Stories 4
This section contains stories from the pros themselves told exclusively to Kayfabe Memories. Want to know more as told from the wrestlers themselves? Click here.
Old School Book Reviews4
Click here to find various book reviews from old school wrestlers.
KM Links 4
For tons of links to old school related sites, click
here
.
KM Micro Wrestlers4
What are Micro Wrestlers? Click here
to find out.
KM Interviews... 4
Click here to read exclusive interviews with stars from the regional territories.
www.kayfabememories.com is © 2004 AtomDesigns. All promotional art, characters, logos and other depictions are © their respective owners. All Rights Reserved.
All contents save Wrestler Stories are © Kayfabe Memories.
Website designed and maintained by AtomDesigns © 2004 . If you experience any problems with this site or have any questions, please contact the Webmaster.
- Rick Fields

This installment is just going to consist of certain things that has happened in the Georgia area that I would like to comment on. This is just a personal opinion segment, I could be wrong in my opinions of a lot of areas here, but certain things have been eating at me and I would like to vent it out.

I'll start off with Tommy Rich and Buzz Sawyer. People say that the Tommy Rich/Buzz Sawyer feud that went on for two years really killed any chance for Rich to be a major player in the big three. I believe that Rich was being nudged out of NWA title consideration during the infancy of Ric Flair's first title run. Sure, Tommy pinned him in a non-title match and left the Omni with the belt. But soon after, Rich wasn't getting the chances, focusing instead on Roddy Piper, The Superstar, Sawyer, etc. The battles between Rich and Sawyer began for the National title, then when the title was out of the picture, the actual feud took shape. It was a very entertaining feud that I wish we had more of today, but long feuds did get an individual stale in the big picture in the territories. The feud killed Tommy's run at the time, not to say that if he persisted, made appearances in various territories, and kept his image fresh, he would've stayed near the top.

In my opinion it was Sawyer who was affected by this, he made a much, much better heel. I guess Ole decided that since Sawyer had so much heat on him, he would shock the world and turn him into the top face. Sawyer would've never been NWA champ, but had he kept his "Mad Dog" attitude, even as a face, he would've been in the mainstream a lot more, and could've been a main player anywhere he wanted.

My second gripe is, why wasn't the Ole/Ivan feud longer? As most of us know, Ole and Ivan were Georgia tag champs on numerous occasions, and were the top heels at that time. Ole then turned face out of the blue and Ivan leaves the area for a couple of months. Then, during Ole's feud with Ernie Ladd, Ladd brings a mystery partner in a tag match which is unmasked to reveal Koloff. But honestly, really nothing was said of a personal feud between the two. It consisted of tag matches and a few singles bouts. This feud could've taken off as a singles feud, but I can see the point of a tag feud, which they did the past two years as a team. The feud ended when Ole and Lars Anderson defeated Koloff and Alexis Smirnoff for the Georgia tag titles, in my opinion a transition for the Assassins. This feud could've been epic.

More...

If you'd like to discuss the GCW region with other fans, please visit the KM Message Board

KM DVD/VHS Store 4
Click here to purchase DVD or VHS products direct from the official distributors.
KM Replica Masks 4
Click here to purchase pro quality replica wrestling masks of all your favorite old school masked wrestlers.
KM Store 4
The KM Store now features products featuring the GCW logo as well as some other very cool images. To see what's new and to purchase T-Shirts, ball caps, mouse pads and more, click here.
KM Message Board 4
Want to chat with other fans of regional wrestling? This message board has forums for over two dozen promotions. Click here.
KM Belt Gallery 4
This section contains an extensive title belt gallery... images of heavyweight, tag, U.S. and various regional title belts. To view it, click here.
Old School Tape Review 4
Reviews of various PPV's, commercial tapes and regional wrestling TV shows are available in this section. To read more, click here.
Website designed & maintained by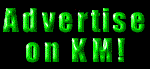 Thanks for visiting!