Regional Territories 4
This section contains monthly articles on over two dozen territories. To relive those wonderful days of old, click here.
Wrestlers 4
Enter this section for bios/profiles of various wrestlers from the regional days. To find more out about your favorite pro wrestler, click here.
Stories 4
This section contains stories from the pros themselves told exclusively to Kayfabe Memories. Want to know more as told from the wrestlers themselves? Click here.
Old School Book Reviews4
Click here to find various book reviews from old school wrestlers.
KM Links 4
For tons of links to old school related sites, click
here
.
KM Micro Wrestlers4
What are Micro Wrestlers? Click here
to find out.
KM Interviews... 4
Click here to read exclusive interviews with stars from the regional territories.
www.kayfabememories.com is © 2004 AtomDesigns. All promotional art, characters, logos and other depictions are © their respective owners. All Rights Reserved.
All contents save Wrestler Stories are © Kayfabe Memories.
Website designed and maintained by AtomDesigns © 2004 . If you experience any problems with this site or have any questions, please contact the Webmaster.
- Rich Tate
I apologize for the delays, but running Georgia Wrestling History and Peach State Pandemonium , as well as trying to maintain a career and family are keeping me from meeting many deadlines. Luckily, I have been able to recruit some folks for the wrestling projects to assist me in being able to reduce some of the time needed to make things happen, as well as guaranteeing a better quality product rather than rushed.
I am attempting to create these summaries to coincide with our update progression on GWH, which is currently at 1969. As we will be updating the year 1970 in August on GWH, I have a few more weeks to catch up the summaries I am submitting to Kayfabe Memories. I should have 1968 and 1969 to Vince very soon, then as of August, everything should begin going as planned. You will be able to read the summaries here, and dig into the real detail at GWH.
So, on with it…
1967
Tag Team wrestling continued to dominate the Georgia scene throughout 1967, as teams such as Gene and Lars Anderson, the Torres brothers, Butcher & Mad Dog Vachon, Jack Daniels and Krusher Kowalski, Louie Tillet and Alex Perez, Billy and Bad Boy Hines, Rip Hawk and Swede Hanson, Ray Gunkel and Buddy Fuller, the Gauchos, and a couple of new faces who would also make big news in singles competition – El Mongol and Oki Shikina.
Enrique and Ramon Torres traded the Southern Tag Team Titles back and forth a few times with the Andersons during the first half of the year. Meanwhile, the Vachons won the World Tag Team Championship from Enrique and Alberto Torres for short reign before dropping the belts to Enrique and Ramon. Now dual title holders, Enrique and Ramon had a series of title versus title matches during their feud with the Andersons . Lars and Gene had a two week stint as the holders of the World title version until they lost it to Enrique and Ramon on May 12.
The Andersons soon left, but Butcher Vachon returned, this time bringing in another "brother", Stan. It didn't take them long to get involved in a feud with the Torres brothers, as well as the championship scene. They defeated Enrique and Ramon for the Southern Tag Team Title in June. It would be three months before they would lose the belts, when Enrique and Alberto took them away for a reign that would last throughout the remainder of the year.
The feud between the Vachons and the Torres family took an interesting turn in July. Enrique announced he was leaving Georgia , thus vacating the World Tag Team Title he held with brother Ramon. Amid the buildup to him leaving, a new masked man appeared on the scene called the Avenger. After a few weeks, the Avenger was booked into a match with Butcher Vachon, and he announced he would unmask prior to the match.
The Avenger did as promised, and turned out to be Alberto, returning to help Ramon in his battles. This caused the Vachons to ask Mad Dog to return and assist them. He was immediately booked into a Loser Leaves Match the following week and lost to Alberto. In September, Stan topped Ramon in a Loser Leaves Match, and the following week under the same stipulations, Enrique returned to turn back Stan. The following week, Enrique came out on top in another Loser Leaves Match, this time sending Butcher packing.
In October, Oki Yama debuted in the territory, followed in November by El Lobo, another hooded heel. Soon behind them came another hooded grappler, known as Avenger #2. It didn't take long for the Yama and the Avenger to be paired into a Loser Unmasks Match, whereas the Avenger came out on the losing end. His identity was revealed to be that of Ramon Torres. However, a week later, Mr. Wrestling won a similar match, exposing Yama as Butcher Vachon. Lobo was also unmasked by Ramon, and turned out to be Stan Vachon.
El Mongol debuted in Georgia in January, and was managed by "Dandy" Jack Crawford. He began teaming with Oki Shikina, but his most success this year was while working alone. That would change the next year, as Shikina returned and became a key player in a key program along with Mongol. More...

KM DVD/VHS Store 4
Click here to purchase DVD or VHS products direct from the official distributors.
KM Replica Masks 4
Click here to purchase pro quality replica wrestling masks of all your favorite old school masked wrestlers.
KM Store 4
The KM Store now features products featuring the GCW logo as well as some other very cool images. To see what's new and to purchase T-Shirts, ball caps, mouse pads and more, click here.
KM Message Board 4
Want to chat with other fans of regional wrestling? This message board has forums for over two dozen promotions. Click here.
KM Belt Gallery 4
This section contains an extensive title belt gallery... images of heavyweight, tag, U.S. and various regional title belts. To view it, click here.
Old School Tape Review 4
Reviews of various PPV's, commercial tapes and regional wrestling TV shows are available in this section. To read more, click here.
Website designed & maintained by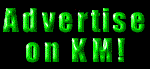 Thanks for visiting!