Regional Territories 4
This section contains monthly articles on over two dozen territories. To relive those wonderful days of old, click here.
Wrestlers 4
Enter this section for bios/profiles of various wrestlers from the regional days. To find more out about your favorite pro wrestler, click here.
Stories 4
This section contains stories from the pros themselves told exclusively to Kayfabe Memories. Want to know more as told from the wrestlers themselves? Click here.
Old School Book Reviews4
Click here to find various book reviews from old school wrestlers.
KM Links 4
For tons of links to old school related sites, click
here
.
KM Micro Wrestlers4
What are Micro Wrestlers? Click here
to find out.
KM Interviews... 4
Click here to read exclusive interviews with stars from the regional territories.
www.kayfabememories.com is © 2004 AtomDesigns. All promotional art, characters, logos and other depictions are © their respective owners. All Rights Reserved.
All contents save Wrestler Stories are © Kayfabe Memories.
Website designed and maintained by AtomDesigns © 2004 . If you experience any problems with this site or have any questions, please contact the Webmaster.
- Rich Tate
It is impossible for most people within the majority of the internet wrestling website demographic to think of wrestling in Georgia without recalling names like Tommy Rich, Tony Atlas, the Andersons, Mr. Wrestling #2, the Masked Superstar, Austin Idol, Wahoo McDaniel, etc. In contrast, many people in that same demographic may find it hard to associate names like Freddie Blassie, Butcher and Mad Dog Vachon, Buddy Colt, Bobby Shane, Nick Bockwinkel, Reggie "Crusher" Lisowski, Buddy Fuller, etc.
However, as strange as that may be for some, Georgia has seen most of the top names in the business spend time working regularly here. For example, about a year ago on another website's message board, someone posed the question "Has So-and-So ever worked in Georgia?" Well, it would have been easier to just call out the names of those who didn't work here at one point or another.
The history of wrestling in Georgia is rich and deep, and Georgia Wrestling History has uncovered a vast collection of results, among other things, outlining that history on paper and in pictures. Our current material dates as far back as 1904 through the year 1965, with no end in sight. It has been an eye opener to even those of us who thought we had seen it all when it came to the history in our state.
What follows is a listing of some of the people that wrestling fans typically associate with other territories, and rightfully so. We are not attempting to change the perception that these people called Georgia home more than another promotion, but wanted to take the time to bring some of it to light where we believe it to be a surprise to most people.
Freddie Blassie
Blassie's first appearance was in 1947. He came back in 1953 and continued to be a staple on and off (more on than off) until 1965. Blassie would come back occasionally and make appearances, but never to the same degree as in the past. Still, for that thirteen year span, he was probably the most famous name on the scene. And just so you have something to compare that thirteen year string to, think of Johnny Walker using the Mr. Wrestling #2 gimmick here for only an eleven year run from 1973 to 1983.
Blassie also had some of the more memorable feuds during his time in Georgia. For many years his top nemesis was Don McIntyre, with whom he battled over the Southern Heavyweight Title in some of the roughest matches Georgia has reportedly ever seen. McIntyre was the only other wrestler to hold the title more times than Blassie. When Ray Gunkel came to Georgia, he soon found himself a target for Blassie's antics as well.
Later in years, Blassie became a favorite of the local fans. He also had a second home in Georgia that he kept for many years, even when he was working elsewhere. At one point he was the most famous car salesman in the Atlanta area, working for Al Means Ford dealership. His final appearance working in the state found him managing Hulk Hogan in a match against Andre the Giant on New Year's Day 1981.
Nick Bockwinkel
Nick worked in Georgia between 1969 and 1972, and made appearances here in later years. Over those four years, he was consistently in main events and held multiple titles. He wore the Georgia Heavyweight belt two times, and he also claimed the Georgia Television Title at least twice.
One thing about Bockwinkel that was different according to the research I have collected is that he seemed more concerned with winning titles as opposed to getting involved with long running feuds. Perhaps the promotion realized they had something special, as Nick is still considered one of the finest workers to join the professional ranks.
Still, he got involved in some subtle angles involving wrestlers such as Joe Scarpa, the Professional, Bobby Shane, Buddy Colt and El Mongol, while partnering with people like the Assassins and Paul DeMarco. He would return a few more times in the late 1970's and defend his AWA Heavyweight Title, facing people such as Mr. Wrestling #2, Tommy Rich, Dusty Rhodes and Dick Slater.
Bruiser and Crusher
Dick the Bruiser and Reggie "Crusher" Lisowski are two guys typically associated with the midwestern part of the United States. However, both made their presence felt here many years ago.
Bruiser first came to Georgia in the 1960's, defending the AWA Heavyweight Title, which was even billed as a World title at the time, despite the Atlanta office being a member of the NWA. Bruiser was here for relatively short periods of time, but it could be said he came and left like a tornado.
More...
If you'd like to discuss the GCW region with other fans, please visit the KM Message Board

KM DVD/VHS Store 4
Click here to purchase DVD or VHS products direct from the official distributors.
KM Replica Masks 4
Click here to purchase pro quality replica wrestling masks of all your favorite old school masked wrestlers.
KM Store 4
The KM Store now features products featuring the GCW logo as well as some other very cool images. To see what's new and to purchase T-Shirts, ball caps, mouse pads and more, click here.
KM Message Board 4
Want to chat with other fans of regional wrestling? This message board has forums for over two dozen promotions. Click here.
KM Belt Gallery 4
This section contains an extensive title belt gallery... images of heavyweight, tag, U.S. and various regional title belts. To view it, click here.
Old School Tape Review 4
Reviews of various PPV's, commercial tapes and regional wrestling TV shows are available in this section. To read more, click here.
Website designed & maintained by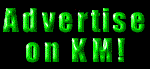 Thanks for visiting!