Regional Territories 4
This section contains monthly articles on over two dozen territories. To relive those wonderful days of old, click here.
Wrestlers 4
Enter this section for bios/profiles of various wrestlers from the regional days. To find more out about your favorite pro wrestler, click here.
Stories 4
This section contains stories from the pros themselves told exclusively to Kayfabe Memories. Want to know more as told from the wrestlers themselves? Click here.
Old School Book Reviews4
Click here to find various book reviews from old school wrestlers.
KM Links 4
For tons of links to old school related sites, click
here
.
KM Micro Wrestlers4
What are Micro Wrestlers? Click here
to find out.
KM Interviews... 4
Click here to read exclusive interviews with stars from the regional territories.
www.kayfabememories.com is © 2004 AtomDesigns. All promotional art, characters, logos and other depictions are © their respective owners. All Rights Reserved.
All contents save Wrestler Stories are © Kayfabe Memories.
Website designed and maintained by AtomDesigns © 2004 . If you experience any problems with this site or have any questions, please contact the Webmaster.
- Fred Avery, Jr.
Welcome to another chapter in the history of Georgia Championship Wrestling. This month we'll talk about the mangers and referees that came through the area.

One of the earliest mangers that I can recall was Dandy Jack Crawford. Dandy Jack managed the tag team of the Infernos. Jack, as most mangers in this time frame, was the mouthpiece for the team. He was a true showman and could sell ice to an Eskimo. The Infernos were the tag team champions at this time and the number one heels in the territory. Dandy Jack wore a small derby style hat with plaid pants and striped shirts that never matched. He was also a small man and was like the little dog instigating the fight and letting the big dogs handle his work for him. I had the honor of meeting Dandy Jack on a show that I worked and this man was truly a walking history book. He could tell you stories of all the old timers and even kept up with the sport to present day. Dandy Jack was the main manger in GCW forq uite a few years.
Rock Hunter tried his hand as a manger for a short time but was unsuccessful and later did televisionf or Jody Hamilton and the Deep South promotion.

In the mid 70s The Garvin Brothers arrived in the area. Terrance and Ronnie Garvin were a veteran tag team and brought with them a manger by the name of Jimmy Garvin. Now Terrance was exceptional as a flamboyant type wrestler who would only wrestle on a pink mat (just like the Terrance Garvin of World Class fame many years later). He went on to work for the front office of WWF until his death a few years ago. Ronnie was the tough guy on the team and later in his career won many singles title including the NWA World Title. But the man that everyone noticed about this team was the skinny, curly headed kid named Jimmy. I am not sure how these three were related, I have heard all kinds of stories about it but as the Garvin brothers they tore up the Georgia rings.
Jimmy was a new type of manger in this area. Most of the mangers were either retired workers or guys that were too small to compete in the ring. Jimmy was in his late teens and early 20s, stood about 6 feet tall and weighed around 185 pounds. The family was grooming him for the ring and he made every attempt to get involved in a match. He was very brash and cocky and loved to be the center of attention. Jimmy would show up again in the Florida rings as Gorgeous Jimmy Garvin and have a very successful career over the next 20 years or so.
Over the next few years many managers would come and go into Georgia. The big names such as "The Brain" Bobby Heenan would come in and he brought such stars as Killer Karl Kox, The Masked Spoiler, even the Sheik was under his command for a short time. Sonny King brought in the Samoans on a subcontract deal from Lou Albano.
Probably one of the greatest mangers of recent history would have to be Precious Paul Ellering. In the early 80s he exploded on the scene with a tag team that would win a lot of matches for him but could not hold it together long enough to win the titles. More...
If you'd like to discuss the GCW region with other fans, please visit the KM Message Board

KM DVD/VHS Store 4
Click here to purchase DVD or VHS products direct from the official distributors.
KM Replica Masks 4
Click here to purchase pro quality replica wrestling masks of all your favorite old school masked wrestlers.
KM Store 4
The KM Store now features products featuring the GCW logo as well as some other very cool images. To see what's new and to purchase T-Shirts, ball caps, mouse pads and more, click here.
KM Message Board 4
Want to chat with other fans of regional wrestling? This message board has forums for over two dozen promotions. Click here.
KM Belt Gallery 4
This section contains an extensive title belt gallery... images of heavyweight, tag, U.S. and various regional title belts. To view it, click here.
Old School Tape Review 4
Reviews of various PPV's, commercial tapes and regional wrestling TV shows are available in this section. To read more, click here.
Website designed & maintained by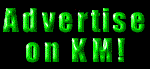 Thanks for visiting!