Regional Territories 4
This section contains monthly articles on over two dozen territories. To relive those wonderful days of old, click here.
Wrestlers 4
Enter this section for bios/profiles of various wrestlers from the regional days. To find more out about your favorite pro wrestler, click here.
Stories 4
This section contains stories from the pros themselves told exclusively to Kayfabe Memories. Want to know more as told from the wrestlers themselves? Click here.
Old School Book Reviews4
Click here to find various book reviews from old school wrestlers.
KM Links 4
For tons of links to old school related sites, click
here
.
KM Micro Wrestlers4
What are Micro Wrestlers? Click here
to find out.
KM Interviews... 4
Click here to read exclusive interviews with stars from the regional territories.
www.kayfabememories.com is © 2004 AtomDesigns. All promotional art, characters, logos and other depictions are © their respective owners. All Rights Reserved.
All contents save Wrestler Stories are © Kayfabe Memories.
Website designed and maintained by AtomDesigns © 2004 . If you experience any problems with this site or have any questions, please contact the Webmaster.
- Fred Avery, Jr.
Welcome to my first article for Kayfabe Memories. Each month I will tell you about some of the greatest feuds this sport has ever seen and the wrestlers, referees, and managers involved. Growing up in Georgia during the heyday of GCW and later working with some of the talent involved I hope to share with you some knowledge and insight into a great territory.
The sheer number of workers that came through the area in the late 60s through the mid 80s is a who's who of professional wrestling. The preceding writers' coverage of the Freebirds, Mr. Wrestling #1&2, The Assassins, Gordon Solie and other stories were an excellent account but just the tip of the mountain.
My first live match was at the Macon Coliseum in Macon Ga. It was the summer of 1972 and Georgia was full of great talent. During this time Fred Ward was promoting the town every Tuesday night. He had a Macon heavyweight champion and Macon tag team champion. My father took me to see the matches and man was I excited. The main event was Bob Armstrong and Argentina Apollo vs. The Assassins for the Macon Tag team title. Now at this time Bob Armstrong and Argentina Apollo were my two favorite wrestlers.
Bob Armstrong is an ex-Marine, turned firefighter, turned pro wrestler. His arms were huge and he was as fast as a hiccup. Bob, a main stay with GCW, was known as the "wrestling fire fighter from Marietta Ga.". He feuded with all the top heels in the area and held the Georgia title, tag team title, and local titles. Bob never turned heel or wrestled as The Bullet, his masked persona, during his stay in Georgia like he did in other areas. One of the biggest feuds he was involved in was with Ted DiBiase. Ted took the state by storm and was a hated heel using a loaded black glove to "break" Bob's face and put him out of action. Actually Bob was hurt in weight lifting accident and did have major surgical work done to repair his face and jaw.
During this time a young rookie wrestler stepped up to defend the Armstrong name. Brad Armstrong came into the national spotlight during this time, but that's a different story for another time. After months of rehabilitation Bob came back and gave Ted a "good old southern butt whippin". Bob still wrestles every now and then these days but age has caught up with him.
Argentina Apollo was a barefoot wrestler cut from the mold of Antonino Rocca. He was a true lightweight for the time barely tipping the scales at 200 pounds. He could throw dropkicks as fast as anyone I have ever seen. He was one of the first high flyers and could spring in the air as good as any high flyer today. Apollo went with Ann Gunkel when the two groups spilt and feuded with Ox Baker and other top heels.
More...
If you'd like to discuss the GCW region with other fans, please visit the KM Message Board

KM DVD/VHS Store 4
Click here to purchase DVD or VHS products direct from the official distributors.
KM Replica Masks 4
Click here to purchase pro quality replica wrestling masks of all your favorite old school masked wrestlers.
KM Store 4
The KM Store now features products featuring the GCW logo as well as some other very cool images. To see what's new and to purchase T-Shirts, ball caps, mouse pads and more, click here.
KM Message Board 4
Want to chat with other fans of regional wrestling? This message board has forums for over two dozen promotions. Click here.
KM Belt Gallery 4
This section contains an extensive title belt gallery... images of heavyweight, tag, U.S. and various regional title belts. To view it, click here.
Old School Tape Review 4
Reviews of various PPV's, commercial tapes and regional wrestling TV shows are available in this section. To read more, click here.
Website designed & maintained by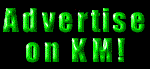 Thanks for visiting!