Regional Territories 4
This section contains monthly articles on over two dozen territories. To relive those wonderful days of old, click here.
Wrestlers 4
Enter this section for bios/profiles of various wrestlers from the regional days. To find more out about your favorite pro wrestler, click here.
Stories 4
This section contains stories from the pros themselves told exclusively to Kayfabe Memories. Want to know more as told from the wrestlers themselves? Click here.
Old School Book Reviews4
Click here to find various book reviews from old school wrestlers.
KM Links 4
For tons of links to old school related sites, click
here
.
KM Micro Wrestlers4
What are Micro Wrestlers? Click here
to find out.
KM Interviews... 4
Click here to read exclusive interviews with stars from the regional territories.
www.kayfabememories.com is © 2004 AtomDesigns. All promotional art, characters, logos and other depictions are © their respective owners. All Rights Reserved.
All contents save Wrestler Stories are © Kayfabe Memories.
Website designed and maintained by AtomDesigns © 2004 . If you experience any problems with this site or have any questions, please contact the Webmaster.
- Gary Lynch
In this installment I am going to look at Tony Atlas and events that surrounded him in 1977. Between 1976 and 1983, Tony was one of the most exciting and popular wrestlers in the state of Georgia. 1977 was the year his career really took off.
Tony Atlas in 1976 was wrestling in Mid Atlantic as a mid card wrestler. Unable to move up into main events, the muscular man from Roanoke, Virginia left the area and headed to Georgia. He debuted in late 1976 on television under a mask as Black Atlas. After soundly defeating his opponent with the sleeper, he was invited by Gordon Solie to the podium for an interview. Atlas, standing in the ring, stared at Gordon for a few seconds and then walked back to the dressing room. It would take Solie several attempts over several weeks before Atlas would agree to an interview.
Atlas continued his winning ways on television and work on the undercards of house shows. He became very popular with the fans. At house shows he would often be found in the lobby signing autographs and talking to the fans. In early 1977, the promotion decided to crown a new Georgia Television Champion. The title had been had been vacant for a number of years. The last champion that I could find was Ray Gunkel in 1972. An elimination tournament was held on television over several weeks coming down to Abdullah the Butcher and Black Atlas. Abdullah was part of James J. Dillon's Death Squad that also included The French Angel and The Stomper. Black Atlas was able to win the title but had several rematches with Abdullah. During one of the matches, Dillon's men were able to remove the mask to reveal Tony Atlas. Eventually Abdullah defeated Tony for the title at The Atlanta City Auditorium. After the match, James J. Dillon grabbed the title and mistakenly handed it to The Stomper. The Stomper walked around the ring with the belt. Dillon, realizing his mistake, attempted to take the belt away from The Stomper and give it to Abdullah. The Stomper refused to let go. Abdullah attacked The Stomper and the two had a great brawl. This set up a short feud between the two before The Stomper left the state of Georgia.
Atlas was now no longer on the undercard. He was now having matches with such stars as The French Angel, Dick Slater and Lars Anderson. Soon Waldo Von Erich arrived in town. Waldo was a great heel doing a German gimmick. He insulted and hated everyone. His finishing move was a kneedrop off the top rope while he was yelling. He always had a towel with him. After winning his matches he would wipe the sweat off his body with the towel and throw it on his defeated victim.
More...
If you'd like to discuss the GCW region with other fans, please visit the KM Message Board

KM DVD/VHS Store 4
Click here to purchase DVD or VHS products direct from the official distributors.
KM Replica Masks 4
Click here to purchase pro quality replica wrestling masks of all your favorite old school masked wrestlers.
KM Store 4
The KM Store now features products featuring the GCW logo as well as some other very cool images. To see what's new and to purchase T-Shirts, ball caps, mouse pads and more, click here.
KM Message Board 4
Want to chat with other fans of regional wrestling? This message board has forums for over two dozen promotions. Click here.
KM Belt Gallery 4
This section contains an extensive title belt gallery... images of heavyweight, tag, U.S. and various regional title belts. To view it, click here.
Old School Tape Review 4
Reviews of various PPV's, commercial tapes and regional wrestling TV shows are available in this section. To read more, click here.
Website designed & maintained by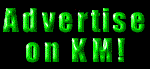 Thanks for visiting!