Regional Territories 4
This section contains monthly articles on over two dozen territories. To relive those wonderful days of old, click here.
Wrestlers 4
Enter this section for bios/profiles of various wrestlers from the regional days. To find more out about your favorite pro wrestler, click here.
Stories 4
This section contains stories from the pros themselves told exclusively to Kayfabe Memories. Want to know more as told from the wrestlers themselves? Click here.
Old School Book Reviews4
Click here to find various book reviews from old school wrestlers.
KM Links 4
For tons of links to old school related sites, click
here
.
KM Micro Wrestlers4
What are Micro Wrestlers? Click here
to find out.
KM Interviews... 4
Click here to read exclusive interviews with stars from the regional territories.
www.kayfabememories.com is © 2004 AtomDesigns. All promotional art, characters, logos and other depictions are © their respective owners. All Rights Reserved.
All contents save Wrestler Stories are © Kayfabe Memories.
Website designed and maintained by AtomDesigns © 2004 . If you experience any problems with this site or have any questions, please contact the Webmaster.
- Jason Tepper
Hello wrestling fans! Welcome to my latest column reliving the glorious years of Championship Wrestling from Florida. We will pick up where we left off from last month's column. Who was The Midnight Rider?
The Midnight Rider burst onto the wrestling scene just a few days after Dusty Rhodes lost a lights out cage match to Kevin Sullivan. The stipulation of the match was that the loser must leave the state of Florida for sixty days. Many people thought that the Midnight Rider just might be Dusty Rhodes. Two people especially did - Kevin Sullivan and J.J. Dillon.
Kevin Sullivan and Jake "The Snake" Roberts petitioned the NWA office trying to obtain a ruling barring The Midnight Rider from appearing in Florida. Bob Geigel, then president of the NWA, wouldn't hear of it. J.J.Dillon flew down to Mr. Geigel's office in Kansas City and met with him. He brought a videotape of the mysterious Midnight Rider to Mr. Geigel. J.J. demanded that the Midnight Rider be brought to Kansas City and Mr. Geigel remove his mask proving to the world that J.J. was indeed Dusty Rhodes. J.J. demanded that if the Midnight Rider was Dusty Rhodes, then he should be suspended from any competition, be it in the United States or anywhere else in the world that carried the NWA banner for the rest of Dusty's career.
Mr. Geigel replied that it was only an assumption at this time and he had met with his Board of Directors and reviewed the tape. Since Dusty Rhodes lost a lights out cage match, which was not sanctioned by the NWA committee, he couldn't make any ruling. However, since the stipulation of the match was that the loser leaves the state of Florida for sixty days, then it would come under his jurisdictions. Since Mr. Dillon did not have any solid proof that the Midnight Rider was indeed Dusty Rhodes, there would not be any ruling at this time. However, if it were proven to be Dusty under the mask, the NWA would suspend Dusty Rhodes for one year from any competition under the NWA banner.
J.J. Dillon then offered $10,000 to any wrestler who could remove the mask off of the Midnight Rider. One man who was brought into Florida by J.J. to remove the mask of the Midnight Rider was Bad Bad Leroy Brown. His attempts at removing the mask were unsuccessful. Midnight Rider was then granted a world title shot against the current World Champion- Ric Flair.
J.J. met with NWA World Champ, Ric Flair. The two would join forces and J.J. offered Flair not just $10,000 for removing the mask, but $50,000! Flair was willing to do it not just for the money, but to finally get rid of Dusty Rhodes. The match was booked for February 9, 1983 in Miami, Florida. It would be promoted as the "Night of the Mask." On that night, the Midnight Rider defeated Ric Flair for the NWA title. When presented with the belt by NWA President Bob Geigel, the Midnight Rider was asked to remove his mask to reveal his true identity. The Midnight Rider refused and was immediately stripped from holding the title. Why did the Midnight Rider refuse the World Title? The biggest theory is that the Midnight Rider was indeed Dusty Rhodes and if he made this fact known to the NWA President, he would be suspended for a year. What good would the world's title do him if he couldn't defend it? But this is merely speculation.
On a separate occasion, the Midnight Rider teamed with Terry Allen (aka Magnum TA) against the Global Tag Team Champions, the Fabulous Kangaroos. The duo of Allen and the Rider came out of the match victorious and became the new Global Tag Team Champion. At the conclusion of the match, the Midnight Rider gave his belt to Terry Allen and proclaimed him the Global Tag Team Champion. "You know what situation I'm in," said the Rider, "and I can't let 'em catch me." Meanwhile, the verbal battle between Kevin Sullivan and Dusty Rhodes continued to heat up. Kevin Sullivan was convinced the Midnight Rider was Dusty Rhodes and continuously challenged him. Unfortunately, Rhodes was still suspended and couldn't compete. The Midnight Rider then stepped up to the plate.
Kevin Sullivan got himself suspended for a year from competing in Florida. All of a sudden, a new masked wrestler burst onto the scene. His name was "Lucifer" and he strangely resembled someone we knew. Lucifer then challenged the Midnight Rider to a… you guessed it - a lights out steel cage match, "The Final Showdown" as it was billed. The loser of the match would have to unmask and would be banned forever from CWF. The Midnight Rider would win the match and Lucifer was unmasked as Kevin Sullivan, and as the match stipulated was banned forever.
More...

KM DVD/VHS Store 4
Click here to purchase DVD or VHS products direct from the official distributors.
KM Replica Masks 4
Click here to purchase pro quality replica wrestling masks of all your favorite old school masked wrestlers.
KM Store 4
The KM Store now features products featuring the GCW logo as well as some other very cool images. To see what's new and to purchase T-Shirts, ball caps, mouse pads and more, click here.
KM Message Board 4
Want to chat with other fans of regional wrestling? This message board has forums for over two dozen promotions. Click here.
KM Belt Gallery 4
This section contains an extensive title belt gallery... images of heavyweight, tag, U.S. and various regional title belts. To view it, click here.
Old School Tape Review 4
Reviews of various PPV's, commercial tapes and regional wrestling TV shows are available in this section. To read more, click here.
Website designed & maintained by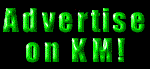 Thanks for visiting!