Regional Territories 4
This section contains monthly articles on over two dozen territories. To relive those wonderful days of old, click here.
Wrestlers 4
Enter this section for bios/profiles of various wrestlers from the regional days. To find more out about your favorite pro wrestler, click here.
Stories 4
This section contains stories from the pros themselves told exclusively to Kayfabe Memories. Want to know more as told from the wrestlers themselves? Click here.
Old School Book Reviews4
Click here to find various book reviews from old school wrestlers.
KM Links 4
For tons of links to old school related sites, click
here
.
KM Micro Wrestlers4
What are Micro Wrestlers? Click here
to find out.
KM Interviews... 4
Click here to read exclusive interviews with stars from the regional territories.
www.kayfabememories.com is © 2004 AtomDesigns. All promotional art, characters, logos and other depictions are © their respective owners. All Rights Reserved.
All contents save Wrestler Stories are © Kayfabe Memories.
Website designed and maintained by AtomDesigns © 2004 . If you experience any problems with this site or have any questions, please contact the Webmaster.
- Jason Tepper
Hello wrestling fans! Welcome to my section of Kayfabe Memories that is sure to have you reliving past Championship Wrestling from Florida moments. One of the most infamous battles of all time is fondly remembered by many wrestling fans. It was a battle of epic proportion - the ultimate battle of good vs. evil when Dusty Rhodes, the son of a plumber fought The Prince of Darkness, Kevin Sullivan.
This was a battle that had been going on for some time between these two wrestlers. Sullivan and Rhodes would do whatever was necessary to be "on top" and being the winner was the top priority. This feud became such a game of revenge that even using a very impressionable wrestler became a part of things. That wrestler was Jake "the Snake" Roberts. Sullivan used his demonic power to "brainwash" a naive Roberts to aid him in his battles with the "Family." Another force recruited by Kevin Sullivan was the Purple Haze, who Sullivan, by using his demonic power, summoned from the bottom of the ocean. The" Family" consisted of Dusty Rhodes and his business partner, Blackjack Mulligan. Mulligan and Rhodes co-owned the Headlock Two Ranch. As well, Mulligan's son, Barry Windham, became part of the "Family."
Fuel was added to the fire between the "Family" and Kevin Sullivan by a mystery man known only as "The Bonebuster." Jake "the Snake" Roberts broke Barry's nose and collected $1,100 from the mystery man. A bounty was then placed on every single bone in Windham's body. The mystery man offered $1,100 per bone to anyone who could break one or more bones. The identity of "The Bonebuster" was debated for weeks. Finally, it was discovered that "The Bonebuster" was Windham's very own tag team partner, Kevin Sullivan. The feud came to a head when Dusty Rhodes appeared on the weekly television show taped at the Tampa Sportatorium. Dusty Rhodes said," I have learned to deal with the devil" and challenged Sullivan to a lights out steel cage match. However, that was not the only stipulation. Sullivan and Rhodes would have to agree to a "loser leaves the state of Florida for sixty days match." The match would take place on the evening of Christmas Day, December 25,1982. The location of the match would be at the Bayfront Arena in St. Petersburg, Florida. Sullivan was quoted as saying, "The final chapter will be written at the Bayfront."
The match was extremely challenging for both wrestlers. There were many highs and lows involved in the match including Sullivan pulling out a pair of brass knuckles from his tights and severely lacerating Rhodes' forehead. Sullivan covered Rhodes for the three count but Dusty kicked out. Rhodes was not going to be defeated. Rhodes regained his second wind and fought back against Sullivan. Suddenly, a familiar character appeared ringside. It was an unknown man dressed in a Santa Claus suit. This was one of many Santa Clauses in the crowd! Santa handed Sullivan a foreign object, which Sullivan then proceeded to hit Rhodes with. He covered Rhodes and got the three count for the win. The crowd at the Bayfront was in shock. Various wrestlers from the back came into the ring and revived Dusty.
At the conclusion of the match, a camera crew followed Sullivan and Santa Claus back to the dressing room where the mystery was revealed. The infamous man in disguise was none other than… Jake "the Snake" Roberts. Rhodes was interviewed after the match and was said to be embarrassed for his "family, children, and the millions and millions of his fans watching across the country." He vowed the ultimate revenge on Kevin Sullivan. He also quoted himself as saying, "he would have to find another means of support because of what had been done." Dusty was quoted as saying, "Never forget that just when you think it is all over, Daddy, it is only just begun!"
A few days after the classic confrontation, a strange coincidence occurred. A new masked wrestling superstar emerged. A two hundred sixty-five pound, six foot tall man became part of the picture from Diablo Canyon. His name was the Midnight Rider and he strangely resembled Dusty Rhodes.
NEXT MONTH:

Part two of the epic battle between Dusty Rhodes and Kevin Sullivan. Just who was the Midnight Rider?

KM DVD/VHS Store 4
Click here to purchase DVD or VHS products direct from the official distributors.
KM Replica Masks 4
Click here to purchase pro quality replica wrestling masks of all your favorite old school masked wrestlers.
KM Store 4
The KM Store now features products featuring the GCW logo as well as some other very cool images. To see what's new and to purchase T-Shirts, ball caps, mouse pads and more, click here.
KM Message Board 4
Want to chat with other fans of regional wrestling? This message board has forums for over two dozen promotions. Click here.
KM Belt Gallery 4
This section contains an extensive title belt gallery... images of heavyweight, tag, U.S. and various regional title belts. To view it, click here.
Old School Tape Review 4
Reviews of various PPV's, commercial tapes and regional wrestling TV shows are available in this section. To read more, click here.
Website designed & maintained by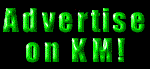 Thanks for visiting!