Regional Territories 4
This section contains monthly articles on over two dozen territories. To relive those wonderful days of old, click here.
Wrestlers 4
Enter this section for bios/profiles of various wrestlers from the regional days. To find more out about your favorite pro wrestler, click here.
Stories 4
This section contains stories from the pros themselves told exclusively to Kayfabe Memories. Want to know more as told from the wrestlers themselves? Click here.
Old School Book Reviews4
Click here to find various book reviews from old school wrestlers.
KM Links 4
For tons of links to old school related sites, click
here
.
KM Micro Wrestlers4
What are Micro Wrestlers? Click here
to find out.
KM Interviews... 4
Click here to read exclusive interviews with stars from the regional territories.
www.kayfabememories.com is © 2004 AtomDesigns. All promotional art, characters, logos and other depictions are © their respective owners. All Rights Reserved.
All contents save Wrestler Stories are © Kayfabe Memories.
Website designed and maintained by AtomDesigns © 2004 . If you experience any problems with this site or have any questions, please contact the Webmaster.
- Scott Keith
Prologue:
In the days before Extreme Championship Wrestling was half-heartedly declared by followers of the business to constitute the third part of the "Big Three", there really was a Big Three, and the race was very close indeed. Up until the mid-80s, the players in the game that was wrestling were upstart Vince McMahon Jr's WWF, Jim Crockett Jr's steadfast WCW/Mid-Atlantic territory, and the reliable workhorse that was Verne Gagne's AWA. With a long and storied history equaling that of Crockett and McMahon's promotions, Verne Gagne seemingly had everything needed to follow Vince Jr. into the 21st century: A national TV deal, a loyal fanbase, talented workers, and, most importantly, the services of the wrestler who was rapidly becoming the buzzword in Hollywood and wrestling in general…Hulk Hogan.
By 1991, Verne was reduced to running spot shows in Minnesota for 150 people, and eventually filing for bankruptcy at the beginning of 1991 and making false claims about the monetary worth of his tape collection to avoid losing every cent that he had. Amazingly, the seeds of Verne's destruction had been sown 8 years earlier, and in the end he had no one to blame but himself for the end of the third-largest wrestling promotion in America.
1. The Background:
As is the case with most things in wrestling from before 1980, the AWA was founded as a result of a dispute over who exactly the NWA World champion was. The National Wrestling Alliance, from it's official formation in 1948, had become the single most powerful entity in professional wrestling, unifying several of the top promoters across the country with a common champion to promote. However, as with any gathering of power (and hence ego) as large as this, complications and cracks in the unity eventually started showing through. The first major one occurred in July 1957, as Eduardo Carpentier defeated Lou Thesz for the NWA title in a two-out-of-three falls match. However, since one of the falls was a DQ, a dispute arose amongst the promoters as to whether or not Carpentier should rightly be recognized as the champion.
The NWA's official decision was that the title was to be returned to Thesz, and indeed that occurred shortly after. However, several "renegade" promoters, led by Wally Karbo of Nebraska, continued to recognize Carpentier as the NWA World champion, and in fact sanctioned passing the title from Carpentier to former NWA Junior champion Verne Gagne in August 1958. With one group of promoters recognizing Gagne as NWA champion and the other recognizing Thesz, it became apparent that some sort of unification match was needed…but it never came.
By 1960, after unsuccessfully lobbying the NWA for a match between Verne Gagne and the NWA World champion to rejoin the titles, Wally Karbo (with Gagne holding the true power behind the scenes) split off from the NWA and formed the American Wrestling Association. As a last-ditch "peace offering" (in reality a cynical political ploy), the newly formed AWA recognized current NWA World champion Pat O' Connor as their first champion, and gave him 90 days to defend that "title" against #1 contender Verne Gagne or be stripped of it. And as you might expect, the NWA ignored this challenge, and Verne Gagne was awarded the AWA World title in August of 1960, a title change which the NWA further ignored, and as a result there were now two officially recognized World champions for the first time since the formation of the NWA: The NWA and AWA versions. And most of the time, that AWA version was around the waist of Verne Gagne.
2. The Seventies.
The period of the late 60s until 1980 saw only two people wearing the AWA title: Verne Gagne and Nick Bockwinkel. Wally Karbo maintained his presence in the NWA despite representing another promotion and recognizing a different champion, and the AWA continued it's national expansion, although staying mainly in the mid-west and Winnipeg, as Gagne defended his title in NWA mainstay cities against former NWA champions. And for the better part of those 10 years, not much else happened of note in the AWA: Bockwinkel's title victory over Verne Gagne in 1975 was the first one in 7 years, and he would proceed to hold the title until 1980. The AWA established itself as a solid, if unspectacular, alternative to the NWA and the growing WWWF, featuring an emphasis on the mat wrestling of Gagne over the showmanship of the WWWF.
More...

KM DVD/VHS Store 4
Click here to purchase DVD or VHS products direct from the official distributors.
KM Replica Masks 4
Click here to purchase pro quality replica wrestling masks of all your favorite old school masked wrestlers.
KM Store 4
The KM Store now features products featuring the GCW logo as well as some other very cool images. To see what's new and to purchase T-Shirts, ball caps, mouse pads and more, click here.
KM Message Board 4
Want to chat with other fans of regional wrestling? This message board has forums for over two dozen promotions. Click here.
KM Belt Gallery 4
This section contains an extensive title belt gallery... images of heavyweight, tag, U.S. and various regional title belts. To view it, click here.
Old School Tape Review 4
Reviews of various PPV's, commercial tapes and regional wrestling TV shows are available in this section. To read more, click here.
Website designed & maintained by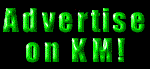 Thanks for visiting!