Regional Territories 4
This section contains monthly articles on over two dozen territories. To relive those wonderful days of old, click here.
Wrestlers 4
Enter this section for bios/profiles of various wrestlers from the regional days. To find more out about your favorite pro wrestler, click here.
Stories 4
This section contains stories from the pros themselves told exclusively to Kayfabe Memories. Want to know more as told from the wrestlers themselves? Click here.
Old School Book Reviews4
Click here to find various book reviews from old school wrestlers.
KM Links 4
For tons of links to old school related sites, click
here
.
KM Micro Wrestlers4
What are Micro Wrestlers? Click here
to find out.
KM Interviews... 4
Click here to read exclusive interviews with stars from the regional territories.
www.kayfabememories.com is © 2004 AtomDesigns. All promotional art, characters, logos and other depictions are © their respective owners. All Rights Reserved.
All contents save Wrestler Stories are © Kayfabe Memories.
Website designed and maintained by AtomDesigns © 2004 . If you experience any problems with this site or have any questions, please contact the Webmaster.
- Jim Zordani
As 1985 began, Nick Bockwinkel and Mr. Saito battled such teams as Curt and Larry Hennig, Greg Gagne and Jim Brunzell and the Crusher and Baron Von Raschke. Bockwinkel and Saito won more matches than they lost and as a result were awarded a few shots against AWA tag team champions the Road Warriors. On February 10th, 1985 in Denver, Colorado, Nick Bockwinkel and Mr. Saito fought the Road Warriors to a draw. One week later on February 17th, 1985 in Rockford, Illinois, Bockwinkel and Saito went to a no contest with the Road Warriors.
When he wasn't teaming with Mr. Saito, Nick Bockwinkel was feuding with longtime nemesis Greg Gagne. Here are some results of those matches:
2/22/85 St Paul- Greg Gagne beat Nick Bockwinkel
3/10/85 Janesville- Greg Gagne no contest Nick Bockwinkel
3/19/85 Salt Lake City- Nick Bockwinkel beat Greg Gagne DQ
3/23/85 Middleton- Greg Gagne beat Nick Bockwinkel
3/24/85 St Paul- Nick Bockwinkel beat Greg Gagne
4/10/85 Las Vegas- Nick Bockwinkel beat Greg Gagne DQ
The back to back matches on consecutive cards between Nick Bockwinkel and Greg Gagne in St Paul, Minnesota led to Verne Gagne coming out of retirement to team with Greg against Bockwinkel and Mr. Saito. In a result that didn't shock anybody, Verne and Greg Gagne defeated Nick Bockwinkel and Mr. Saito on April 21st, 1985 at the St Paul Civic Center. The Nick Bockwinkel/Greg Gagne feud didn't end on April 21st in St Paul. Nick and Greg continued to compete against each other in one on one matches and tag team matches throughout the AWA territory.
Two more wrenches were thrown into the feud between Nick and Greg. First Bockwinkel's tag team partner Mr. Saito left the AWA in May of 1985 as Saito's court case for assaulting a police officer in Waukesha Wisconsin on April 6th, 1984 was going to trial. Nick's most famous partner Ray Stevens took the place of Mr. Saito. When Stevens was unable to team with Nick for whatever reason, The Living Legend Larry Zbyszko was Nick's partner. Second Greg Gagne's longtime tag team partner Jim Brunzell departed the AWA for the WWF in June of 1985. Curt Hennig, Steve Olsonoski and Blackjack Lanza were inserted in Brunzell's spot as Greg's teammate as a stopgap measure until a storyline could be developed to give Gagne a new tag team partner.
Enter Sgt. Slaughter. The AWA came up with an idea that Slaughter would take Greg Gagne under his wing and put Gagne through boot camp to toughen Greg up. The AWA aired video clips of Slaughter training Gagne for a few weeks on television. The next time Greg was seen in the ring on television he was dressed in camouflage. It was quite a departure from the High Flyer Greg Gagne AWA fans had seen for so many years. Greg's new gimmick was hokey and that's being kind. However the boot camp matches between the team of Gagne and Slaughter and the team of Bockwinkel and Stevens/Zbyszko were outstanding brawls. I had the pleasure of seeing one of those boot camp matches live in person at the Rosemont Horizon in Rosemont, Illinois, a few miles outside of the Chicago city limits. Just a really bloody brawl that would have made Dick the Bruiser and the Crusher proud. Gagne and Slaughter won all of those boot camp matches throughout the AWA territory during the Summer of 1985 against Nick and Ray or against Nick and Larry. Once the Rambo Greg Gagne gimmick ran its course, Greg teamed with Curt Hennig and AWA newcomer Scott Hall to defeat Bockwinkel, Stevens and Zbyszko in a series of six man tag team matches, the most famous of which came at Comiskey Park in Chicago, Illinois on a card entitled Super Clash I September 28th, 1985.
Now that his seemingly endless feud with Greg Gagne finally over, Nick started doing color commentating on AWA television in addition to maintaining a full time wrestling schedule. In a televised bout between Greg Gagne and Larry Zbyszko, Nick was at ringside doing color analysis. At the end of the match, Zbyszko who claimed to be a martial arts expert grabbed his nunchucks and was going to use them on Greg Gagne. Bockwinkel disapproving at what his friend Larry Zbyszko was about to do entered the ring to stop Larry. As Nick got right behind Larry, Zbyszko quickly turned around and conked Nick in the head with the nunchucks knocking Bockwinkel unconscious. Bockwinkel was now a babyface due to Zbyszko's heinous actions.
In retrospect, turning Nick Bockwinkel babyface was the correct decision by the AWA. Nick had wrestled nearly even fan favorite on the AWA roster. So the AWA did what it always had done throughout its history when a longtime heel's act had grown stale. The promotion turned Bockwinkel into a babyface. More...
If you'd like to discuss the AWA region with other fans, please visit the KM Message Board

KM DVD/VHS Store 4
Click here to purchase DVD or VHS products direct from the official distributors.
KM Replica Masks 4
Click here to purchase pro quality replica wrestling masks of all your favorite old school masked wrestlers.
KM Store 4
The KM Store now features products featuring the GCW logo as well as some other very cool images. To see what's new and to purchase T-Shirts, ball caps, mouse pads and more, click here.
KM Message Board 4
Want to chat with other fans of regional wrestling? This message board has forums for over two dozen promotions. Click here.
KM Belt Gallery 4
This section contains an extensive title belt gallery... images of heavyweight, tag, U.S. and various regional title belts. To view it, click here.
Old School Tape Review 4
Reviews of various PPV's, commercial tapes and regional wrestling TV shows are available in this section. To read more, click here.
Website designed & maintained by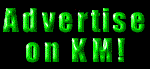 Thanks for visiting!