Regional Territories 4
This section contains monthly articles on over two dozen territories. To relive those wonderful days of old, click here.
Wrestlers 4
Enter this section for bios/profiles of various wrestlers from the regional days. To find more out about your favorite pro wrestler, click here.
Stories 4
This section contains stories from the pros themselves told exclusively to Kayfabe Memories. Want to know more as told from the wrestlers themselves? Click here.
Old School Book Reviews4
Click here to find various book reviews from old school wrestlers.
KM Links 4
For tons of links to old school related sites, click
here
.
KM Micro Wrestlers4
What are Micro Wrestlers? Click here
to find out.
KM Interviews... 4
Click here to read exclusive interviews with stars from the regional territories.
www.kayfabememories.com is © 2004 AtomDesigns. All promotional art, characters, logos and other depictions are © their respective owners. All Rights Reserved.
All contents save Wrestler Stories are © Kayfabe Memories.
Website designed and maintained by AtomDesigns © 2004 . If you experience any problems with this site or have any questions, please contact the Webmaster.
- Jim Zordani
Nick Bockwinkel and Pat Patterson had one more match in San Francisco, California on January 1st, 1983. Bockwinkel emerged victorious to put an end to the Bay area feud between Nick and Pat.
As 1983 opened, Nick Bockwinkel faced the challenge of the grizzled German veteran Baron Von Raschke. The Baron was getting up there in years but still remained extremely popular with AWA fans. Von Raschke's legendary claw hold made him a formidable adversary for any opponent including AWA champion Nick Bockwinkel. Bockwinkel gained hard fought victories over Von Raschke on January 12th, 1983 in Las Vegas, January 29th, 1983 in Rockford and February 10th, 1983 once again in Las Vegas.
Rick Martel continued to be a pesky thorn in Nick's side during the first half of 1983 battling the crafty Bockwinkel on January 16th in St Paul, February 6th in Denver, March 13th in St Paul, March 20th in Denver, March 25th in Milwaukee, April 9th in San Francisco, May 3rd in Salt Lake City and June 13th in Salt Lake City. Martel, a good looking French Canadian superstar, always seemed to be on the verge of beating Nick for the AWA title but would fall just short of doing so at the end. The bouts between Bockwinkel and Martel served two purposes. In coming so close to beating Bockwinkel, Rick Martel was kept strong in the fan's eyes despite losing the match. AWA fans were left with the feeling Martel might just be able to defeat Bockwinkel for the AWA title the next time they met. That's why Rick Martel received rematches in most AWA cities. In keeping the AWA belt on Nick Bockwinkel, it kept the door open for other stars such as Hulk Hogan, Jerry Lawler and Wahoo McDaniel to challenged Bock for the coveted AWA championship.
Hulk Hogan had really emerged as a megastar in the AWA by April of 1983. His role as Thunderlips in Rocky III had let to many mainstream media appearances. Hogan was easily the best known wrestler in the AWA and was the promotion's top draw too. AWA champion Nick Bockwinkel had never beaten Hogan cleanly by pinfall or submission. Many fans felt it was just a matter of time before Hogan beat Bockwinkel for the AWA belt.
The AWA hierarchy knew Bockwinkel vs Hogan was their biggest money making matchup so they promoted a Bockwinkel title defense against Hulk on a card called Super Sunday in St. Paul, Minnesota at the St.Paul Civic Center on April 24th, 1983. Also scheduled on the Super Sunday card was Verne Gagne coming out of retirement to team with Mad Dog Vachon against Jerry "Sheik Ayatollah" Blackwell and Sheik Adnan El Kaissey. With Hogan facing Nick for the AWA strap and Verne Gagne coming out of retirement, Super Sunday was the AWA's biggest show in years. It was their Super Bowl. Hence the name Super Sunday.
Here's a brief rundown of the Hogan/Bockwinkel encounter at Super Sunday. Towards the end of the back and forth match, there was a ref bump. Hogan threw Bockwinkel over the top rope which usually was grounds for a disqualification but the referee didn't see it because he'd been knocked down. Hulk suplexed Nick back inside the ring and covered him. The revived referee counted three and Hulk Hogan was declared the new AWA heavyweight champion. The 18,000+ fans in attendance at the St. Paul Civic Center went bananas as did the 4,000+ fans watching on closed circuit in the adjacent Roy Wilkins Auditorium. But not so fast. AWA figurehead president Stanley Blackburn interrupted Hogan's post match interview and celebration by ruling Hogan had thrown Bockwinkel over the top rope and as a results Hogan was disqualified which allowed Nick Bockwinkel to retain the AWA title.
To the average fan, this was just another example of Hogan getting screwed against Bockwinkel. However the story was much bigger than that. Verne Gagne had offered Hogan the AWA title before the match but Hogan turned down the title reign. The finish of the Super Sunday match was then decided after Hulk declined the title reign. The bigger question is why Hogan turned down the chance to be the AWA heavyweight champion. Two factors came into play here. Hulk wanted a bigger percentage of merchandising. Verne wanted a percentage of Hogan's income from Hulk's matches for New Japan Pro Wrestling. Gagne and Hogan could not agree on either sticking point. So Nick Bockwinkel remained the AWA heavyweight champion. The match at Super Sunday was the last time Hogan ever wrestled Bockwinkel. Hogan left the AWA for the WWF in November of 1983.
More...
If you'd like to discuss the AWA region with other fans, please visit the KM Message Board

KM DVD/VHS Store 4
Click here to purchase DVD or VHS products direct from the official distributors.
KM Replica Masks 4
Click here to purchase pro quality replica wrestling masks of all your favorite old school masked wrestlers.
KM Store 4
The KM Store now features products featuring the GCW logo as well as some other very cool images. To see what's new and to purchase T-Shirts, ball caps, mouse pads and more, click here.
KM Message Board 4
Want to chat with other fans of regional wrestling? This message board has forums for over two dozen promotions. Click here.
KM Belt Gallery 4
This section contains an extensive title belt gallery... images of heavyweight, tag, U.S. and various regional title belts. To view it, click here.
Old School Tape Review 4
Reviews of various PPV's, commercial tapes and regional wrestling TV shows are available in this section. To read more, click here.
Website designed & maintained by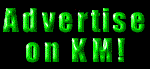 Thanks for visiting!