Regional Territories 4
This section contains monthly articles on over two dozen territories. To relive those wonderful days of old, click here.
Wrestlers 4
Enter this section for bios/profiles of various wrestlers from the regional days. To find more out about your favorite pro wrestler, click here.
Stories 4
This section contains stories from the pros themselves told exclusively to Kayfabe Memories. Want to know more as told from the wrestlers themselves? Click here.
Old School Book Reviews4
Click here to find various book reviews from old school wrestlers.
KM Links 4
For tons of links to old school related sites, click
here
.
KM Micro Wrestlers4
What are Micro Wrestlers? Click here
to find out.
KM Interviews... 4
Click here to read exclusive interviews with stars from the regional territories.
www.kayfabememories.com is © 2004 AtomDesigns. All promotional art, characters, logos and other depictions are © their respective owners. All Rights Reserved.
All contents save Wrestler Stories are © Kayfabe Memories.
Website designed and maintained by AtomDesigns © 2004 . If you experience any problems with this site or have any questions, please contact the Webmaster.
- Jim Zordani
After being awarded the AWA heavyweight title when long time rival Verne Gagne retired as champion in May of 1981, Nick Bockwinkel defended the strap against many familiar foes including Jim Brunzell, Baron Von Raschke, Buck Zumhofe and The Crusher. With Verne no longer in the picture, it became evident that the AWA needed some new opposition for Bockwinkel as the fans were tired of seeing the same old matchups over and over again. For the duration of 1981 and the entire year of 1982, Nick Bockwinkel would be faced with new, fresh contenders for the AWA title.
Topping the list of new challengers for the AWA title was Tito Santana. Santana had made his AWA debut in June of 1980 after a successful stint in the WWWF where he won the tag titles with Ivan Putski. Tito was a former college football star at West Texas State University and received a tryout with the Kansas City Chiefs. Santana was an immediate hit with the fans and quickly made his way up the cards to the main events Tito did wrestle Nick Bockwinkel several times during the second half of 1980 and the first half of 1981 so Santana and Bockwinkel already had a rivalry going by the time Nick started his second reign as AWA champion. The AWA title matches between Santana and Bockwinkel made it to nearly every stop on the AWA circuit. While Tito never beat Nick for the AWA title, Santana established himself as a singles star for the first time in his career.
Sheik Adnan El Kaissey (Adnon Kaissy) came to the AWA in April of 1981. Adnan had been an active competitor since the late 1950s and used the name Billy White Wolf in most territories. Due to the problems the United States had with Iraq in the late 70s and early 80s, the Sheik Adnan persona was created. Kaissey drew instant heat with the Sheik gimmick (Adnan actually is a native Iraqui but the Sheik part was a gimmick). On the May 17th, 1981 edition of All Star Wrestling, Tito Santana was set to battle Caesar Pablon in a televised bout. Before the match started Sheik Adnan entered the ring with his sword and his female valet. Santana took offense at the way the Sheik was treating the female valet and made a shoving motion at Adnan. As Tito then turned his back, the Sheik attacked Santana and delivered a brutal beating to the hispanic star. This incident raised the ire of AWA fans even further as it was replayed week after week on All St ar Wrestling. At the same time he was feuding with Tito Santana, Sheik Adnan was awarded several shots against AWA champion Nick Bockwinkel including three matches in the AWA's home base of the Twin Cities, Minneapolis/St. Paul. Adnan had so much heat that the fans cheered Bockwinkel. The first match between Bockwinkel and Adnan in Minneapolis on August 9th, 1981 saw Kaissey win by disqualification when Bockwinkel used a steel chair. The second bout held in St Paul on August 30th, 1981 had Bockwinkel winning by disqualification. The third battle in Minneapolis on September 13th, 1981 featured Bockwinkel winning decisively. All three of these matches were bloodbaths.
When Roy Shire ceased running cards in Northern California after his promotion collapsed, the AWA began promoting cards in Shire's old territory which included the cities of San Francisco, Oakland and Sacremento. Pat Patterson had been one of Shire's biggest stars throughout the 60s and 70s and the AWA felt Patterson could help them draw in the Northern California area. Even though Patterson had left the AWA for the WWWF in the Summer of 1979, Pat still remained on good terms with the AWA hierarchy. So when the AWA wanted Pat to appear on selected AWA cards in 1981, they worked out an agreement with the WWWF to loan out Patterson. During 1981 when Pat wrestled in Minneapolis, he was most often a heel but when Pat worked in Northern California for the AWA he was a babyface. After several appearances on AWA cards in Oakland, Pat Patterson received a few title shots against Nick Bockwinkel. On July 30th, 1981 in Oakland, California, Pat Patterson defeate d Nick Bockwinkel by disqualification and on August 20th, 1981 also in Oakland Nick Bockwinkel won by countout over Pat Patterson. The October 1st Oakland card saw Patterson team with the Incredible Hulk Hogan to defeat Bockwinkel and Jerry Blackwell. The only other AWA title shot I have in my records for Patterson against Bockwinkel was a bout held in Milwaukee on July 11th which saw Pat win by disqualification.
Hulk Hogan made his AWA debut on August 1st, 1981 in Milwaukee, Wisconsin defeating Chuck Greenlee and Tony Leone in a handicap match. Hogan had made a name for himself feuding with Andre the Giant in the WWWF and was brought to the AWA as a potential monster heel.
More...
If you'd like to discuss the AWA region with other fans, please visit the KM Message Board

KM DVD/VHS Store 4
Click here to purchase DVD or VHS products direct from the official distributors.
KM Replica Masks 4
Click here to purchase pro quality replica wrestling masks of all your favorite old school masked wrestlers.
KM Store 4
The KM Store now features products featuring the GCW logo as well as some other very cool images. To see what's new and to purchase T-Shirts, ball caps, mouse pads and more, click here.
KM Message Board 4
Want to chat with other fans of regional wrestling? This message board has forums for over two dozen promotions. Click here.
KM Belt Gallery 4
This section contains an extensive title belt gallery... images of heavyweight, tag, U.S. and various regional title belts. To view it, click here.
Old School Tape Review 4
Reviews of various PPV's, commercial tapes and regional wrestling TV shows are available in this section. To read more, click here.
Website designed & maintained by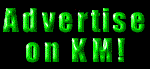 Thanks for visiting!